September 28, 2015
I'm back with my Hawaiian food series! Part 1 was all about dining on a budget – check it out here! Today I'm writing all about my favorite places that also have the best views. There are some places where the view is just as important as the food, especially in Hawaii!
1. Michel's at the Colony Surf
2895 Kalakaua Ave, Honolulu, HI 96815
http://michelshawaii.com
Michel's is so romantic! Nick and I went right before sunset and we got to watch the colors change as the sun went down. The food is simply excellent, too. We had steak, wine, and chocolate soufflé. Highly recommend!
2. Ola at Turtle Bay
57-091 Kamehameha Hwy, Kahuku, HI 96731
http://www.olaislife.com
I love Ola because it's right on the beach, and you can go there just for drinks, lunch, or dinner. Their lunch menu is completely different from their dinner menu so you might just have to go twice. For lunch, they have things like fish tacos and burgers, and for dinner you can get some amazing fish dishes. They use lots of fresh, local ingredients, too. I love the views of Turtle Bay and that there are tables where you can sit with your feet in the sand. I have a full lunch post about Ola here.
3. Azure
2259 Kalakaua Avenue, Honolulu, HI 96815
http://www.azurewaikiki.com
Nick took me here for my birthday, and I loved it so much that I wrote an entire post about it here. Out of all of these places on this list, Azure is hands down my favorite, because it has the best food and incredible views of Waikiki and Diamond Head.  We had a tasting menu, and I loved their fish and delicious desserts.
4. 53 By The Sea
53 Ahui Street, Honolulu, HI96813
http://www.53bythesea.com
53 By The Sea is a place you definitly go to for romance. Because all of the beaches in Hawaii are public, most of these views also come with tourists laying on the beach. This is awesome when you want to go to the beach, because you can go to any resort or beach that you want. But 53 By The Sea is a bit removed from the crowds, as it is set onto a rocky coastline away from the main Waikiki area. There is no beach, just some gorgeous views. It feels very quiet and secluded, which is a really nice change of pace from the crowds in Waikiki and Honolulu. My full review is here!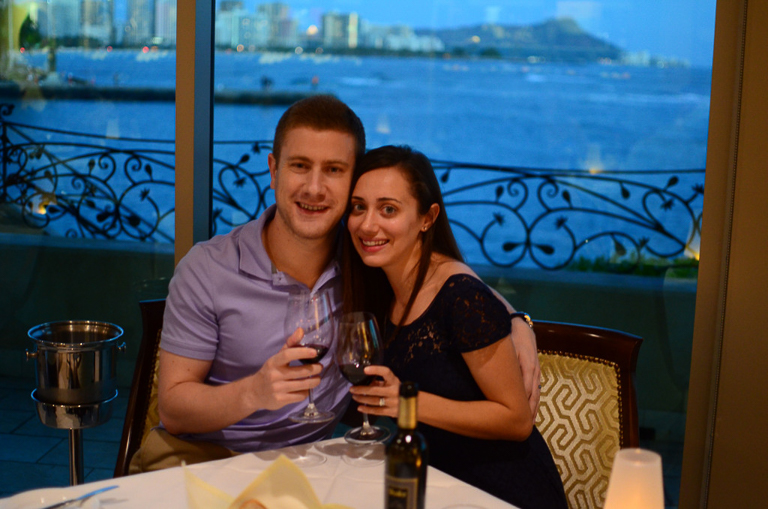 5. Hau Tree Lanai
2863 Kalakaua Ave, Honolulu, HI 96815
http://www.kaimana.com/hautreelanai.htm
A must for breakfast, I love to take my friends and family here after hiking Diamond Head because they are close to each other. They have waffles, pancakes, and some Hawaiian-influenced breakfasts, like loco moco. I also love Hau Tree Lanai for dinner. It's really the perfect outdoor setting – I love the shade of the tree, the food, and being pretty much right on the beach. What's not to love?!
Now I'm hungry!! Which one would you pick?!