January 21, 2021
For our road trip to Colorado, Nick planned out the entire route, reserved all of our campgrounds, and made sure we had everything we needed for the trailer (extra parts, learning how to set everything up, winterizing it, etc). I focused on meal planing, stuff to keep M entertained, making sure we had enough food and other supplies like stuff for the kitchen, clothes, etc. I think that this division of labor worked well for us.
Getting the RV ready
Where we lived in Maryland, there was an HOA. You were not allowed to have trailers and RVs in your driveway, but they let us keep ours in our driveway for a few weeks before our trip. This made a world of difference in our ability to get the RV ready.
Whenever I had a few minutes, I'd go into the trailer and get something ready. I was able to put the sheets and blankets on the bed, get all of the utensils and kitchen stuff set up, and pack up all of our snacks and nonperishables weeks before we were set to leave. Like I said in my last post, I can't deal with doing things at the last minute, so I enjoyed going into the trailer and getting it ready slowly.
Our trailer was also not prepared for sub-freezing temperatures. What this means is that the pipes and things would freeze if it was freezing outside. So, Nick had to do a bunch of changes to the trailer to make sure everything would not freeze. It took him weeks to do this but it was obviously much needed and worth it.
Meal Planning
I didn't want to have to stop for groceries at all on the road. I wasn't sure if we would be able to do curbside grocery pickup anywhere. I was also very mindful of the fact that I was traveling through small towns and didn't want to be spreading anything through them. We were in a new city practically every night, and I didn't want to pick up covid in West Virginia and then spread it throughout the entire country. I wanted to keep the trip as self-contained and isolated as possible, for my family, obviously, but also for everyone else. So I decided we would bring all of our groceries with us. And we never stopped for groceries on our entire trip.
I also didn't want to be cooking every night after a long day of travel. But I didn't want to get take out every night for 11 nights, either. So I compromised. The day before we left, I made some food that we could heat up for a couple of days. For the days after that, I made freezer meals. Our trailer has a huge refrigerator and a freezer, and they stay turned on even when driving, which is a feature that I don't think all trailers have.
I also planned for us to get some curbside take-out on certain days, partially for a break, and partially to try food in different places. We got BBQ in Kentucky, deep dish pizza in Illinois, and comfort food and the best pecan pie in Kansas.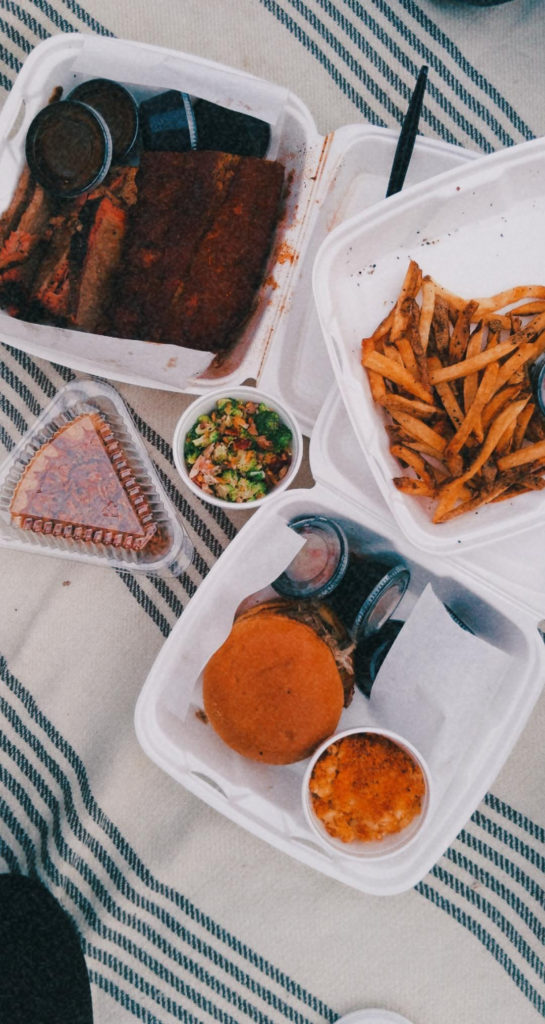 For breakfast, we would have yogurt, frozen burritos, and/or breakfast bars. For lunch, we just made peanut butter and jelly sandwiches every day (which got old fast but it was fine). Luckily M could and would eat whatever we were eating. I also stocked up on tons of snacks for all of us.
Driving Days
You may think our approach was absolutely miserable, but we just could not think of any other way to do this. Our goal wasn't to explore or do anything fun on the road – it was simply to get to Colorado.
In the morning, we would eat breakfast and then take a walk to get M's energy out.
We would come back to make lunch, pack up, and get right on the road. That took hours so we were often getting on the road around 10 or 11. We would only drive for 3-4 hours each day.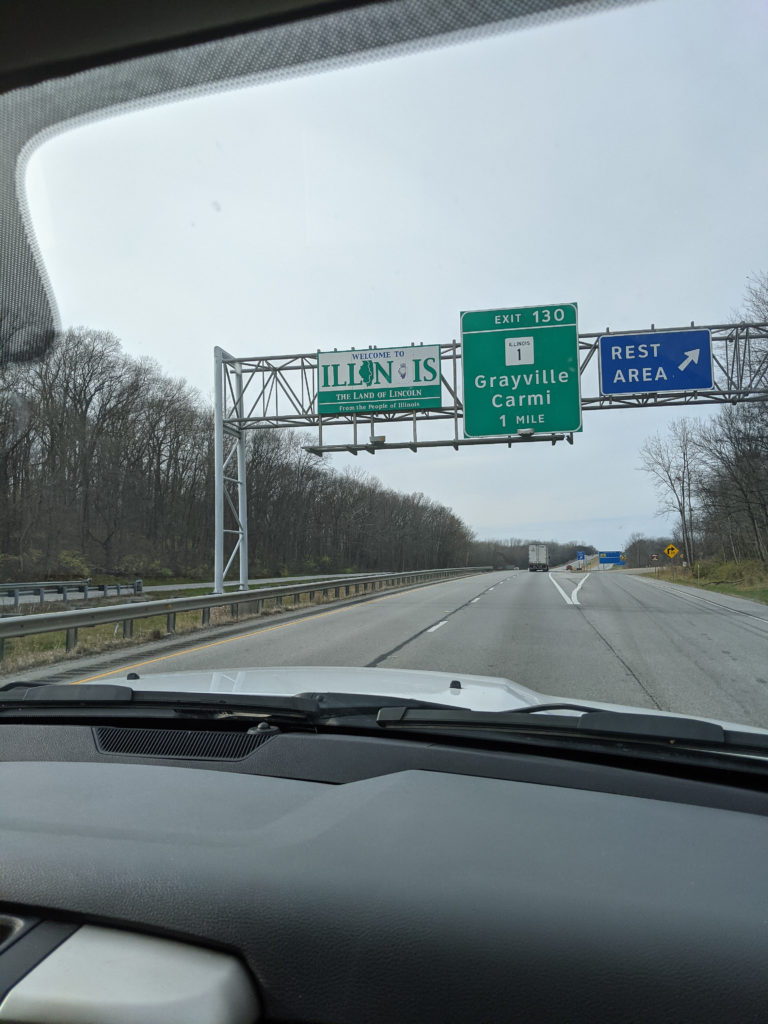 Were we nuts? Probably.
But it takes a while to pack everything up and set everything back up. We didn't want to drive a trailer through the night, or have to set up everything in the dark and cold, especially on the sub-freezing nights. So, we would drive a few hours and then stop.
We also didn't want to be playing anything by ear. There were some days where I felt like we definitely could have kept driving longer, but we didn't deter from the plan. With covid and the winter, there weren't many places open. I had imagined us staying in lovely state parks but they weren't open – we mainly stayed in RV parks.
It was really important to me to have a plan, so we erred on the conservative side with our driving times. We weren't sure if we would take longer than Google said due to having the trailer, if M would have a blowout and we'd need to stop, or if we'd need to stop for any number of reasons. So we just took it slower than we needed to to allow for anything.
By the time we would get everything set up at the new location, we would have just enough time to take a walk before it was time to heat up dinner and put M to bed. If we had time, we'd make a little bonfire before we put M to bed. She loved them!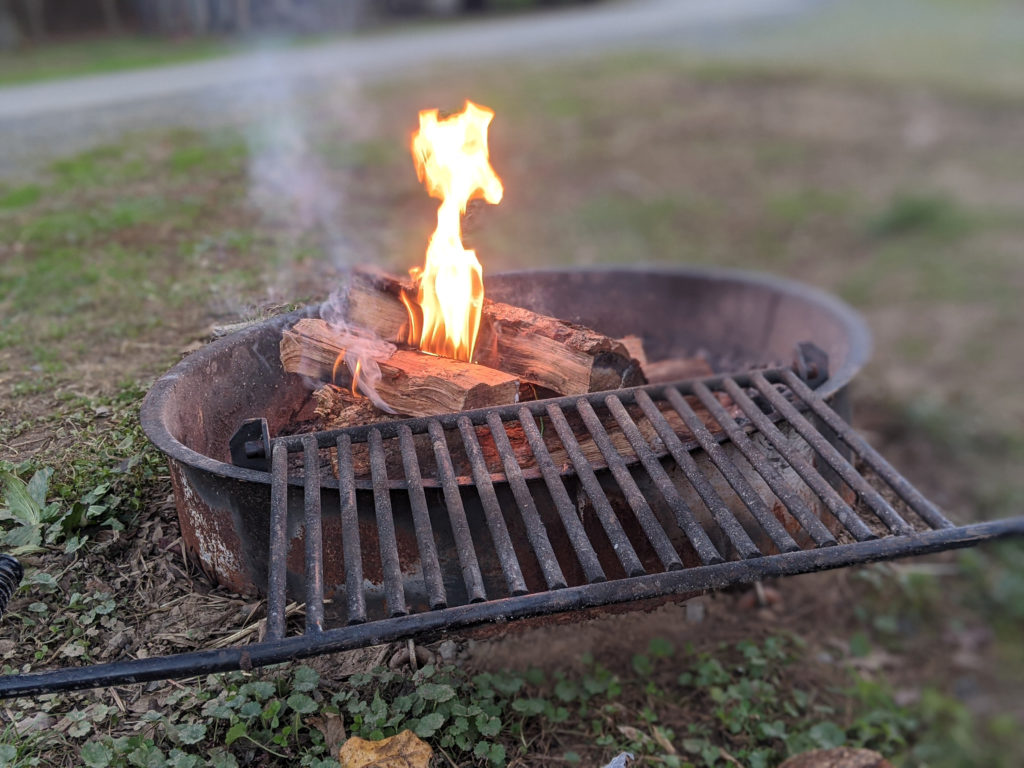 This approach also worked best for M, but I'll save more about her for next time.
Hiccups/Things I Would Do Differently
By about day 8, I was over the whole thing. Until then, I was having a really good time and mostly everything was going smoothly. I still would not have done anything differently though in terms of driving times.
The biggest hiccup we had was the fact that the slide-out part of our trailer stopped working on around day 2 or 3. Thankfully, it got suck in instead of out. We were really counting on that extra space for M's crib and just to be able to move comfortably. We thought about taking it somewhere to get it fixed, but the whole point of this entire trip was to be as self-contained as possible. We also didn't know how long it would take to fix.
So, we just left it the way it was and made it work. This probably contributed to me being over the whole thing by day 8. On the first couple of days of our trip, I did 20-minute yoga sessions in the morning just to get a little stretch and me time. But when the slide out part stopped working, there wasn't any space for that. It also made it difficult to hang out and cook in there.
We also had a lot of stuff with us and that made it harder to keep everything organized and neat. But between 2 weeks worth of groceries, two weeks worth of clothes, and everything we needed for the trailer, there wasn't a lot of wiggle room. Nick packed a lot of tools and other extra supplies for the trailer so that he would be able to take care of different issues that might come up.
And on moving day, the movers ended up not taking a lot of our cleaning supplies and things like oil. And I was not about go give all of that stuff up, so we packed it in the truck and trailer. Space was tight between all of our stuff and the slide out not working. But I am sure that when we go out in the summer and we only need to bring a few days worth of stuff, it will be a lot roomier.
In my next post, I'm going to write about how we prepared M for the trip, the books and toys I got to keep her entertained, and just how overall it went with having a toddler. If you have any questions about any of this please send me a message or comment below!