February 17, 2015
Sorry guys, what I am going to share with you today is no hidden gem, no special secret. Like I said last week, sometimes, popular things are popular for a reason. I feel like sometimes I try so hard to find things that are "off the beaten path" that I don't bother with things that are right in front of me. Like this view of Honolulu on top of Mount Tantalus.
See that crater, over there? That's Diamond Head — most people who come to visit want to hike up there. It's a great hike, and I will absolutely never get tired of it. But this view that I am sharing with you today is so interesting to me because you get to see that crater from far away (it's also much easier to get to, since you can drive instead of hike!). Still, I don't think it's as popular as a lot of other attractions and lookout points around here. When I went up, I had about 20 minutes all to myself before two families joined me.
Nick and I hiked up Tantalus, and I wrote about it here. When we got to the top after 4 hours of hiking, we met a couple that had just driven up! I had no idea you could drive up, and I am not sure how much I would have wanted to hike for 8 hours for something I could have driven to. It was a really fun adventure, though — I am glad I did it, and I am glad I didn't know about this drive at the time!
Anyway, my brother is an avid cycler, and he is pretty darn good at it, too. So when he told me he was thinking about riding his bike up Mount Tantalus, I thought it was a great idea because it is a challenging ride that brings you to views that you just don't get to see many other places.
The journey to the top of Tantalus is pretty steep for a person riding a bike. I honestly don't know how my brother did it. But if you are driving, it's not bad at all! The road is very curvy as you drive through a residential area, so you have to go slow. It's a completely different way of getting to the top than the way we hiked up – the hiking trail takes you on a bunch of switchbacks on another part of the mountain.
My brother got to the top not too much longer after me! I brought a book with me because I thought it was going to take him a while, but by the time I finished taking a few pictures, he was there. I was so proud of him and I was really glad he got to do this while he was here.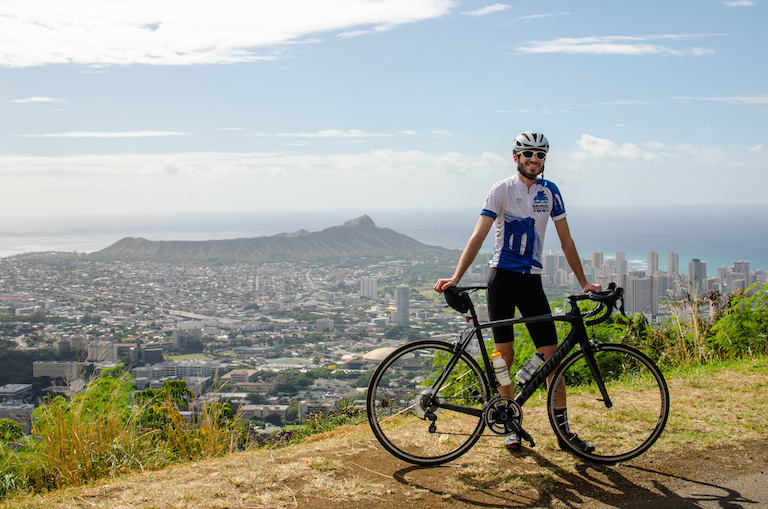 When he got to the top, he decided that he hadn't had enough, so he rode along the coast until he got to another mountain. Those pictures will come soon!