November 7, 2014
Thanksgiving is my absolute favorite holiday. I love the food, the desserts, the warmth. I love reminding myself of everything I have to be thankful for. I love that it's the start of the holiday season. Luckily for me, Thanksgiving Nick's favorite holiday, too.
Last year, my parents and my brother came to Hawaii during Thanksgiving week. We did all of the touristy stuff,  I took them to some of my favorite places that I have discovered, and then Nick and I made Thanksgiving dinner for our family and friends.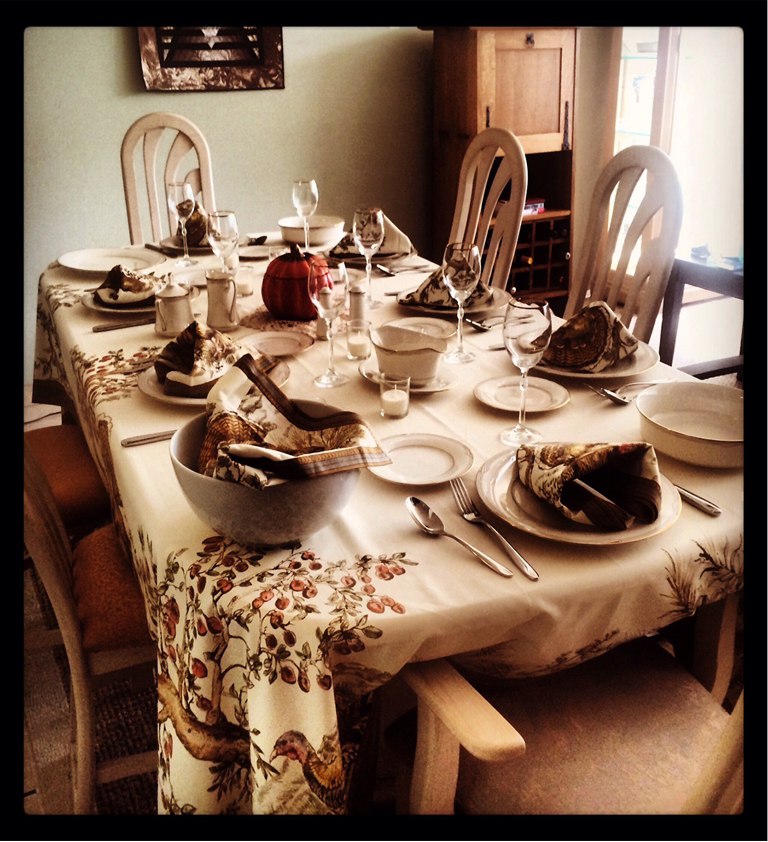 It was the first time anyone in our family was going to see our first apartment, and Thanksgiving dinner was going to be the first meal I was ever going to cook for my family.
No pressure, right? I knew everyone would be happy eating something simple, just being together. That was the real reason they flew all the way to Hawaii, not so I could cook them a fancy meal. But it was really important to Nick and me to pull out all the stops, welcome them to our first home, and give them a homemade Thanksgiving.
We took this meal seriously, mainly because we had no idea what we were doing or how to host a holiday. So we practiced for two months. Yes, you read that right. We made two practice turkeys and made all of the side dishes at least once, comparing different recipes and tweaking our favorites to our liking. We timed how long it took to make everything. That way, we could plan out how long it would take to cook the meal on Thanksgiving, and when we should cook what. Nick even made a schedule of when we should start to cook each item on our menu. If you know Nick, you will know that I am not kidding. Or exaggerating. My entire family was laughing at us, but you know what? Thanksgiving dinner turned out perfectly. Not one thing burned or got cold.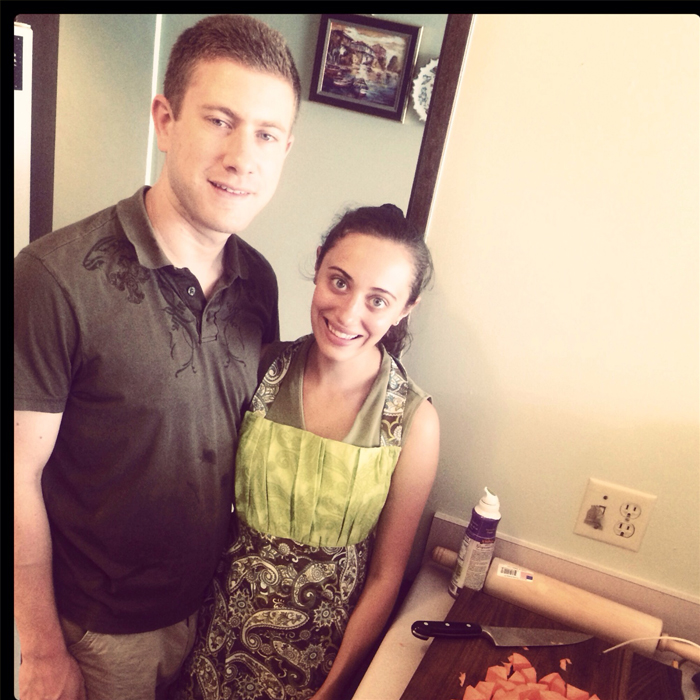 At the time, Nick was working in a place where they needed people to work 24 hours per day, 7 days per week. That included Thanksgiving. He helped me cook all morning, ate as fast as he could, and then left to work overnight. This year, Nick doesn't have to work! We are having some friends over and going all out again with our favorite Thanksgiving recipes.
Last year ,we scoured the Internet to find recipes, tested them out, compared them to other recipes, and saved them. I thought I would share the fruits of our labor with you in case you want to give them a try for this year! We didn't get to take many pictures last year. I was too busy trying to get everything together and Nick was kind of rushing around to get to work, but I will share with you what I have!
Dinner
The Soup
Alton Brown's Squash Soup Recipe
You can't start Thanksgiving dinner without soup, even in Hawaii! Butternut Squash Soup is my favorite kind of soup, and for me, it's a Thanksgiving must-have. Since we knew we were going to be very busy with my family here and cooking everything else, we made the soup a week in advance and froze it. It still tasted perfect. Nick later confessed to me that he accidently put three times the amount of white pepper that you are supposed to use, but everyone liked it anyway, so if you like a little bit of a kick to your food, go ahead and add some extra white pepper. I think this year we are going to double it — triple was a little too much.
The Turkey
Alton Brown's Classic Brined and Roasted Turkey
Do you want to know the secret to the perfectly moist turkey? Brining it. This recipe explains the process for brining the turkey as well as cooking it with herbs, carrots, celery, and onion. The same recipe is explained in more detail here.
The Gravy
I think it's the red wine that makes this gravy amazing. My mom says she is still dreaming about this gravy to this date. It does not hold up well in the fridge, so be generous with it on Thanksgiving and gobble the rest up the next day on your turkey sandwiches!
The Stuffing
Sausage Cornbread Stuffing from Anne Burrell
I love stuffing that has sausage in it, although I am sure you could take it out if you don't like sausage or don't eat meat. I am not sure if it's the combination of garlic, walnuts, and spicy sausage  or the corn bread that we used, which we made ourselves, but I don't usually like stuffing and I loved this recipe.
The Cornbread
Rich and Moist Cornbread from ChefSteps
It was really important to Nick and me that we make as many things as we could from scratch. We wanted to give our family and friends a real homemade meal. So we made the cornbread for our stuffing from scratch. I usually hate cornbread and was not expecting to like this at all, but it was perfectly moist and had just the right amount of sweetness. You will love it.
 The Dinner Rolls
We practiced making these dinner rolls twice (I did not mind this one bit!). They are not hard to make, but we used whole wheat flour instead of  regular bread flour (just because that's what we had in our apartment!). We also had to improvise a bit on the equipment, but if you follow the recipe exactly, they should turn out great. I really loved these rolls.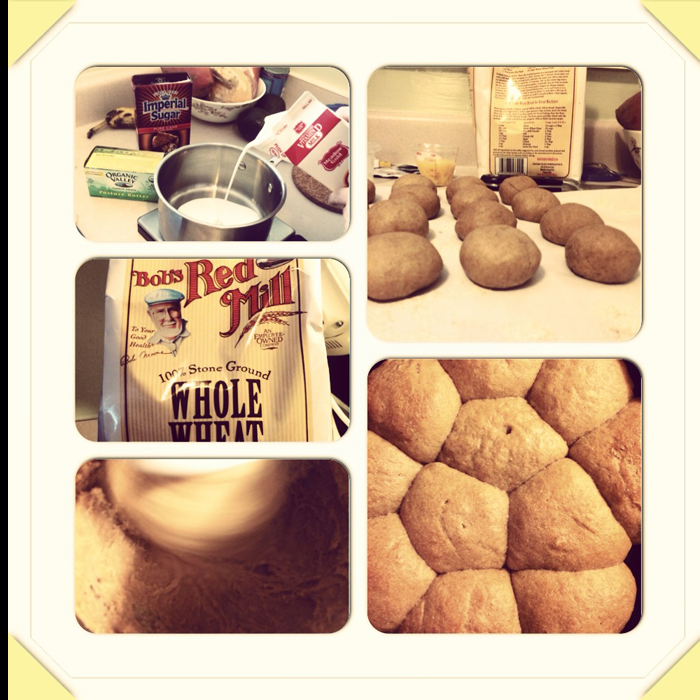 The Sweet Potatoes
Chipotle Smashed Sweet Potatoes from Alton Brown
I'll never forget the morning Nick found this recipe. We happened to have everything we needed to test out this recipe, so Nick decided to make them at 9:00 in the morning. It was a great breakfast. The chipotle goes so well in the sweet potatoes — this is a recipe you can make all year long! It goes great with steak and burgers.
The Casserole
Not Your Mama's Green Bean Casserole from Alton Brown
This turned out really well and it's one of the only dishes I have a picture of! The recipe requires you to make your own onion rings, so it took a really long time to make, but it was still good. This year, our friends are going to bring the vegetables so I don't have to worry about this at all!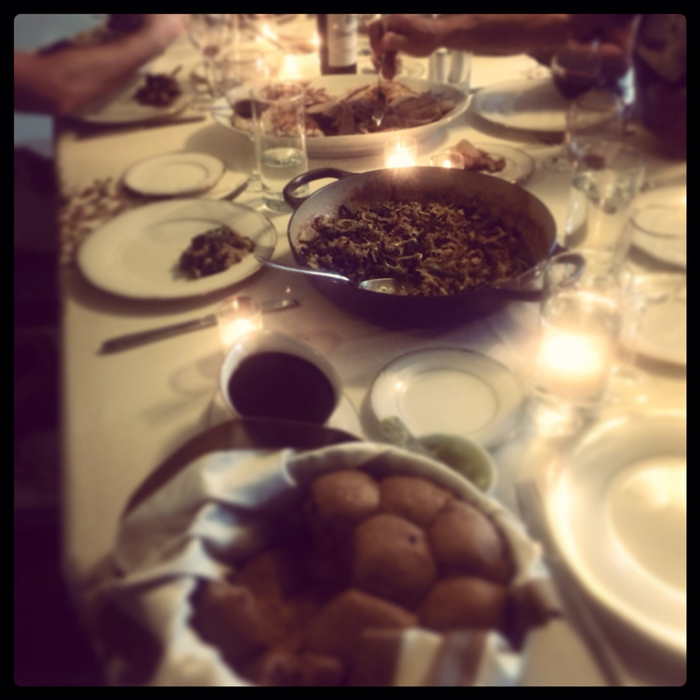 Dessert
Yes, I absolutely went a bit overboard on dessert, considering there were only 7 people to feed. But why not? Leftovers are awesome.
 The Pecan Pie
Sometimes, the simplest, easiest recipes are the best one. My dad's famous pecan pie is a staple at both Thanksgiving and Christmas because everyone loves it so much, and I really wanted to continue that tradition. All you do is mix up the ingredients, throw it into the pie crust, and bake it. You will love it!
The Pumpkin Pie
Williams Sonoma Brown Sugar Pumpkin Pie with Toasted Pecan Crust
While it took me a few tries to get this recipe down, it is so good! Nick loves pumpkin pie but no one else in my family does, so I had never made it. I had to try a few different recipes before I found one I liked, but I am so glad I found this one!
The Pumpkin Pie Puree
Pumpkin Pie Puree Recipe from Alton Brown
For some reason I got it in me that I wanted to make a real pumpkin pie from a real pumpkin, and that is what I did! It was not hard at all to do at all, although you do need some time and patience to cook the pumpkin and then scoop all of the flesh out. It was so delicious – I'll never used canned pumpkin pie filling again.
The Cookies
Brown Butter & Sea Salt Chocolate Chip Cookies from Ambitious Kitchen
This is the absolute best chocolate chip cookie recipe in the world, and I make it any chance I get!
What are you favorite Thanksgiving recipes? Share some links with me in the comments! I would love to add some new ones to my list of favorites.