October 16, 2015
On Monday, I posted all about the beginning of our anniversary trip to Napa – check it out here!
After breakfast at Bouchon, it was absolutely time to go wine tasting. We didn't want to try to do too much in one day, so we decided we would go to two wineries, with lunch in between. We knew that we had to go to one of our favorite wineries ever, Del Dotto.
7 years ago, I took Nick here for his birthday for a tour of their wine caves, where you get to taste the wine right out of the barrel! He was so surprised. Neither of us had really done anything like that before and we just fell in love with the caves and their bold red wine. We decided to take another tour through the caves and again got to try wine right from the barrels. They were extremely generous with their pouring and it's really fun to go through and get to taste wines as they are still aging. I highly recommend their tour!
At the end of the tour, they gave us some snacks and more wine to try from their bottles.
After that, it was time for lunch. We headed over to another place by Thomas Keller. Addendum serves to-go boxed lunches, ready to eat on their picnic tables or to take to away. They serve the same three meals every day, but the sides that go with them change. Nick was so excited to go! I love that smile!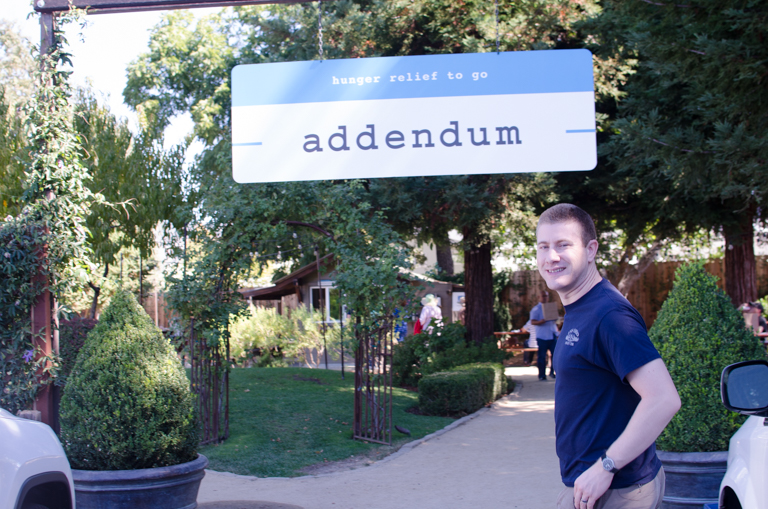 We had shared buttermilk fried chicken and a pulled pork sandwich. Oh my gosh – they both were amazing!
Soon it was time for another winery. We had made a reservation for a fancy seated tasting at Frog's Leap. The winery itself was absolutely gorgeous, and I loved that we decided to get a seated tasting. Basically they gave us a bunch of wine and some food and let us try everything at our own pace while we sat outside overlooking their winery. It was slow and relaxing, just the two of us sitting with our wine out on their deck.
We liked them all 😉
The views were stunning! I could have sat here all day with some wine and cheese.
It was time for a break from food and wine, so we headed back to the house we booked through Airbnb house to just hang out before dinner.
That night, we went to Ad Hoc for dinner. Another one of Thomas Keller's restaurants, located right next to Addendum, this restaurant comes with a major twist. There is only one meal offered per night!
The meal is the same price every day. It's always 4 courses, and it's always served family style. They are only open for dinner, and only on 5 nights per week. Usually, the menu has a salad, an entree, a small course like cheese, and then a dessert. I love the idea of just going out and eating whatever the chef happens to be making that day, so I was ready for anything.
 Our first course was a wild arugula salad with figs, bacon, toasted hazelnuts, cheese, and balsamic dressing. They gave us a copy of the night's menu to take home, and so I have been able to easily replicate this recipe at home! I've been making it a lot lately – it's just so good.
The second course was a tri tip covered in BBQ sauce and served with veggies.
A cheese course was next, served with apricots and honey.
  And for dessert, we had chocolate pudding!
Ad Hoc was so much fun. I loved being surprised by the menu and sharing everything family style. The food was incredible – I would got back in a heartbeat. This is probably on the top of my list of things I want to do next time we go to California, because the food is that good and because it's different every day.
The next morning, we went over to The French Laundry's garden. They grow a lot of the food that they use in their meals, and their garden is open to the public, so we wanted to check it out.
We stopped for coffee and one more chocolate peanut butter filled cookie sandwich from Bouchon, and we headed back to spend some more time with Nick's family.
Napa was so much fun. I loved the beautiful buildings, driving by acres and acres of grapes, the wine, the food, and just spending time with Nick. I can't think of a better way to start our third year of marriage than trying new things and just being together!