March 22, 2016
Hello, it's me! The girl formerly known as The Two Year Honeymoon. If you missed it, you can read all about my new blog name here.
I always feel like I don't have enough time to do the things I want to do. Then last week as I was scrolling through my social media feeds, I realized that I could have time, if I stopped spending time on the things that don't mater. The things that weigh me down. The things that I feel like I have to do but don't actually have to do. The things that everyone else seems to be doing.
I've decided that I don't have time for certain things anymore. I don't have time for anything that prevents me from focusing on the positive, from helping me pursue my dreams, and from enjoying life. I don't have time for silly things that aren't worth my time. I don't have time to try to be like everyone else. I don't have time to dwell on anything rooted in anger, worry, or resentment.
I want to use my time, energy, and my one and only life for the things that matter, for the people and things I love, and for finding joy.
Here's what I just don't have time for anymore!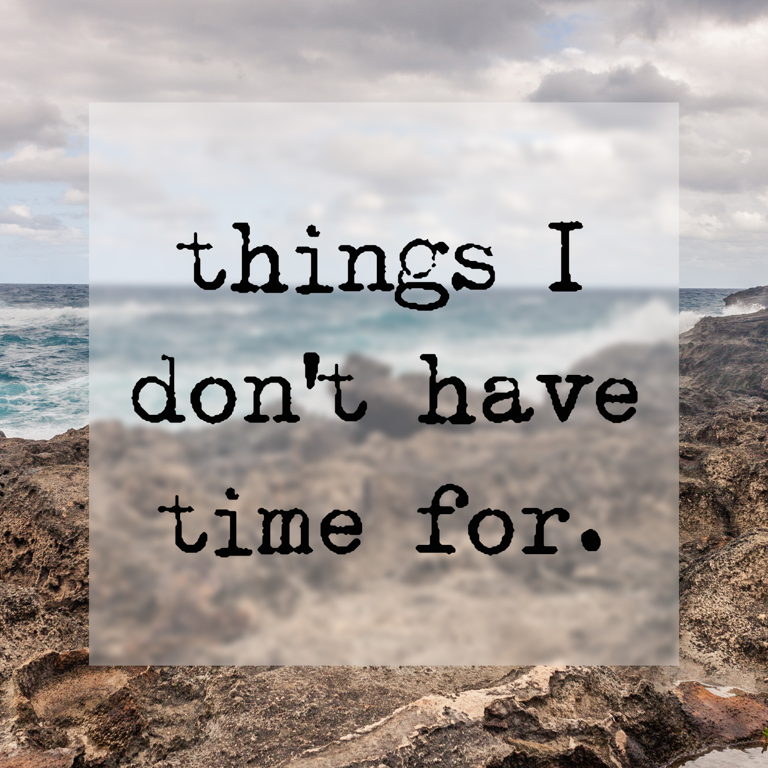 1. Matching socks.
2. Buying things I don't need.
3. Holding onto grudges.
4. Talking bad about other people.
5. Putting off the things I really want to do.
6. Trying to keep my house looking perfect.
7. Bottling up my emotions.
8. Bad coffee.
9. Checking my phone when I'm with someone.
10. Wondering what other people think.
11. Hate.
12. Constantly being on social media.
13. Anything that involves running.
14. Questioning my gut.
15. Staying up past 9pm during the week.
16. Neglecting my health.
17. Anger.
18. Regrets.
19. Comparing myself to everyone else.
20. Being anything other than myself.
Think about all the time and energy I could save, how much more I could enjoy the present, if I let go of all of these things.
What don't you have time for? What will you do instead?

PS: That picture is from one of my favorite lookout points in Hawaii, Laie Point. I definitely have time for those views.