May 8, 2015
Lately I've read a few books that just struck me as exceptional. All of them are heavy reads. All of them had moments that made me feel uncomfortable. All of them have complex characters that you are not exactly sure what to make of.
But books like that are usually the ones that I am thinking about long after I put them down. They are the books that leave me changed me in some way. This is the experience I crave as a reader. I think that you might like them, too. They will absolutely make you have lots of feelings: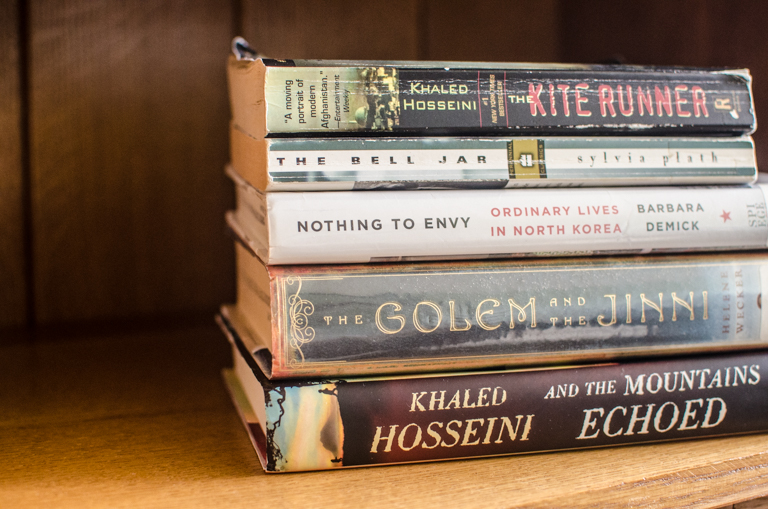 1. The Kite Runner by Khaled Hosseini
Khaled Hosseini is one of my favorite authors. Like all of his books, this book is heartbreaking, and, at times, disturbing.
Can we find redemption for even the most evil acts? Can we ever repair relationships that have shattered? These are the kind of questions that Hosseini asks us. I am not sure what the answer is.
The Kite Runner follows the life of Amir, the son of a wealthy merchant in Kabul. I don't want to give  the plot away, so I wig but the book follows the events that lead Amir to make a snap decision that changes his life forever, as well as the lives of everyone around him.
Amir spends the rest of his life trying to live with that decision. I found myself simultaneously hating Amir's actions and feeling compassion towards him.  This book is about family, friendship, love, loyalty, redemption, forgiveness, and guilt — all of those wonderfully heavy things.
2. The Bell Jar by Sylvia Plath 
"I saw my life branching out before me like the green fig tree in the story. From the tip of every branch, like a fat purple fig, a wonderful future beckoned and winked. One fig was a husband and a happy home and children, and another fig was a famous poet and another fig was a brilliant professor, and another fig was Ee Gee, the amazing editor, and another fig was Europe and Africa and South America, and another fig was Constantin and Socrates and Attila and a pack of other lovers with queer names and offbeat professions, and another fig was an Olympic lady crew champion, and beyond and above these figs were many more figs I couldn't quite make out. I saw myself sitting in the crotch of this fig tree, starving to death, just because I couldn't make up my mind which of the figs I would choose. I wanted each and every one of them, but choosing one meant losing all the rest, and, as I sat there, unable to decide, the figs began to wrinkle and go black, and, one by one, they plopped to the ground at my feet." 
I was completely absorbed in this novel, the only novel by Sylvia Plath. It is about a girl named Esther in the 1960s who lands an internship at a magazine in Manhattan but just can't get as excited or interested in the city or her job as the girls she is with. She begins to question her identity and cannot seem to figure out what to do next. She becomes increasingly depressed and slowly goes insane. Sylvia Plath's depiction of the way she falls into insanity is so emotional, so harrowing, so real. This is the only book on this list that I would say isn't for everyone, but I loved it.
3. Nothing to Envy: Ordinary Lives in North Korea by Barbara Demick
This book follows the stories 6 different people who managed to escape North Korea. The book reminded me of 1984 – and not in a good way.
There were so many things about this book that really got to me. I was in tears as I read about the ways that people eventually figured out how they were being lied to all of these years, the things that brought them to their breaking point. My heart broke as I read that they boiled grass to make some kind of dinner. I learned that they always just knew that they could never even write their true feelings in a diary because spies would read them and turn them in. And finally, I was sobbing as I read the ways they risked their lives to escape and their reactions to finally being free.
If you are looking for a book to read and wanted to read just one book from this list, I would tell you to read this one.
4. The Golem and the Jinni by Helene Wecker
This book is exactly why I love Goodreads so much. My friend recommended it to me through Goodreads, telling me that it was the best book she had read in an entire year. I had never heard of it, but I put myself on a waiting list to get it from the library.
It's the story of two completely opposite, unlikely friends who help each other navigate a world in which neither of them belong. Despite being polar opposites, no one else can possibly understand them except for each other. If you like fantasy, magic, and mystery, you will enjoy this book. I loved the story and the characters.
5. And the Mountains Echoed by Khaled Hosseini
I was kind of sad to finish Khaled Hosseini's third and final book because now there are no more books by him for me to read! I was ecstatic when Christy sent me this book. While I felt like it touched upon many of the same themes in his other works, this book went about them in a completely different way.
Instead of following a character or a few characters for many years of their life, as he does in other books, each chapter revolves around a different character.
At the heart of this novel is the relationship between a brother and sister in Kabul like no other, their bond is so strong. I just have one brother so I felt like their relationship, their bond, their love for each other really resonated with me.
The novel begins with a heartbreaking decision made by their father. Each chapter is sort of a short story about the impact of this decision on a number of different people, from family members to people in other countries, throughout multiple generations. I loved this book.
The only thing I didn't like about it was that I thought each short story could have been its own book. Hosseini is such a master storyteller that I became so invested in each character's story. So when their chapter ended, I didn't want to continue on to the next character – I just wanted more from the person I was reading. Of course, I quickly was wrapped up into the next character's story. I think that this is probably more of a compliment to Hosseini than a criticism. It left me feeling a little unsatisfied, but I think that is okay sometimes.
These aren't my top favorite books of all time, but I read all of them pretty recently and I have been thinking about them a lot.
Have you read any of these books? What should I read next?!