May 5, 2015
I turned 28 over the weekend, and I have to say, 28 feels pretty great!
Okay so Nick and I were in a long distance relationship for 5 years. When he was on a submarine, Nick went on 5 deployments in 3 years. I feel like our crazy relationship has made us appreciate holidays, birthdays, and anniversaries in a way that we couldn't have if we had never gone through this. We have spent a lot of important, life-changing moments apart from each other.
So when we are together for a special occasion, it feels like a big deal, like the day is extra special. I was so grateful for this weekend with Nick.
Birthday weekend was three full days of celebrating, as all birthday weekends should be. My friend's birthday was on Friday, so on Friday, we had lunch together. It was a double celebration!
Saturday was my birthday! New York is 6 hours ahead of Hawaii, and I woke up to so many texts, emails, and birthday wishes from my friends and family. Probably the only thing that I will ever like about this huge time difference was waking up to so many messages all at once. You guys know how to make a girl feel special on her birthday!
Nick wanted to get some schoolwork out of the way in the morning, so I read my book and talked to my family while he worked. When he was done, we went to the beach, Nick made dinner, and we went out for ice cream. All I wanted on my birthday was to go to the beach and get ice cream. That's all I ever want.
When we came back from ice cream, we tried to open up a special bottle of wine that we had been saving for 8 years. I had this wine with Nick back when he lived in New York. I had loved it so much that I went back to the store to get another bottle.
Except I never drank it – I was saving it for a "special occasion." For 8 years. On my birthday, I figured that I had saved it for long enough and opened it up. But the bottle had gone bad. It smelled awful.
So I tried to open another bottle that we got in California, that we had been saving for probably the same amount of time. That one had gone bad, too.
Okay so why am I bothering to tell you this? Because this just made me realize how important it is to simply embrace the moment, to make every day special. Why didn't I just drink the wine I liked so much when I first got it? I remember feeling like I didn't want to drink it right away because then it would be gone. It seems kind of silly now that I waited so many years to open it up, waiting for a special day, and then I ended up not getting to enjoy it.
Isn't every day special?
I think that the hot Hawaiian weather may have something to do with the wine going bad, so Nick and I have decided to just drink our wine whenever we have a night to spend at home together. We decided to stop saving things for special occasions and make random nights special occasions.
Obviously, I was still going to keep opening up wine until I got one that was good. We opened a bottle that we got when we were in New Zealand. Luckily the heat hadn't gotten to that one yet!
Nick gave me a few books that I have been dying to read, and told me that he was taking me out for a fancy birthday dinner the next night! Books and a night out are probably the best gifts anyone could ever give me. I love how well Nick knows me.
Sunday morning, we got up early so we could get to the gym before our big day in Waikiki. We do our own workouts during the week, but we started going to the gym together every Sunday. I really like going with Nick. It seems to make the workout not as terrible and I feel like we are being super healthy and productive. Once we finished, we grabbed lunch and headed down to Waikiki.
I also feel like I gave Waikiki a bad rap last week. I kind of loved going down over the weekend. We went into the touristy shops, went to this awesome place that only sells coffee and ice cream (and of course I got both!), and then we went to one of the hotel pools to hang out before dinner.
Nick made a reservation at Azure, a restaurant inside the Royal Hawaiian hotel. I bought this dress 2 years ago with no place to wear it. I just loved it and thought that one day I would have a fancy party or something to wear it to. I never ever do that – just buy a dress for no reason – but there was something about this dress that made me fall in love with it. After the wine incident, I decided that I had been saving this dress for long enough, and that a birthday dinner was a special enough occassion to wear it!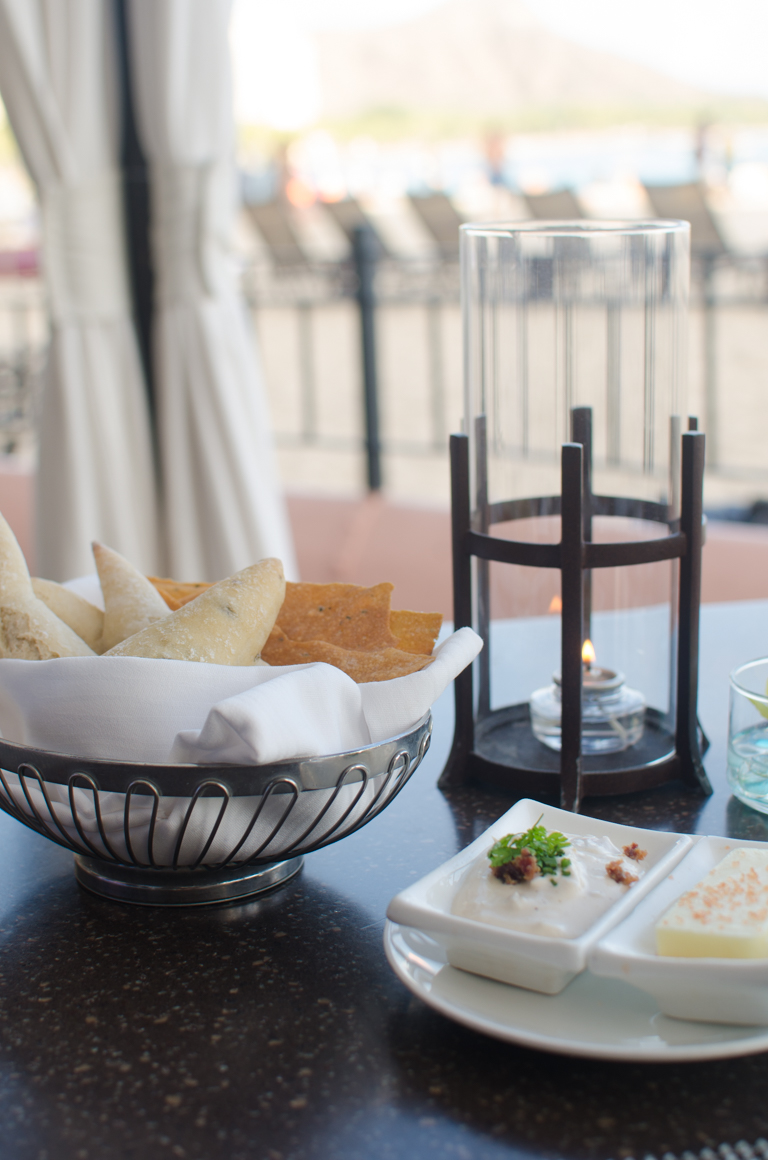 Nick picked Azure because they have an 8-course tasting menu with wine. That is our favorite. There are only two of these fancy tables in the whole restaurant. They kind of make you feel like you have privacy and they have the best views of Diamond Head and the beach. Nick booked one of them for our dinner. I couldn't believe how much work he put into making this night so special for me.
After watching me photograph our first few courses, our waiter came back over and asked me if I was going to take a picture of every single course. I said yes, unsure what he thought about this craziness, but he just smiled and said, "that's very good."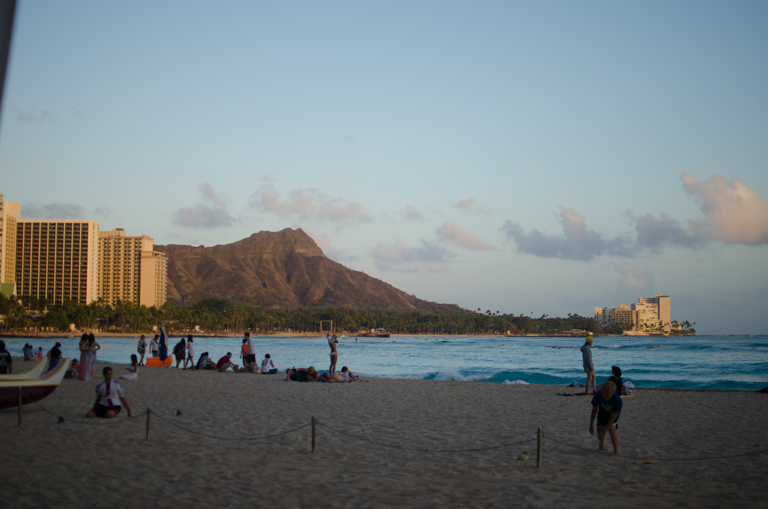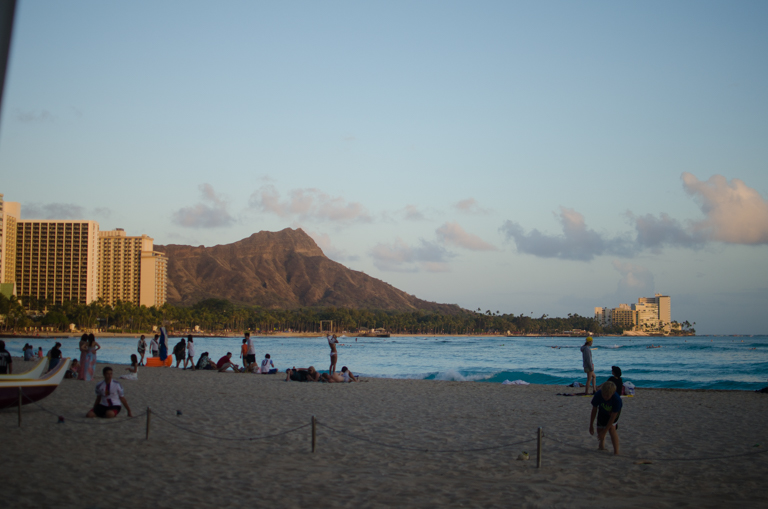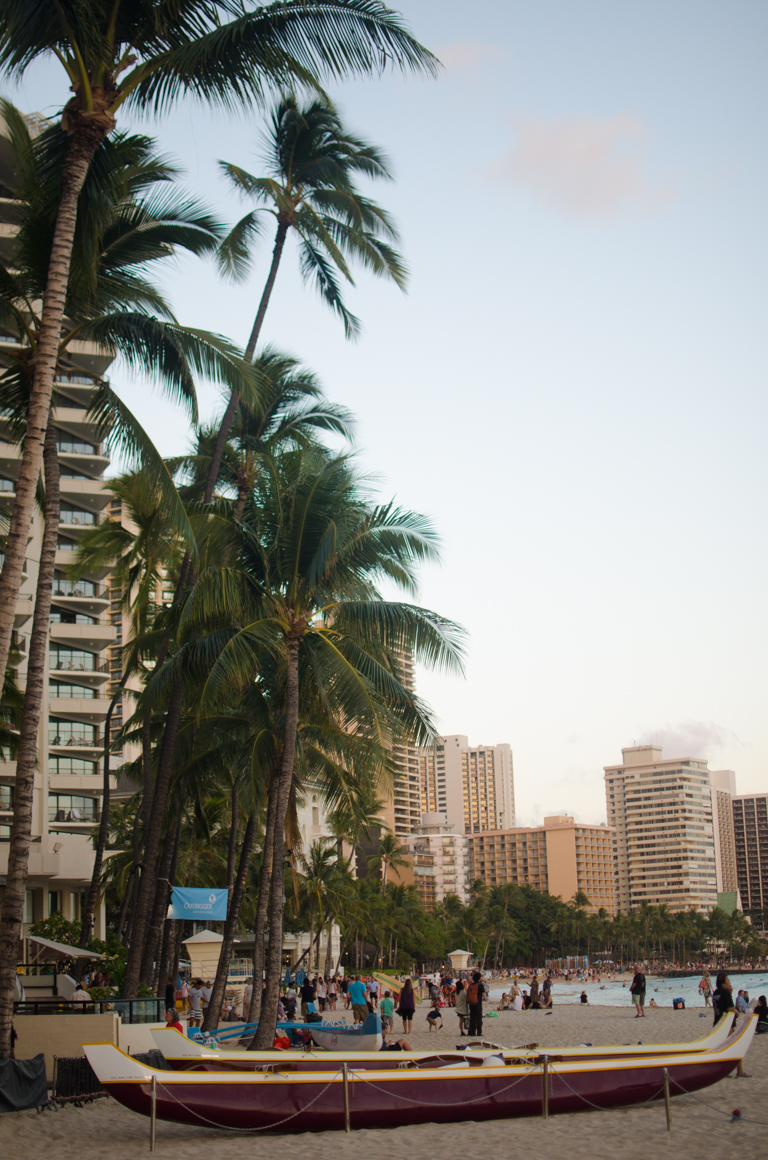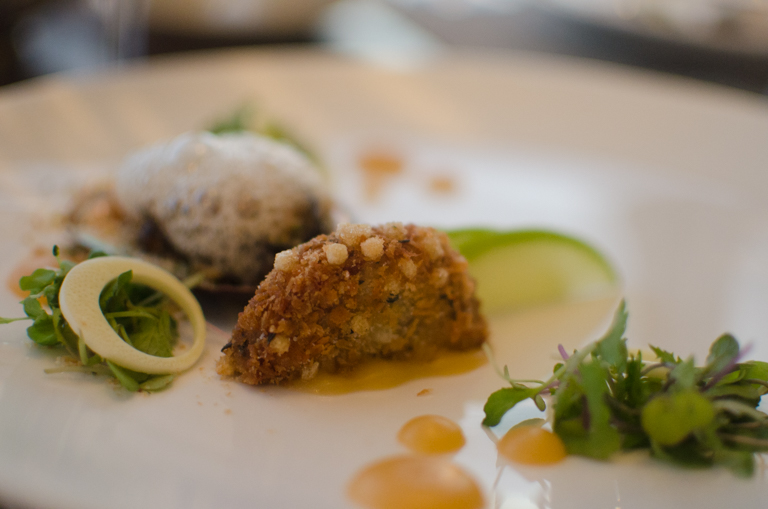 Good food, wine, and time with my husband! My kind of day.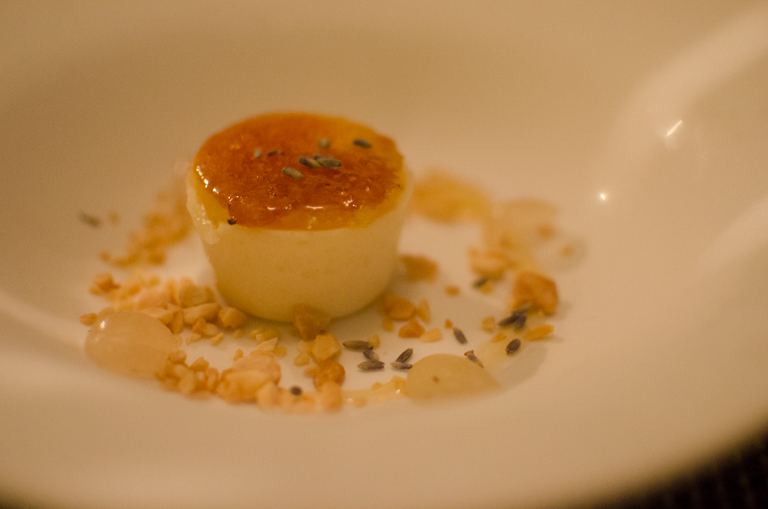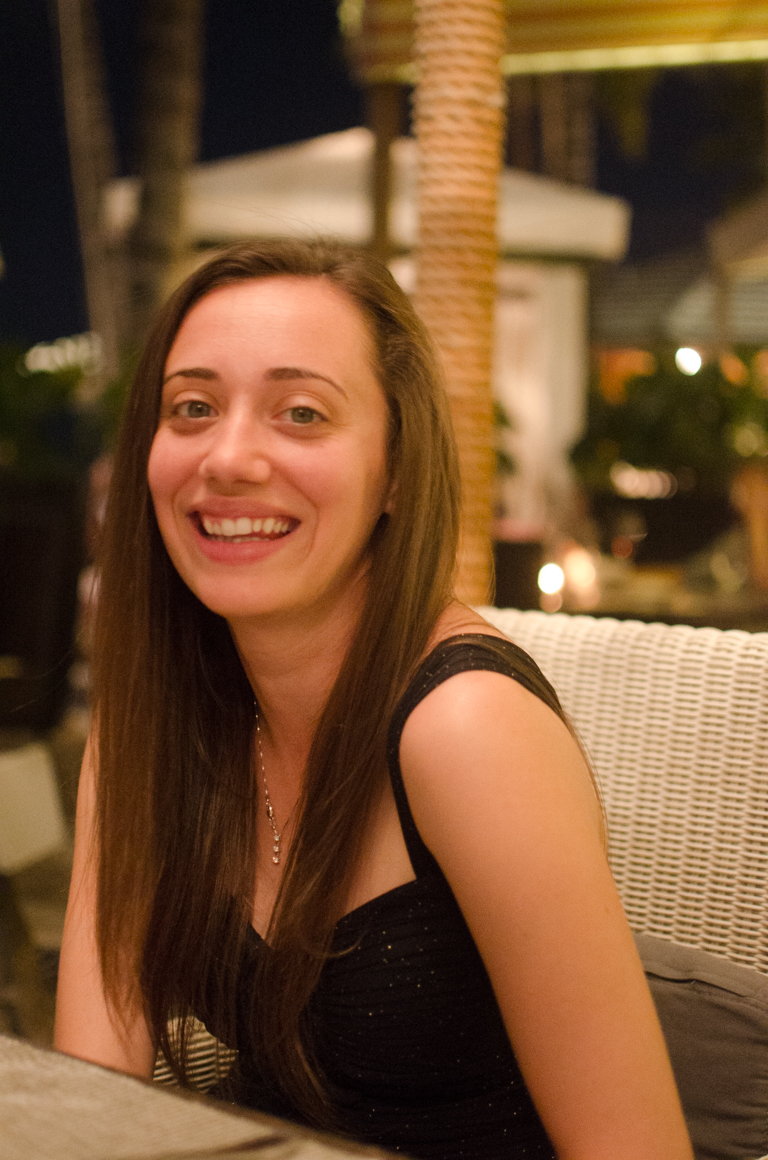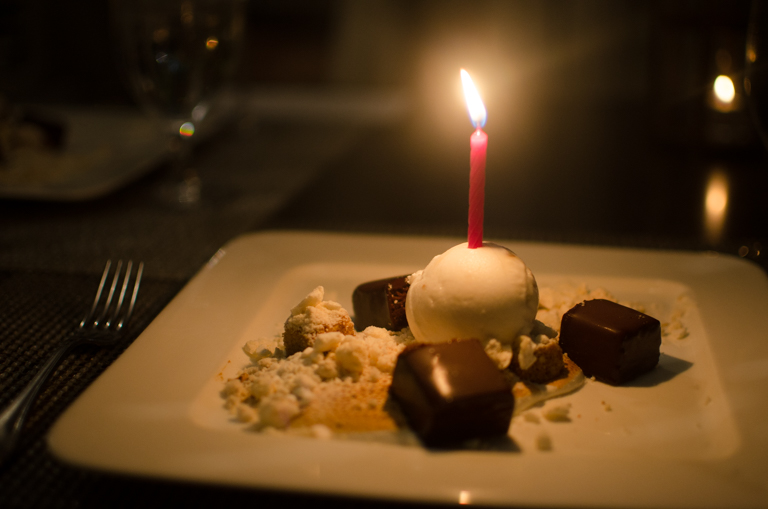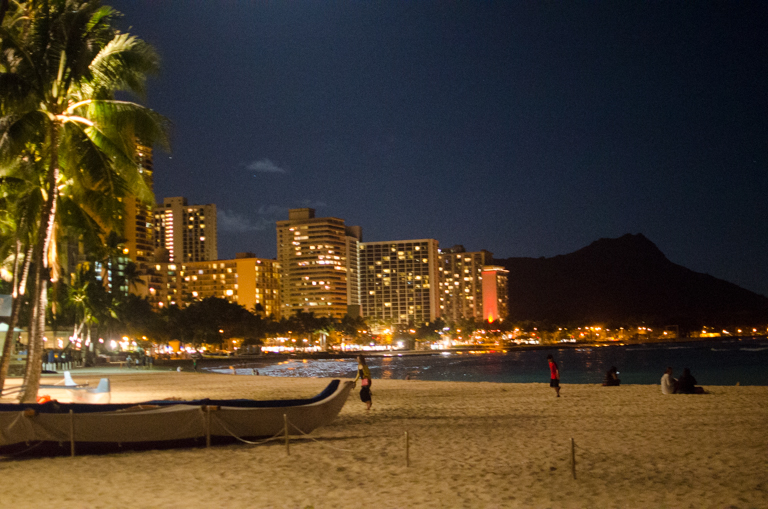 At the end the dinner, our waiter brought us birthday champagne!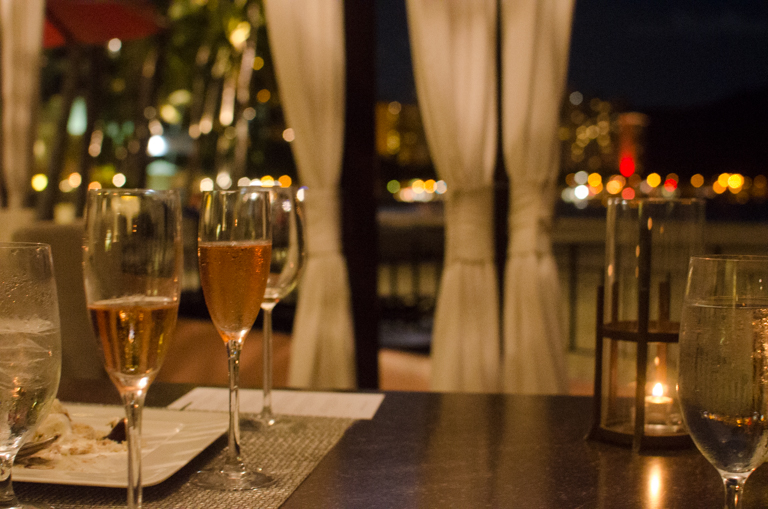 We had so much fun, eating and drinking wine and just being together. I told Nick that this was the best birthday dinner I have ever had, and one of the best meals I have had in Hawaii. The food was out of this world, the setting was gorgeous, and I got to spend time with Nick. I had never heard of this restaurant before so everything was a complete surprise. I loveeee surprises!
I decided to have a motto for my 28th year. It's something that I feel like I have tried to embrace, but I can always use a reminder. So, if you hang around me, count on cupcakes, beach days, and lots of good wine, because:

Also, I have resolved to keep ice cream in my freezer at all times.