September 23, 2016
One thing that this new stage of our life has taught me is that no two tours in the military will ever be the same. With moving around all the time also comes new jobs, schools, and training for Nick. Some jobs are harder than others. Some jobs require more hours than others. Sometimes Nick and I have a lot of time to spend together, other times he's stressed and overworked. Sometimes Nick has time to cook (one of his favorite things to do), sometimes it's all up to me. I like how everything's always changing, and I especially like when Nick's job is lighter.
But right now, Nick has a job now where he works long, stressful hours. I never know what time he will get home, and sometimes he's so tired that he doesn't want to eat dinner. This has been an adjustment for me because Nick loves to cook. He loves it so much that before he enlisted in the military, he worked as a cook. Because he loves cooking and because he was basically a professional, Nick has always cooked about 50% of the time. Any time we have guests over, Nick is the one to cook. If you're invited to our house, make sure Nick is the one cooking.
Nick just hasn't had the time and energy lately to cook, although yesterday he told me he misses cooking and hopes to get back into it once he gets better adjusted to his new job. I hope so too, because his food is way better than mine.
Being able to give more of yourself to your partner when they need you most is something I always want us to do for each other. So, I don't mind taking over the cooking and the household things for now, because I know that Nick's working hard, and because I know that when he has a free minute, the first thing he's going to do is make the most epic food. There is talk of homemade croissants and french macaroons.
The last few months have taught me a lot about marriage and compromise. We are getting into a new groove — for now, at least! We each contribute in different ways, and to me that is what makes us an awesome team.
So anyway, back to the point of today's post. If Nick is working late, sometimes I eat without him. The last thing I want to do after I have already eaten is start cooking an elaborate meal just for Nick. It's not happening. Having food on hand that can be reheated easily is also good in case Nick doesn't feel like eating dinner. He can just eat it the next day, and nothing goes to waste. Here's what I've been cooking lately: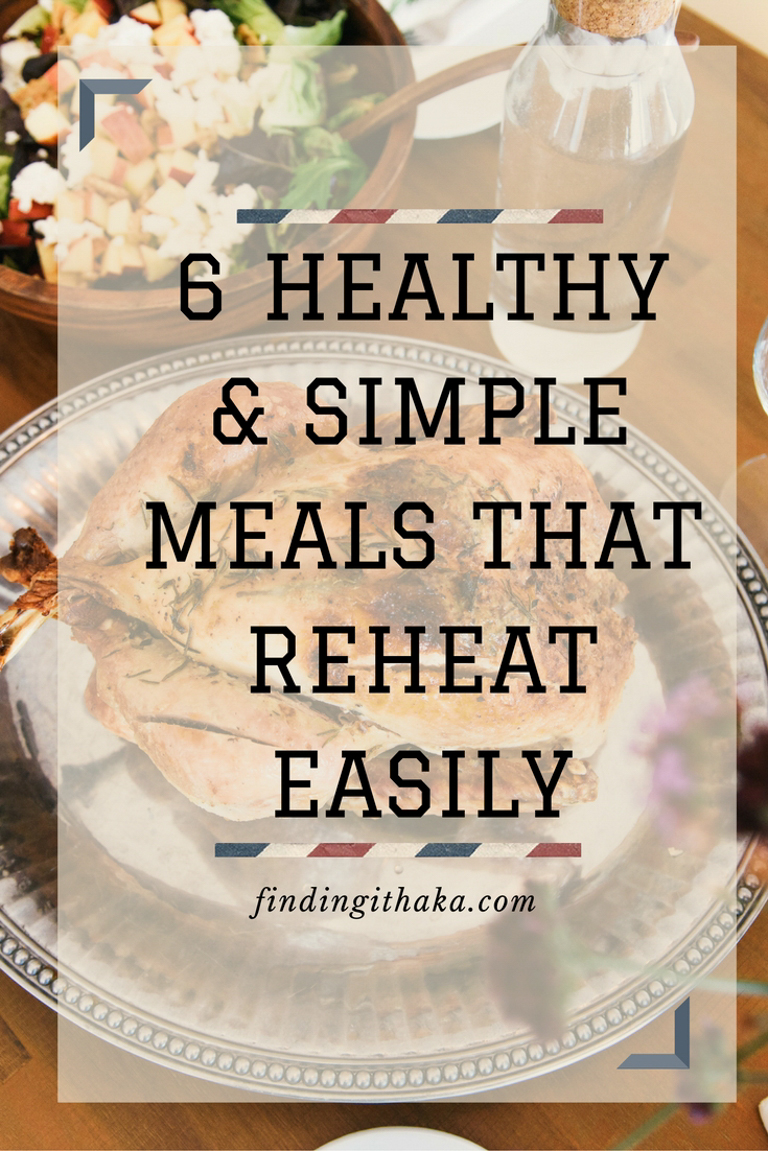 1. Thomas Keller's Roast Chicken with Root Vegetables from The Amateur Gourmet
This is my number 1 favorite meal. It's also ridiculously easy, and a whole chicken lasts a few days. Because it's hard for me to find rutabagas and turnips in Hawaii, I have been substituting the root vegetables in the recipe for whatever I can find. Carrots, sweet potatoes, and potatoes have been working great.
2. Healthy Chipotle Chicken Sweet Potato Skins from Half Baked Harvest
This recipe seems a bit more involved because it takes a while, but it's mostly hands off and pretty simple. And once you're done, you have a lot of food that you can reheat the next day. You can use chipotle in adobe or just straight up chipotle powder for the marinade. Put some roasted veggies on the side and you're good to go.
3. Paleo Twice Baked Breakfast Sweet Potatoes from Plaid & Paleo.
I like to make a bunch of these at once because they make an awesome breakfast. Sadly, we can't eat bacon every day, so I omit the bacon and put in whatever vegetables I had on hand – mushrooms, broccoli, etc. All you have to do in the morning is heat it up and add an egg. And I like to put some sriracha. Easiest breakfast ever. We have both eaten this for dinner, too.
4. Sir fry.
The recipe I use for my favorite stir fry is from The Whole30 Cookbook, and I can't find the recipe online. But stir fry is basically the easiest, healthiest meal ever. You cook some chicken or shrimp or tofu and add in whatever vegetables you want. Or you can just use veggies. This recipe from All Recipes is awesome   because it shows you all the things you can do with stir fry. The possibilities are endless so I never get bored of stir fry.
5. Power Muffins: Blueberry+Oatmeal+Yogurt from Finger Prickin' Good.
We don't eat muffins a lot, but I always make these when people come over or when we have guests staying with us. I guess this isn't technically a meal, but they have Greek yogurt, oats, and fruit, so they hold you over for a while. And you can always eat two!
6. Crustless Spinach Quiche from All Recipes
A dear friend from back home shared this recipe with me years ago. What I love about it is that it can be used as a basis to make any kind of quiche you want. You can change up the cheese and add in any vegetables or meats. There is also no shame in eating a quiche for lunch or dinner.
What are your go-to recipes? I need some new ideas. Bonus points if they are simple and reheat easily!