July 6, 2015
I love road trips! Nick and I had to do loads of driving in New Zealand in order to get to all of the places we wanted to go. This was pretty awesome for us because there aren't any long drives on the little island we live on. On this particular trip, I accidentally fell asleep and woke up right here, just as we were getting close to Mount Cook National Park. Nick pulled over at this little lookout point so we could get a view of what was to come.
As I groggily woke up, we took a few pictures and then jumped back into the car. We had a lot to do in Mount Cook, and only one day to do it all!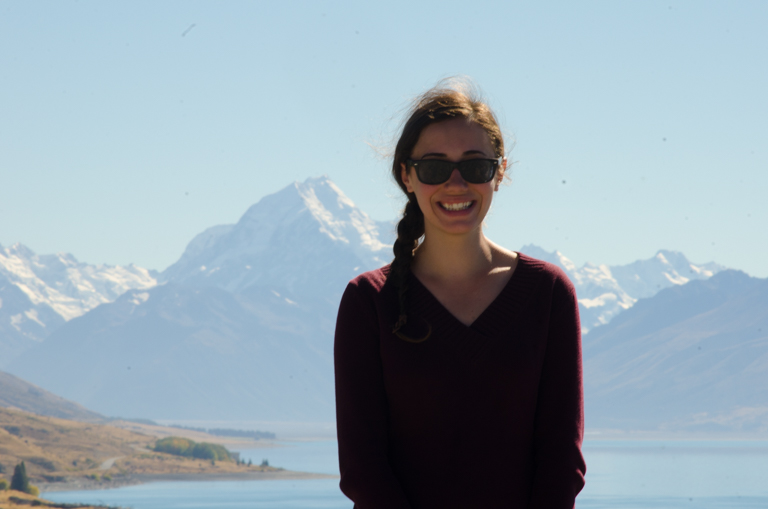 This was just the drive into the park!! I was already in love.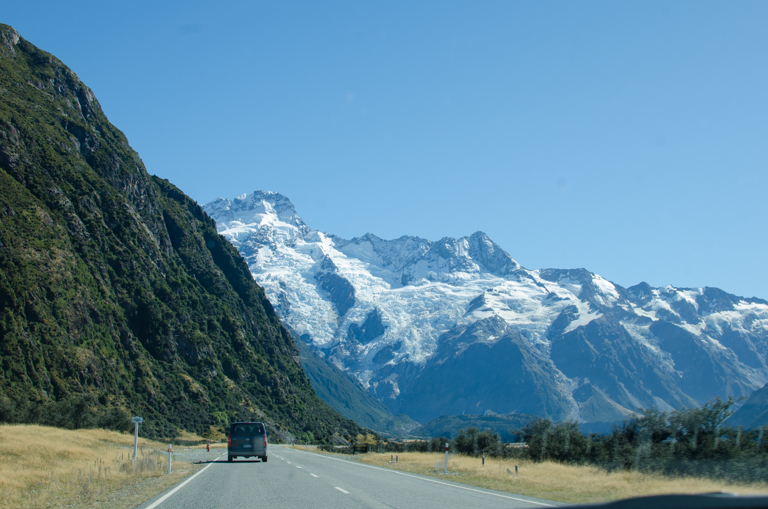 We checked into the Hermitage Hotel and grabbed some lunch. I loved that we got views of the mountains as we ate. I felt like we were on a little oasis, completely away from everything else. And I loved it.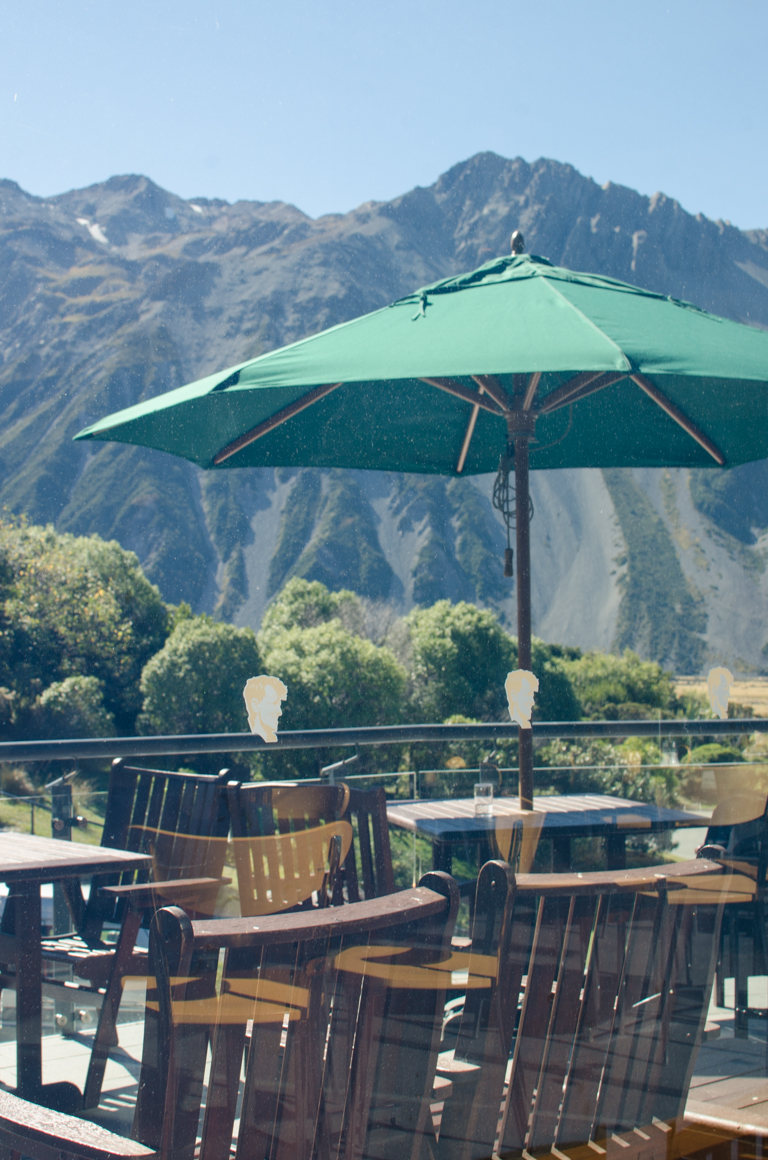 We only had one night in Mount Cook. We were there mainly so that we could take the flight onto Franz Josef Glacier the next morning. But we wanted to get in at least one hike while we were there, and we were set on doing some stargazing. We didn't have anything planned, but when we got there, we found out about a hike called the Kea Point Track. I'm so glad we did, because it was absolutely perfect for us. It was pretty easy and short – just what we needed after a long day in the car. But we got a lot of bang for our buck – the hike brought us through the Hooker Valley and brought us up front and personal with some of the most amazing views of Mueller Glacier lake and Mount Cook. Here's Nick getting started on the trail!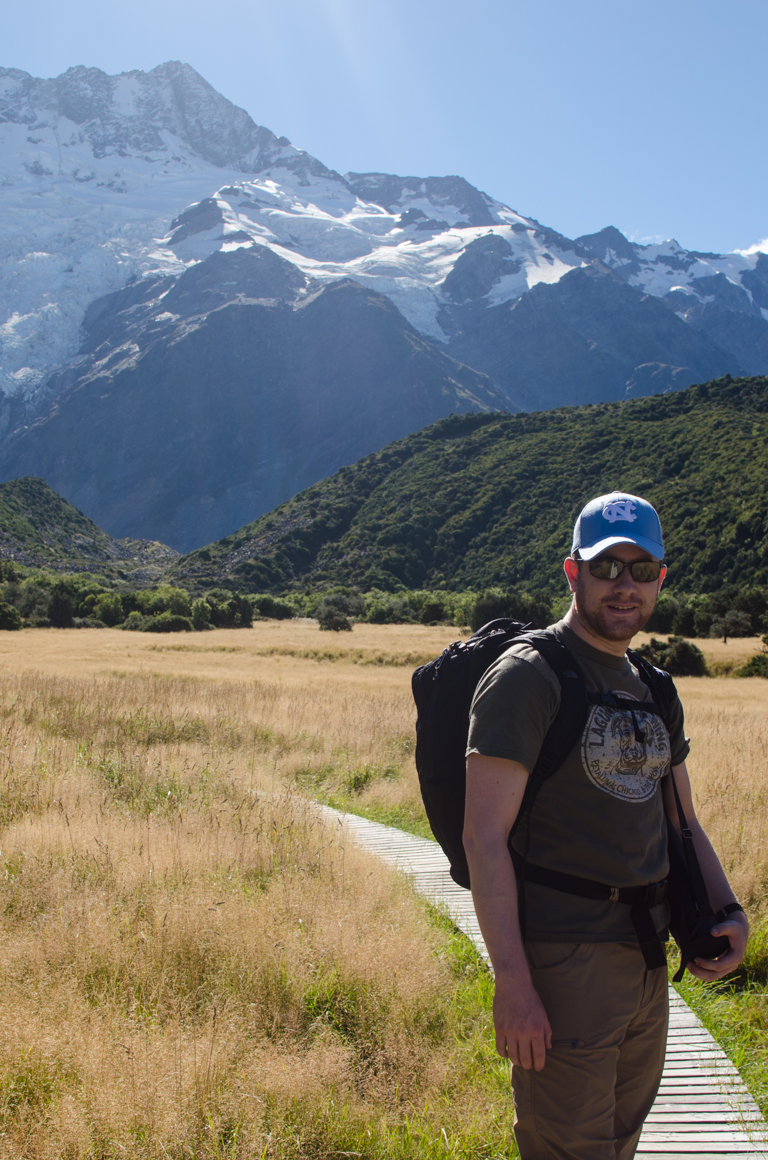 Honestly, I think that Mount Cook was the most picturesque place we saw in New Zealand. I could spend weeks just staring at this view and exploring all of the little hikes.
The hike was mostly flat and easy. And we got to look at these mountains the whole time!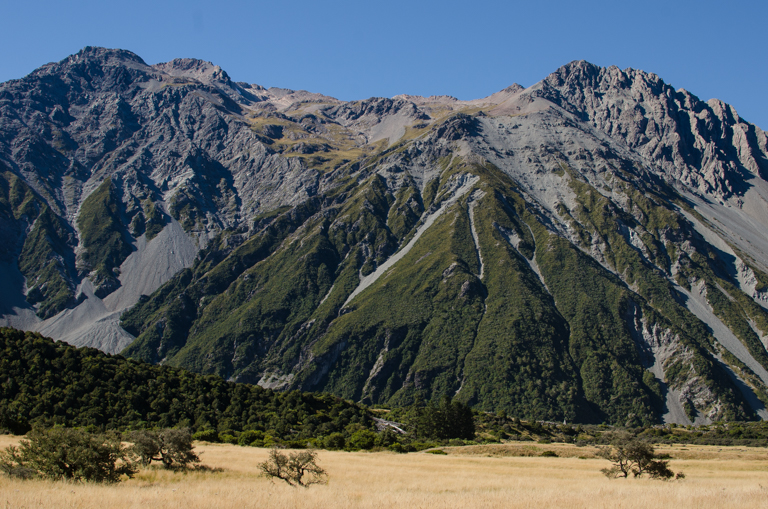 Still, I wasn't prepared for the view at the end: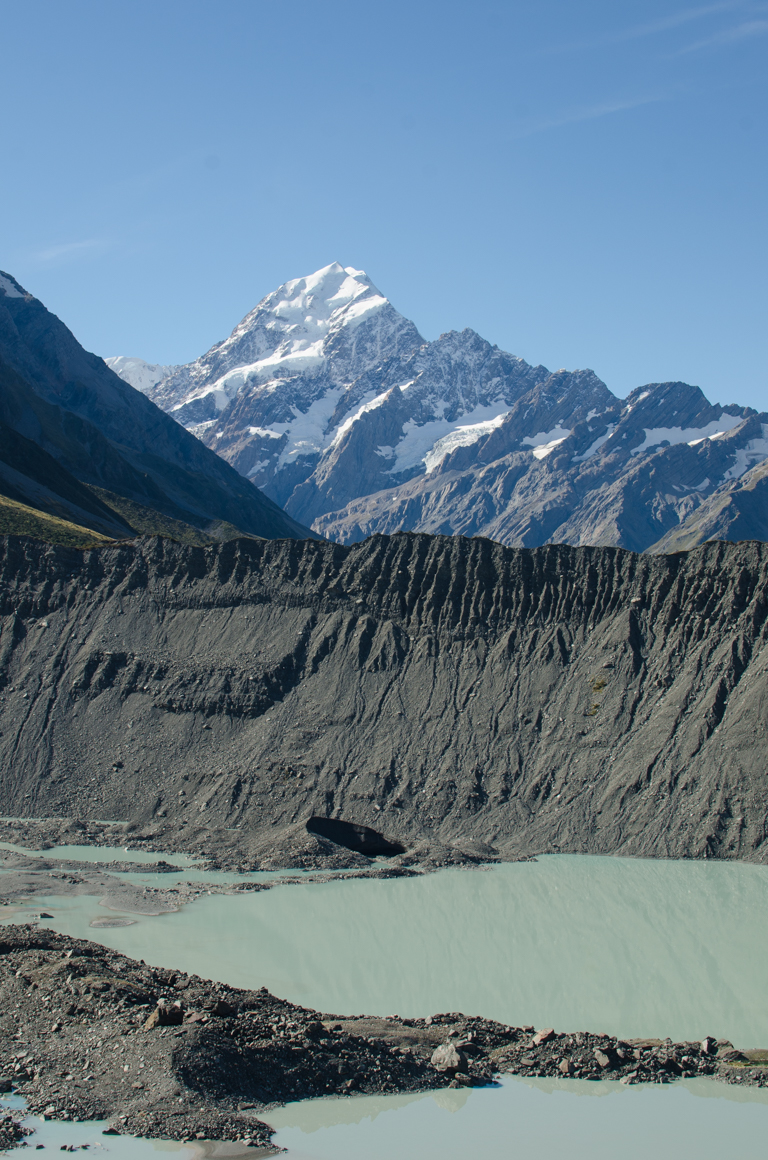 I was completely mesmerized by this combination of Mount Cook and this turquoise water – a glacial lake. I had never seen anything like it before. Those colors!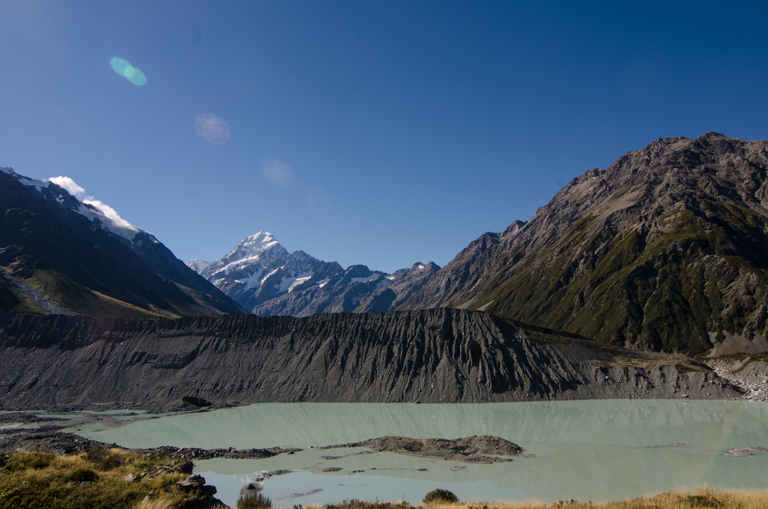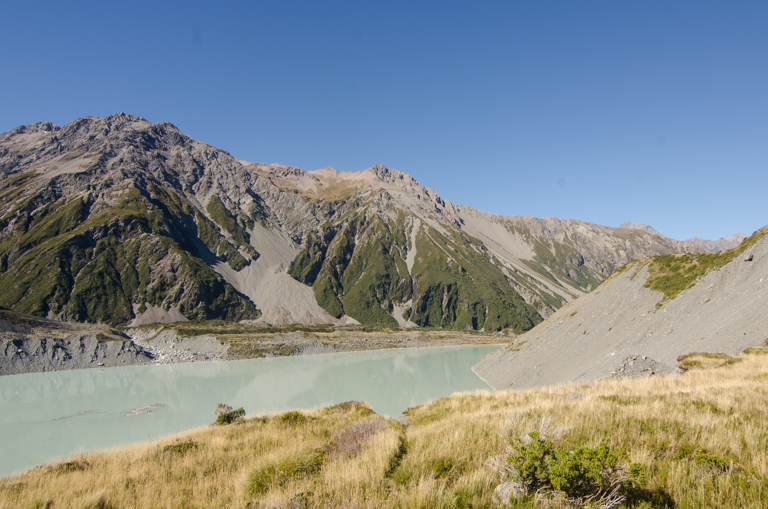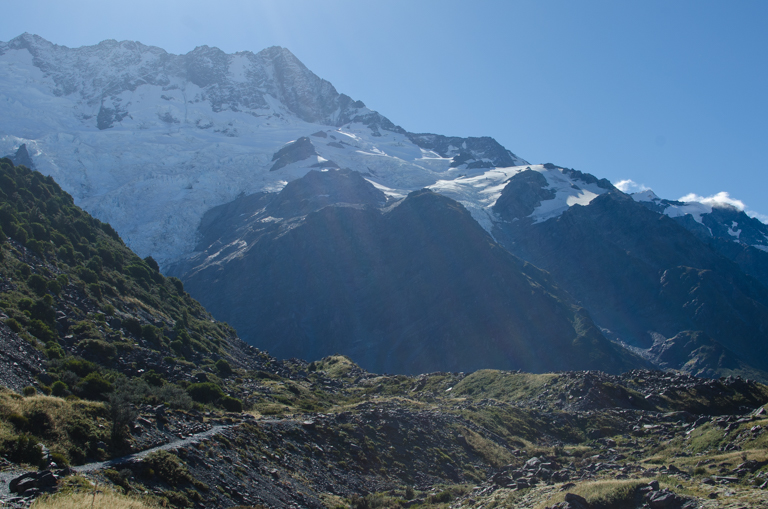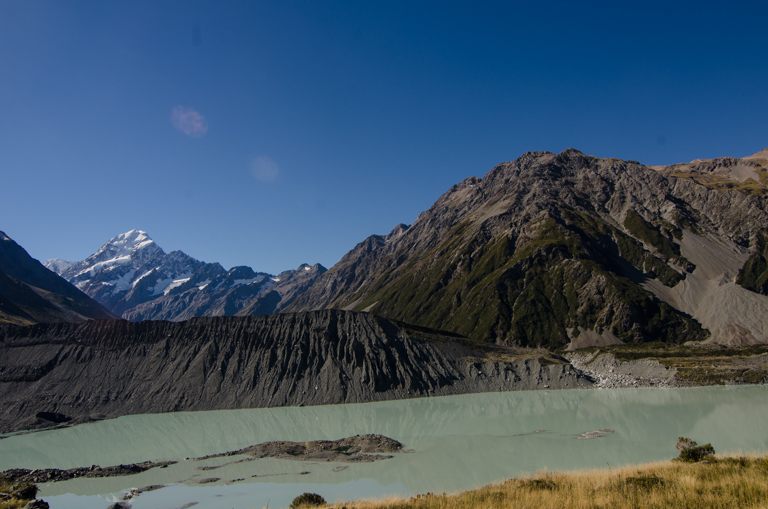 We just hung around for a long time, just taking in these views and relaxing before it was time to head back.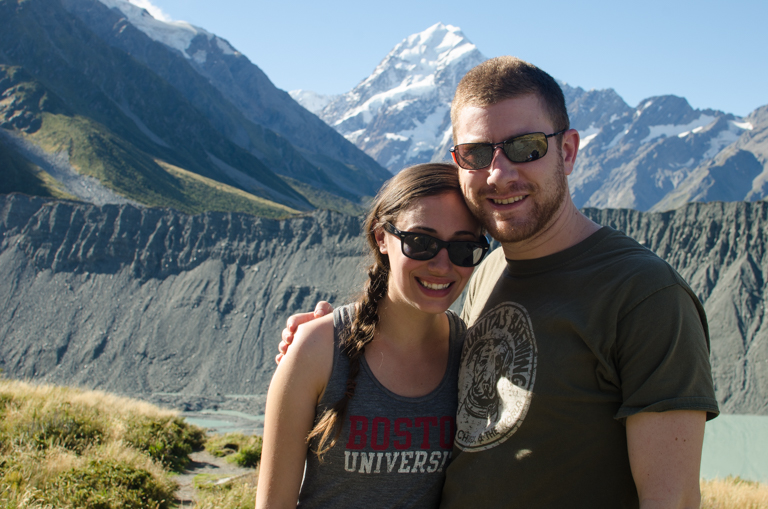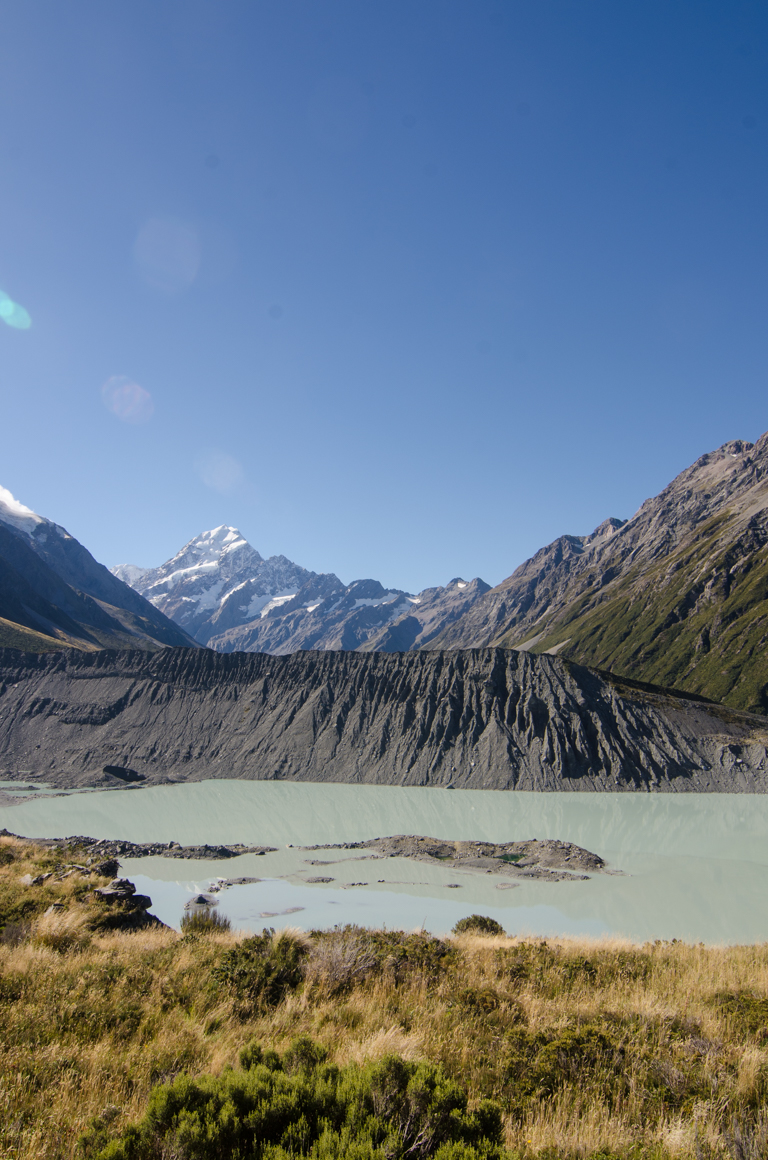 As the sun started to set, we headed back to the hotel. This is probably one of my favorite pictures of Nick ever. He is probably happiest when he is outside and I love the background!
When we got back to the hotel, we quickly took showers and headed to the hotel's restaurant for dinner. We were starving and ready for dinner! There isn't much else around, but I had no desire to leave this hotel anyway.
 We had dinner as we looked out at Mount Cook.
The hotel had a little movie theater that they played a lot of different films in. After dinner, we decided to go watch a movie about black holes. I was so mesmerized by the one we saw when we went stargazing in Queenstown that I really wanted to learn more about them.
Afterwards, we went stargazing again. Our tour guide warned us that it was pretty bright and cloudy outside, so we wouldn't get to see much. We decided to go anyway, and he was right. I mean look how bright this picture is. It was still a blast, but I would say only go on clear nights when the moon is small or when there is no moon!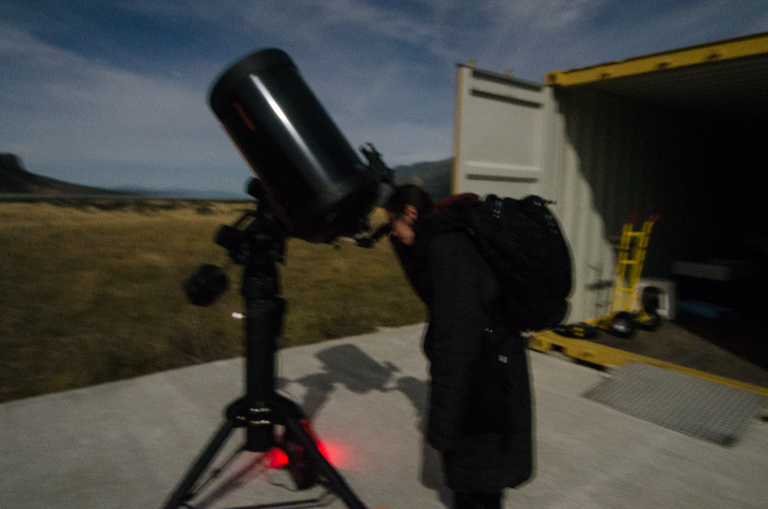 The next morning, we got up before the sun so that we could go see the glaciers, and we saw the perfect sunrise over Mount Cook. New Zealand was just full of sunrises like this!!