November 29, 2015
I can't believe I have lived in Hawaii for over two years and haven't written about Diamond Head yet! It's one of the most popular hikes here. I think that now is the perfect time for a blot post all about Diamond Head, because by now I have hiked it probably around 15 times, so I have learned lots of tips and tricks for you all. It's an awesome hike, but it is also super crowded and there is a lot to know before you go.
Last week, Nick and I decided to go up to Diamond Head one last time before we move. I was in full blogger mode, wanting to get lots of pictures so I could share with you my tips and tricks. Luckily, Nick decided to take over the role of photographer, so I just got to relax.
There are two parking lots you can park in, but both are small and fill up easily. If you are staying in Waikiki, it would probably be easiest to take a taxi or the bus just to avoid the huge hassle that is parking. We were lucky enough to find a spot in the row of about 6 spots right outside the entrance to Diamond Head. Those spots are free. It costs $1 per person to walk in or $5 per car on the inside lot.
After we walked in and paid our $1, we started the hike. The beginning of the hike is paved: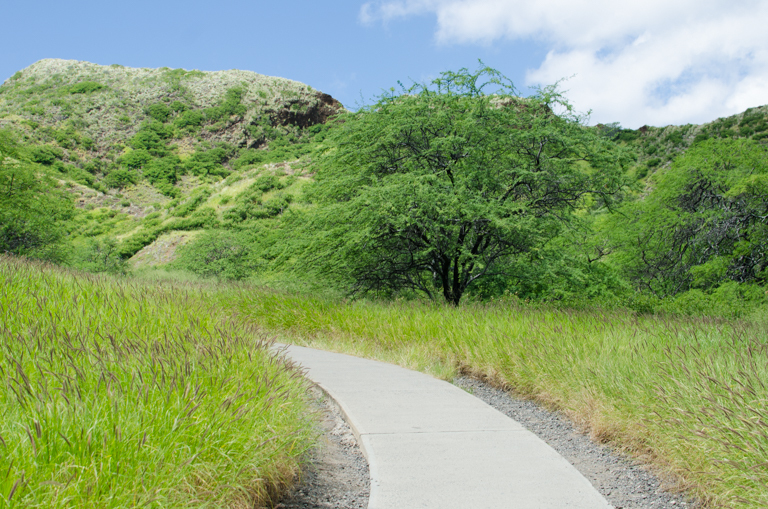 But it quickly turns into a more rocky terrain. A few parts are shaded, but most are exposed to the sun. And it's almost always sunny on this part of the island.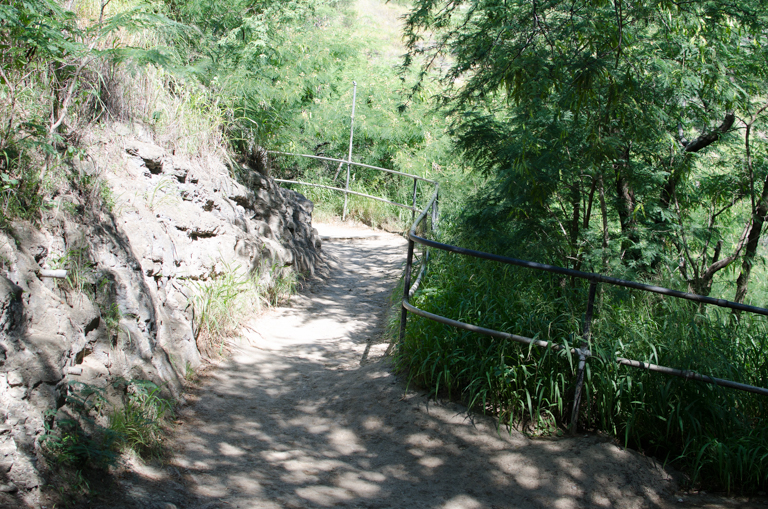 Water breaks are essential. I take a lot of them. There are lots of benches along the way to sit and take a rest.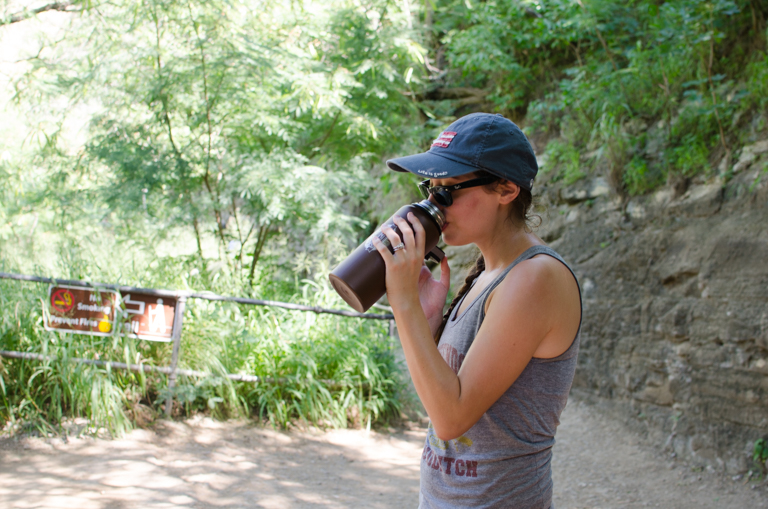 Always crowded!
As you get about halfway towards the top, there is a lookout point on the left side. I always stop to take a water break and to soak in these incredible views!
After this glorious break, you come to your first set of stairs. They are kind of brutal.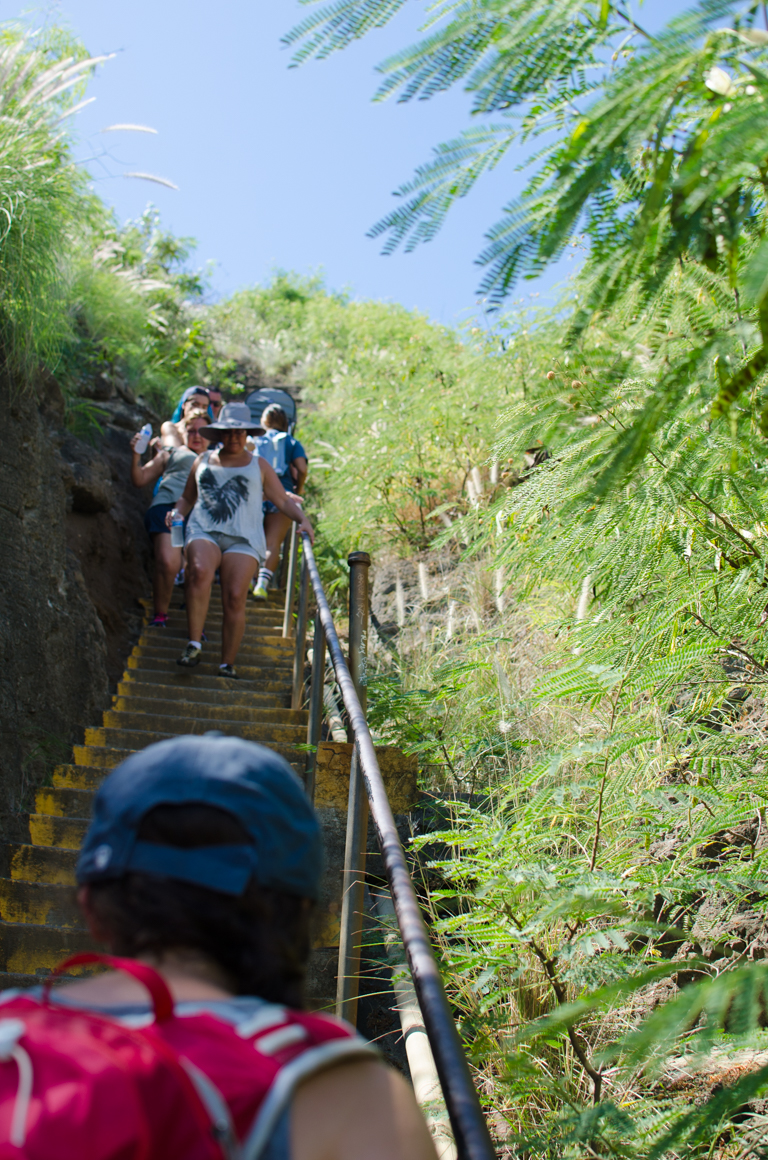 As you get to the top of the stairs, you have to go into a dimly lighted tunnel. I've seen claustrophobic people turn around at this point, but it really is not too bad: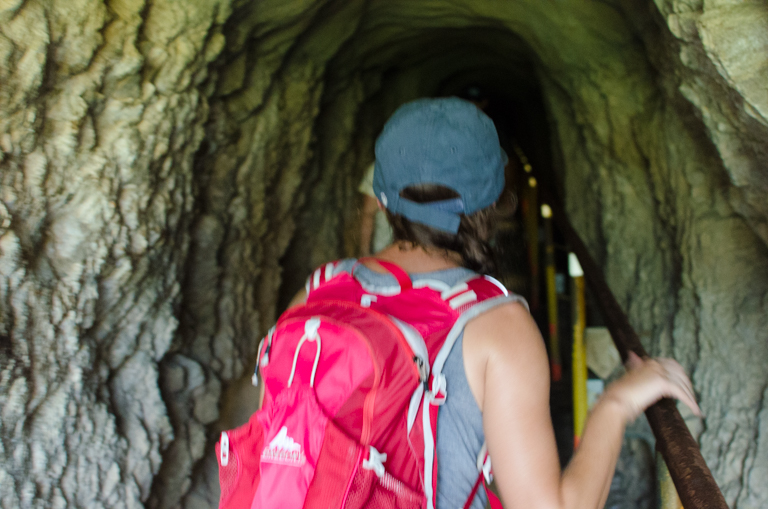 You emerge from the tunnel and you have two choices to get to the top. The way I go is deemed the "harder" way, but it's also more interesting. If this seems a bit scary to you, don't worry – you can go  a different way. It's a bit more roundabout, so it's easier, and it's all outside.
On my way, you start with more stairs, of course!
Then you go up a spiral staircase:
And finally, when you feel completely exhausted and are sweating profusely, you emerge at the top of the bunker:
Once you climb out of the bunker, you get these incredible views:
But wait! You aren't at the top just yet. There is one more set of stairs. But these are a piece of cake compared to what you just did!
Views from the very top:
It's so much easier to go down! But there ground is rocky so it's easy to trip if you don't watch where you are going.
Once you get to the bottom, get some pineapple from this food truck. They have lots of food, but Nick swears they have the best pineapple in the whole island. Even though pineapple isn't my favorite, we grabbed a bag and then sat on the grass to relax!
Tips for hiking Diamond Head:
Get there early! Diamond Head opens at 6 am. It would probably be best to get there sometime around then. This is for two reasons: both crowds and the sun are less early in the morning.
Bring water. It's very dusty and the air is very dry – sometimes I feel like I am getting dried out as I am hiking.
Wear sunscreen. It's short but hot and almost entirely in the sun.
Wear sneakers. I see people wearing flip flops and sometimes even heels on this hike! Do not do that!
Wear appropriate clothes. I see people wearing dresses all kinds of fancy clothes – it's a hike, people!
No strollers. It starts out paved, but you won't get very far with a stroller once it gets rocky.
It's super popular so people assume it's easy. It's a lot of stairs and uneven ground – you need to be in decent shape to do this.
Go to Bogart's Cafe after! I will be sharing all about this awesome little cafe later this week!