June 5, 2017
I love reading bloggers' goals post at the beginning of each month, but I never think that anyone will want to read mine. This month so many bloggers posted their goals on June 1 and it got me really motivated.
I'm going to give it a try this month. One thing that I always found with Nick gone is that having a project and/or a goal gives me more things to do on my own and things to work towards.
So, I think it will be good to cross things off of my list that I have been meaning to do for months — or, really, since we moved into our home 11 months ago! And, honestly, some of them will be a lot easier to accomplish with Nick gone.
1. Read 4 books. I've been slacking in the reading department, so I'm going to try to read one book per week. I finished The Couple Next Door a few days ago, so I am off to a good start! Our Beyond Words Book Club is reading The Handmaid's Tale this month, so if you're looking for something to read, you should join us here!
2. Print a canvas from our trip to New Zealand to hang in our bedroom. We have a huge empty wall in our bedroom that is just depressing. My plan is to get a big canvas of a picture to New Zealand and put a few other pictures from our travels. I have been meaning to do this for approximately one year, but we have so many pictures that going through them seems daunting. Also, I try to spread out the things that we buy for the home, so this keeps getting pushed aside when I want to get other things.
3. Print one other canvas for the living room and rearrange some photos we have hanging up. We have a big world map that we pin with all of the places we have been and I'm trying to turn it into a gallery wall. I have frames on the wall that don't have pictures in them, so I need to just get that done.
4. Print photos for our 2016 & 2017 scrapbooks. To make each scrapbook, first I buy the pictures, then I buy the supplies, and then I start working. I am one year behind on my scrapbooks. They are usually my gift to Nick for Christmas, but when we PCSed from Hawaii to Connecticut over Christmas in 2015, I got behind and I have been a year behind ever since.
Each scrapbook takes a lot of work, so I need to start working on them now if I am going to give them to Nick for Christmas this year. I would love to catch up and give him two this year.
It's been hard to motivate myself to scrapbook in Hawaii because I never want to stay home. But with Nick gone, I can work on my scrapbook at night. I also can leave all of my supplies out all over the table. I make the scrapbooks for Nick, so I always hide everything when before he gets home so that he doesn't see me working on it. He absolutely would not mind the mess, but I like to make it a surprise. So, it will be a lot easier to do this with Nick gone because I won't have to keep cleaning up everything and taking it out again.
5. Go on a hike once per week. This is partially to enjoy Hawaii and partially to keep busy while Nick is gone. Over the weekend, my friends and I went on a new hike that I had never done before! It was so fun and so beautiful!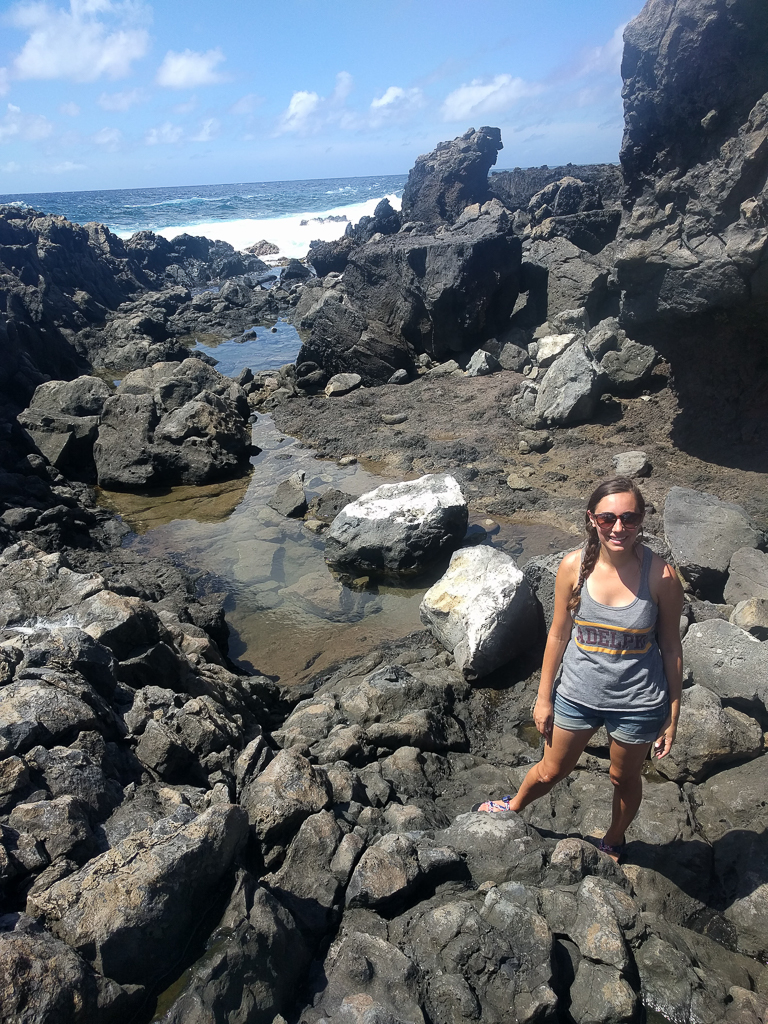 6. Workout 3x per week. This could be yoga, a hike, or going on the elliptical. Whatever gets me moving.
7. Start volunteering regularly. I just finished two rounds of interviews to volunteer at the Navy-Marine Corps Relief Society and I hope to officially start training at the end of June. I hope to write a whole blog post about this once I get started. I am so excited to begin volunteering for an organization that I believe does so much good.
8. Get a morning routine. My routines have changed a lot with Nick gone, starting a new job, and hopefully now volunteering. Without a morning routine, I feel lost, so I want to nail it down.
9. Clean my car. Where is Nick when you really need him?!
10. Avoid seeing a cockroach in my apartment. These guys are everywhere in Hawaii, and I have absolutely no idea what I will do if I see one while Nick is out to sea.
What's on your to-do list this month?!