May 9, 2014
We just got back from our first married vacation! And it was fabulous.
We decided to visit Kauai before going to any other island because of its hiking and outdoor adventures, especially Waimea Canyon and the Na Pali Coast.
We planned out this trip thoroughly – what hikes we would go on, where we wanted to eat, and even what time we would need to leave the house each day in order to do everything we wanted to do. We did not stick to the entire itinerary, because things change and we always see things along the way that we maybe didn't read about online. But we get so excited about trips and we always want to make the most of them in the limited time we have, so we did a ton of research before we left and planned out each day. I will make short post about each day so that I can share with you as much of the trip as I can.
The first day we decided to take it easy. We stopped at Glass Beach, a beach made entirely out of sea glass. I am kinda obsessed with collecting sea glass. I have a jar full of it that I have collected from all over the world, so I was really excited to go here.
The beach is only about 10 minutes from Port Allen, a little town with a strip of shops and restaurants where a lot of boat tours take off from, but it is still about as far off the beaten path as you can go – right the middle of Kauai's industrial center. The glass basically comes from a dump. In order to get to it, you have to drive through the industrial area and onto a dirt road. The view is not much to look at from far away. But once you get closer you can see so many sparkles. 
Most of the pieces left are tiny, round, pieces. They look more like pebbles than glass. But if you look through you can get some bigger pieces. It's not really the kind of beach you can sit at and hang out, but after finding a few pretty pieces for me, Nick found a spot to sit in while I finished up.
---
After the beach, we got some groceries and headed to our beach cottage at the Barking Sands, which is on the PMRF (Pacific Missile Range Facility), a Navy base on Kauai. People in the military can rent out these cottages and stay on the base with all of the amenities, like a gas station, restaurant, little snack shop, and most importantly, a beach.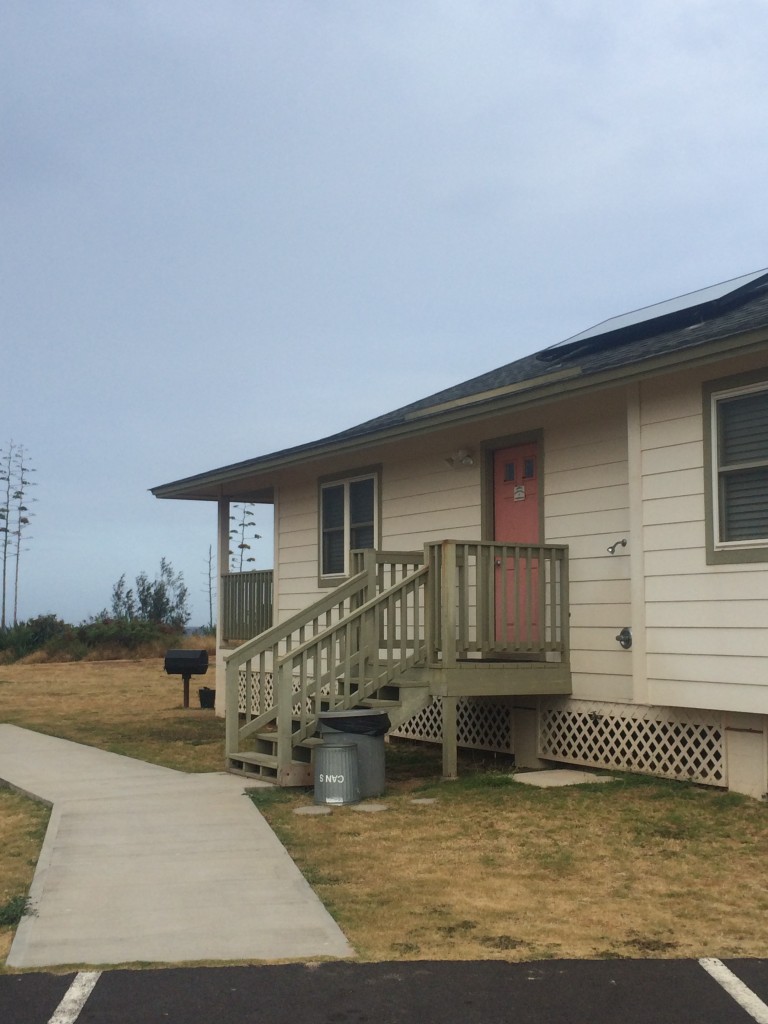 We loved staying here.
We had a kitchen, living room, bedrooms with AC, and this little outdoor area to lounge around on.
Although we didn't spend much time at the cottages, we loved having a kitchen to cook breakfast and being able do laundry, especially after all of the muddy hikes we went on. There is no housekeeping service, which was perfectly fine with us. We just loved having so much space, being on the base, and saving a lot of money.
The Barking Sands is kind of far away from a lot of the touristy areas and restaurants (another reason why planning was so essential for this trip!), so Nick cooked dinner the first night so we could enjoy the view and rest up for our big hike the next day.