March 14, 2021
Moving so often is exhausting. By the time I get the kitchen organized and figure out where all of the light switches are, it's time to move.
I am 100% serious. I was laughing at Nick earlier today as it took him about 5 tries to turn on the light he wanted to turn on.
Knowing we are only going to be somewhere for a few months or a couple of years has made me not really care about taking the time to decorate. I guess that's why I've never been interested in decorating or home stuff (like who is Joanna Gaines? All I know is my friends want to visit her in Texas). It's always seemed pointless.
Just looking around my basement reminds me of why I don't bother to decorate. There are lamps, a coffee table, end tables, a desk, an entire dresser, books, and artwork that just don't fit in this house. In our past few houses, we didn't have any overhead lighting, so we needed a lot of lamps. This house has plenty of lighting, so we don't need any. The queen size guest bed that fit perfectly in our (very large) apartment in DC takes up the entire guest bedroom here. So the dresser that we got with it is stuck in the basement. I keep dragging around things, not wanting to get rid of them in case we will need them again.
We spend so much money every time we move just making the new place functional that I never have extra money in the budget for fun decorations. Buying pretty things has always seemed like a waste of money because I don't know what will work in the next place.
I have been collecting things for M's room ever since I was pregnant, but I've never hung up any of it.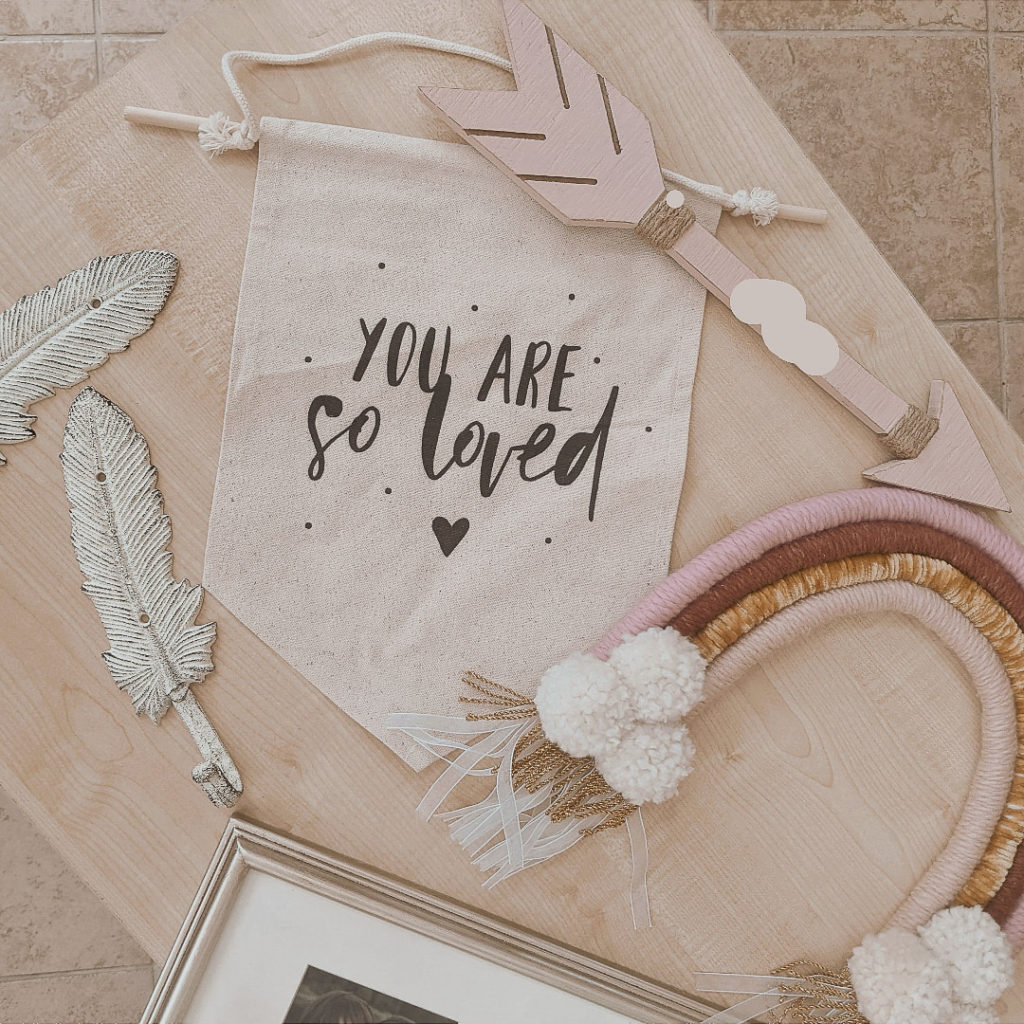 Her rooms in the past two places we lived were embarrassing. Not a single thing up on the walls in either place. Not joking. I have proof:
I did make her a little nook in our room though, where she spent most of her time in that apartment.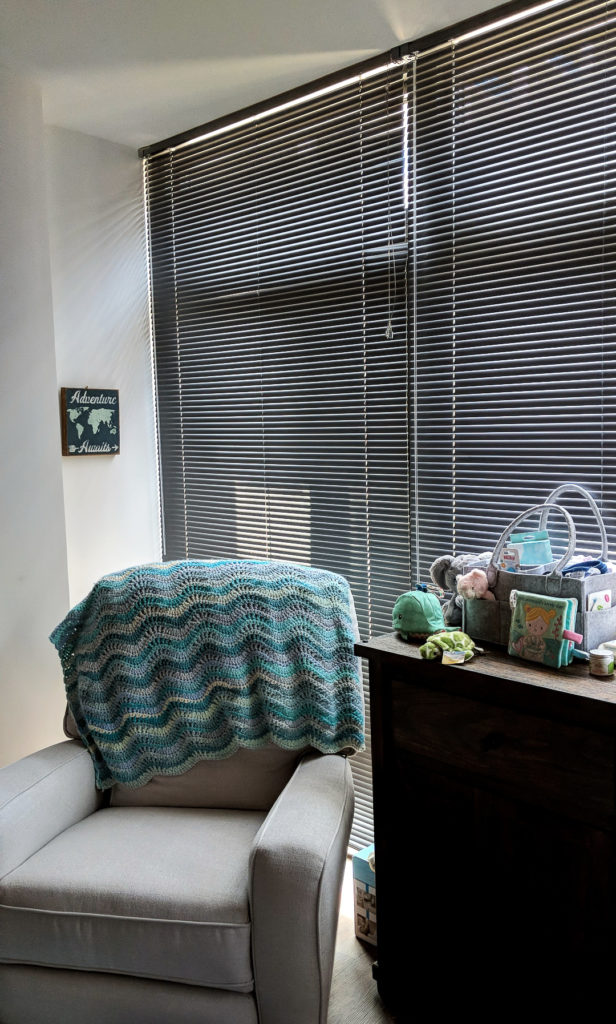 Part of my inertia was not being able to catch my breath from all of our moves and having a newborn. Part of it was just not caring, knowing it was temporary. Part of it is not knowing how to decorate or what looks good together or how to make a themed nursery because I've never done any of that before.
M is now in her third home. Now that she is a bit older, and now that I have a second to breathe, it just hit me that I want our home to be calm and cozy. I'm sick of looking at bare walls.
I want to take the time to make sure that our house isn't overwhelming, messy, and chaotic – like the rest of the world. I want it to be a refuge, a place where we all can can rest and relax. I want to make a home that makes M feel totally safe and comfortable. I want her to feel relief and calm when she walks in the door.
I want M's room to be a place she looks forward to going to. I want our living room to be cozy. I want to display all of her books and toys in an inviting way. I want to make a home, even if this will only be home for a short while.
I guess I feel an immense desire to protect M from the craziness of this world and I have such little control over so much. But I can control our home.
Over the weekend, I did a ton of organizing. I cleaned out random boxes and piles, rearranged furniture, reorganized closets, and started going through pictures and things I want to hang in different rooms. I don't know what it is, but I got this energy and desire to make a cozy home for M, but also for all of us. I ordered a few things for M's room that I think will add so much warmth and coziness. I rearranged her room and I laid out how I think I want to hang things up.
But like how do you do all of that?
Do you have any advice for me as I begin decorating this house and making it feel like a home? How do you figure out where to hang things? Can I make my home hygge on a budget? Any favorite bloggers or accounts I should follow? Favorite shops or items? What's your favorite thing in your kid's room? In your room? In the living room? Oh and for real who is Joanna Gaines?
I'm open to any and all tips as this is really daunting to me!