December 31, 2018
As I write this, we're in the middle of our 4th move in 5 years. I haven't been posting at all lately because we've been busy getting ready to move to …..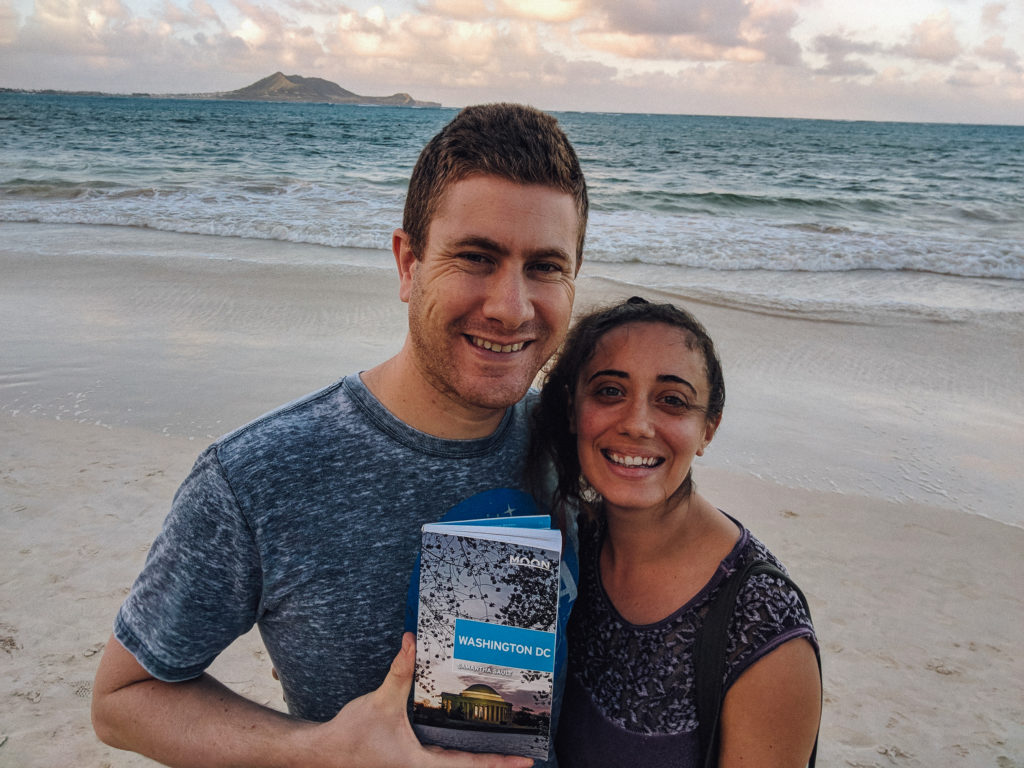 Washington, DC!!
When do you move?
We're in the process of moving right now! I hate moving over the holidays, but it is what it is.
The movers took our stuff a few weeks ago. We're lucky enough to be able to stay at a friend's place while our stuff gets a head start on us. It takes about 45 days for everything to get from Hawaii to DC. So, shipping our stuff so early and using that time to stay with a friend has been a lifesaver. The military will only pay for you to stay in a hotel for 10 days in Hawaii and 10 days in DC, so you're kinda on your own for the rest. It is easier for us to be without our stuff here in Hawaii since we have so many people who can help us out.
We will probably be in Hawaii for another month or so, but we don't know exactly when Nick can leave the boat. We're hoping to stop in California on our way to DC to see Nick's family. We haven't seen them in over 2 years!! We're planning to get to DC in early February and we think our stuff will beat us there.
Do you have a place to live?
We're working on it! We know the exact area we want to live in and we're looking into places. With any luck, we'll have a place lined up when we get there. If not, we'll figure it out when we do.
Why DC?
With Nick's job, he doesn't always do the same thing. On one tour he will be on "sea duty," which means he's on a boat. He's been on sea duty in Hawaii, which is why he was deployed. After sea duty, you go on "shore tour." That basically means a job where you don't get deployed (usually).
We're going to DC for Nick's shore tour. There was a list of jobs and we asked for this job in DC for a number of reasons.
Nick has worked so hard over the past 2.5 years on the boat, so it was really important for me that he gets a job he will love next. I was willing to go pretty much anywhere for that. But the stars aligned and not only did Nick want this job, but we both thought the location was perfect.
We have always thought we would end up living in DC one day since there are so many jobs there for Nick. We always thought it would be a great place to live for a few years because there is so much to see and do. Plus, neither of us have ever lived in a city. He is really interested in the job he will do there, and it's close to New York which is where my family and a lot of my friends live.
But we don't actually get to choose. We told the Navy what we wanted. We were lucky enough to get exactly what we wanted.  I was shocked.
I still can't believe we got lucky enough to get our#1 choice! I thought for sure our luck would run out after two tours in Hawaii, but a bunch of stuff just lined up perfectly for us.
How do I feel about it?
I am devastated to leave Hawaii. But in my heart, I know that we're both ready to move onto the next chapter. Nick is ready for a new job and he's ready to live somewhere new. I believe that I could live in Hawaii my entire life and be perfectly content. But I am excited to go back to the mainland, be closer to family, and to live in such a cool place. One of the reasons Nick and I decided to continue with this life was to move around and see different places. I'm grateful for the time we had in Hawaii and now it's time for something new.
Oh yeah, and we are not just moving anywhere. If we were leaving Hawaii and going somewhere we didn't want to go, that would be one thing. But we're moving to Washington, DC! It will be a complete 180 from Hawaii life, but I think it will be a great experience for us. I know it will take some getting used to but part of the fun of this life is change and new experiences. I'm excited to explore everything DC has to offer. Since I know we will be there such a short amount of time I know that I won't take living there for granted. Plus, my good friend from college (and for us that was a while ago;), Christy from Planes, Trains, and Running Shoes, lives nearby!!
Nick and I went to DC for a long weekend many years ago and I remember us running around to see as many sight and museums as we could. Now it will be so awesome to take our time exploring!
I always thought the hardest part of leaving Hawaii would be leaving the warm weather and beautiful beaches. But what I am going to miss most is my friends here. I've written a lot about them on here and we have just formed such a tight bond over the past two years. I think that deployment and living on an island so far from our families helped cement that bond, but we also just clicked.
It's going to be hard to leave them, but luckily for me, one of my friends here is also moving to the mainland next month. As hard as it is for both of us to move, I am glad to have her going through it with me. We already have plans for her to visit me in DC in February!! How awesome is that?!
This will for sure be the hardest move I've ever done. But in my heart, it feels right.
What was the hardest move or change you ever went through?
Here's to 2019 and all of the changes/adventures/new experiences it will bring!
Linking up with Kristen @ See You in a Porridge