January 29, 2015
I went to college less than 8 miles from my home. I didn't move out of my parents' house until I got married. Then I moved 5,000 miles away to a little island.
I felt a weird mixture of homesickness and pure joy as Nick and I started to make Oahu feel like home. It's not that one is better than the other, it's just that at this point in time, I need and want to be here in Hawaii. That doesn't mean that I don't love New York or I don't miss my family. Anyone living far from home can understand this feeling, but it is pretty hard to describe.
During my time here, I've realized that you need to find a balance between allowing yourself to fully enjoy wherever you are living with staying connected to your roots back home. You can't spend all day emailing your family and friends when you are living in a new place. What would be the point of exploring a new place if all you did was sit on your computer?
So, my best advice to anyone who is living far from home is to immerse yourself in your new home. Make your house feel like a second home. Get to know this new place. Drive around even if you don't know where you are going. Try every single coffee shop. Meet new people. Learn something new. Cook with local ingredients. Take tons of pictures. Keep a journal to remember every second of it and remember how lucky you are to have this experience.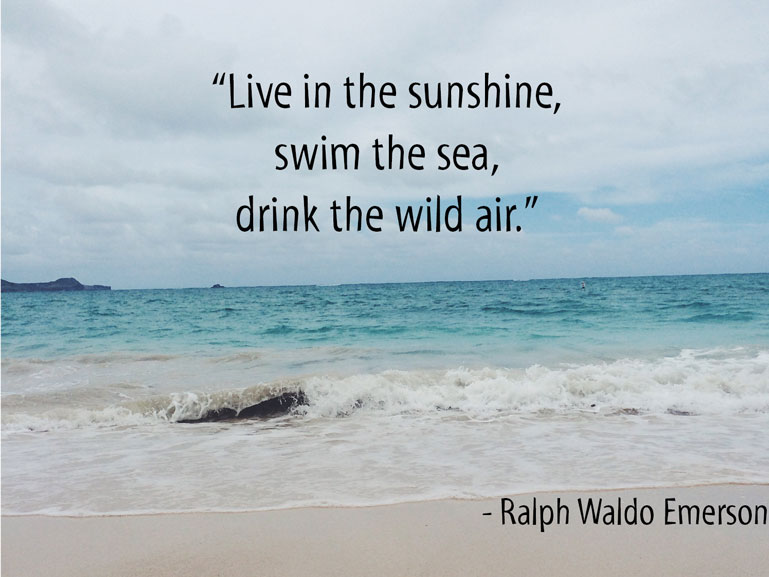 But don't forget your roots. They're what made you what you are. They're what anchors you.
The way that I personally feel most connected to my family and friends is through snail mail. When I lived close to all of my family and friends, I never used to send them cute cards or little presents. But there is something about getting a letter in the mail that feels so personal, so intimate and loving.
Another thing that helps me stay connected is figuring out what kinds of communication works best for maintaining my different relationships. I have some friends that I text with, others that I Skype with, and others that I strictly email. You don't have to communicate the same way with everyone you know, and you can't spend all day on your computer. Figure out what works best for you.
Finally, I love making plans to visit home. Since I don't have a full time job, I have the time to go home whenever I need to, which is a wonderful luxury that I know I am very lucky to have. Somehow knowing I can go home any time makes me feel secure. Whenever I do set a date to go home, I start making all kinds of plans to spend time with my friends and family. Having these things to look forward to makes separation easier.
Get out, explore, live. Stay rooted, but grow your wings.