October 12, 2021
Oh my gosh, I don't really know how it's been 6 months since I last blogged. I have been pouring so much of my extra energy into my Etsy Shop and I think that I just got out of the habit of blogging. Fall and Christmas are the busiest time for my Etsy shop.
I feel like the more I blog, the more I want to blog… the less I blog, the less I want to blog. But I love blogging so much an I am hoping to use today's linkup with Steph and Janaas a way to get back into blogging. I'm going to share some of the best books I've read recently. I have posted about all of these on my Instagram, where I try to post my favorite books for people who don't read blogs.
*Note: Links are affiliate links. I am an affiliate of bookshop.org, which supports local, independent bookstores. I don't make much from affiliate links, but they help me keep this blog going. If you are interested in any of these books I encourage you to click on my links and check out some of my favorite books at bookshop.org!

I can't believe how much I loved this book. I don't usually go for romance novels but I just fell into this world of witches and magic and mystery.
Witches Vivienne and her cousin, Gwen, are joking around one night after Vivienne angrily breaks up with Rhys (also a witch). They accidentally curse him. 9 years later, Rhys comes back to town and the chemistry between them is still there… But so is the curse. And it's going to peak, of course, on Halloween.
I love reading about witches and to me this was kind of like a mix between Hocus Pocus and Harry Potter, but with adults as the protagonists and lots of steamy passages. I loved the stong feminist themes and LGBTQ representation.
I always thought I hated Halloween but I just hate horror movies and haunted houses … I am here for witches and spells and small towns and love. I'm definitely in the Halloween spirit after reading this book.
Once There Were Wolves by Charlotte McConaghy
I absolutely loved this book. This heart-wrenching, raw novel is about survival and trauma.
Inti Flynn comes to Scotland with a team to reintroduce wolves to the Scottish Highlands, hoping this area will help them thrive and reproduce, which will help restore the land. The locals are against this plan from the start and are just waiting for a wolf attack to give them the excuse they need to put all the wolves down.
When one residents of the town goes missing, the question that everyone wants to know is — was this the work of a human or a wolf? And Inti will stop at nothing to make sure a wolf isn't blamed.
With Inti during all of this is her twin sister Aggie, who suffered a trauma so great she is unable to leave the house or speak. Inti takes care of her while also trying to take care of the wolves.
Inti is not a likable character but she is such an interesting character to me. I loved reading her story. On multiple occasions, she just does what she feels she needs to even though it's the wrong thing to do. She is a raw, real, human trying to do what she thinks is right, almost blinded by her love for her sister and the wolves, as she works through her own traumas.
On top of all of this, Inti has mirror touch synthesia which makes her feel others' physical pain as if it were her own.
If you don't like reading unlikable characters I'd stay away from this book, but if you enjoy characters who are complex, real, flawed, and hardened, run to grab yourself a copy.
TW: domestic abuse, mental illness/PTSD, violent rape, sexual assault, animal death and cruelty, gore, self harm.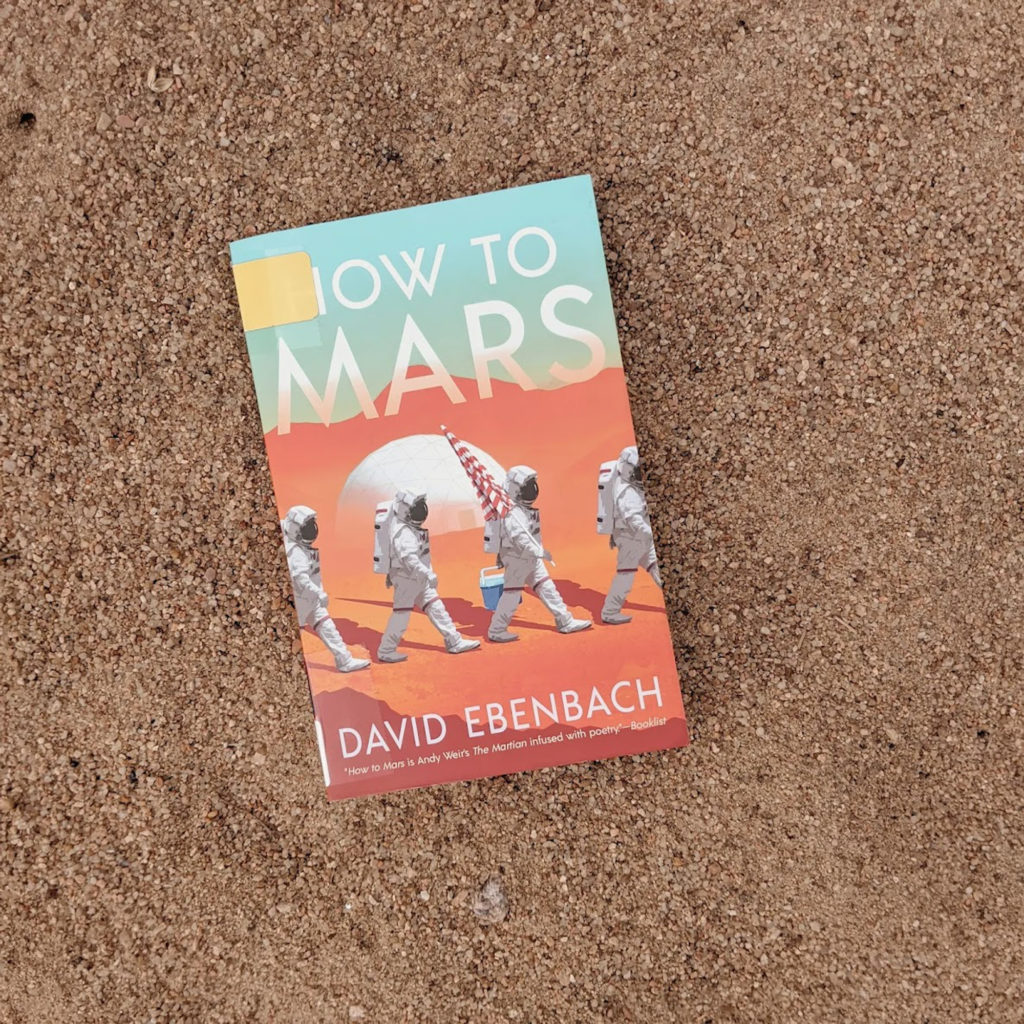 This book caught the corner of my eye when I was at the library with M for storytime and I immediately grabbed it. I love sci-fi books that are light on the "sci," that are more about the relationships, issues, and questions that arise. This book was exactly that.
In How To Mars, 6 astronauts are selected for a one-way ticket to Mars to built their own society, do experiments, and report what they learn to Earth.
The book alternates between the story of the astronauts and the guidebook that the astronauts were given before arriving. The guidebook has practical rules that the astronauts need to follow, but it also talks about issues that they might face. I thought those parts of the book were very funny and insightful.
The most important rule that the astronauts have to follow is to not have sex because even though they are all sterilized, they are not equipped to handle a pregnancy or birth on Mars. So of course, the book opens with one of the astronauts finding out she is pregnant. Most of the book deals with her pregnancy and how she and the other astronauts respond to it.
I absolutely loved this book. It was light but deep, funny but sad, fiction but so real. I'm so glad that I stumbled upon it and I highly recommend it.
Rock Paper Scissors by Alice Feeney
Amelia and Adam win a weekend getaway in a raffle and decide to use the time together as a last ditch effort to save their marriage … Absolute chaos ensues.
I have been in a reading slump lately but I could not put it down! I loved that the author gave us the perspectives of both characters so we knew stuff that one of them didn't.
I didn't love how this one ended but It was a great quick thriller and it was fun to try to put together the pieces. It would be great for vacation or a plane.
Project Hail Mary by Andy Weir
I was so excited to receive a copy of Andy Weir's newest novel from Netgally in exchange for an honest review.
Ryland Grace wakes up as the sole survivor on a mission in space, with no memory of who he is or what mission he's on. It's a crazy ride and goes back and forth between his mission and the flashes of memories he has about the event leading up to it.
I love all of Weir's novels. He has such a unique style and I love the situations he creates. If you're a fan of The Martian, you will love this book. If I remember correctly, it seems like this book has a lot more science in it than The Martian. It was a little too much for me, but Weir does a fantastic job of explaining complex topics. I loved Grace's adventure and the questions that the book raises. I already can't wait for the movie to come out!
Arsenic an Adobo by Mia P Manansala
love mysteries, but I usually stick to thrillers. I had never read a cozy mystery before, but when I saw Arsenic and Adobo on BOTM I had to give it a try.
Lila Macapagal moves back home after breaking up with her boyfriend and is enlisted to help save her Tita Rosie's Filipino restaurant, which is on the verge of failing.
When her ex-boyfriend, an obnoxious food critic, dies right in front of her eyes while eating at the restaurant, the detective in charge of the case has only one suspect – Lila.
She decides to take matters into her own hands to figure out what happened in order to save herself and her aunt's restaurant.
Definitely predictable but sometimes we need something light that we know will turn out well. I enjoyed this book a lot even though it's so different from what I normally read! There is also lots of cooking and baking in this book which I loved!
Next up I'm going to read Practical Magic for the first time. Are you reading any magical books for Halloween?