May 11, 2020
Note: links are affiliate links
Ever since M was born, I have spent a lot of time reading. I didn't think I'd have any time to read at all with a new baby, but M's favorite place to nap is in my arms. That's given me a lot of time to read. I absolutely love reading memoirs and I've been reading a lot of them lately.
I learned so much from the strong women who wrote these memoirs and I hope you do too. Linking up with Steph and Jana.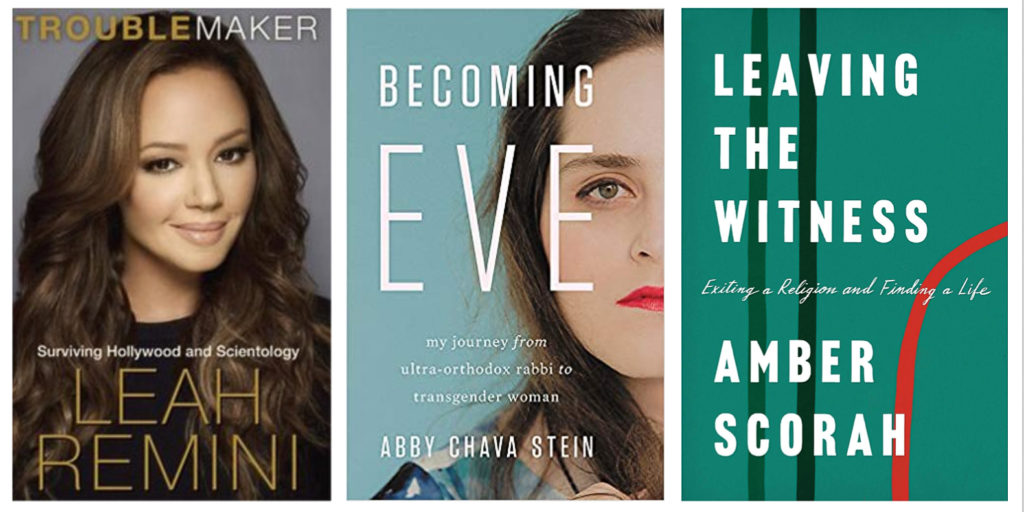 Becoming Eve: My Journey from Ultra-Orthodox Rabbi to Transgender Woman by Abby Chava Stein
Easily my favorite of the bunch, Becoming Eve is the memoir of Abby Chava Stein, who was raised as a boy in the ultra-orthodox Hassidic community.
This books is not about how she left her faith and started over in a world completely foreign to her (she didn't even speak English when she left her community). It's also not about her transition. It's about her life growing up, the pain and turmoil she experienced always knowing she was a girl in a community where there are very distinct gender roles. It was so emotional and you really feel her pain while reading. I absolutely loved her insight into the Hassidic community, her love for her family, and her strength. I have been following Abby online for years and I recommend this book to everyone I know.
Leaving the Witness: Exiting a Religion and Finding a Life by Amber Scorah
I am a huge fan of the Book of the Month Club, but I hate how few memoirs they have available. When I saw this one being offered, I jumped on it. Amber Scorah was a Jehovah's Witness who went to China with her husband to preach. Since this is illegal there, she had to do it in a roundabout way. She would make friends with people and later try to convert them. As she did this, and as she learned about the history and culture in China, she began to question everything she had ever known.
With the help of a man she met online, she was able to break out of the cult. I loved this book for many reasons. Scorah talks a lot about what it's like to be a Jehovah's Witness, but she also talks a lot about China and the culture there that made her start questioning her own beliefs. As she says,
"And then there was me, sitting across from them, with my fake name and life built inside my organization. I was an uneducated preacher posing as an English teacher, my presence here not what I claimed it was…I somehow had the effrontery to try to alter the course of their history, to urge these people to make over their lives into the shape of mine, when I had never even considered how my own life had come to look as it did."
Five stars. A must read. Trigger warning: infant loss, talked about in the last few pages.
Troublemaker: Surviving Hollywood and Scientology by Leah Rehimi
This book has been on my radar for a long time because I really didn't know much about scientology. Leah Remini's book also offers a glimpse into Hollywood as her life as a scientologist affected her acting career, and vice versa.
I've never seen King of Queens and I didn't know anything about her, but I loved Remini from the beginning because I love her honesty and rawness, and her fierce determination. She was brought into Scientology by her mother, whose boyfriend was a scientologist. As she rose in her acting career, she also rose in the church, which loves its celebrities. She was a guest at the wedding of Tom Cruise and Katie Holmes. Interestingly, this event became the tipping point that led her to question her faith and ultimately make the difficult decision to leave.
I also enjoyed this memoir because I enjoyed seeing how she got her roles. She talks a lot about her failures as an actress – like the time she was close to being cast on Friends and the failed shows she was a part of. And it was really interesting to hear about how Hollywood works. Remini is a strong woman from New York!
What are you reading? Any memoirs you can recommend?