June 9, 2020
I have some good ones to share with your this month! Linking up with Steph and Jana.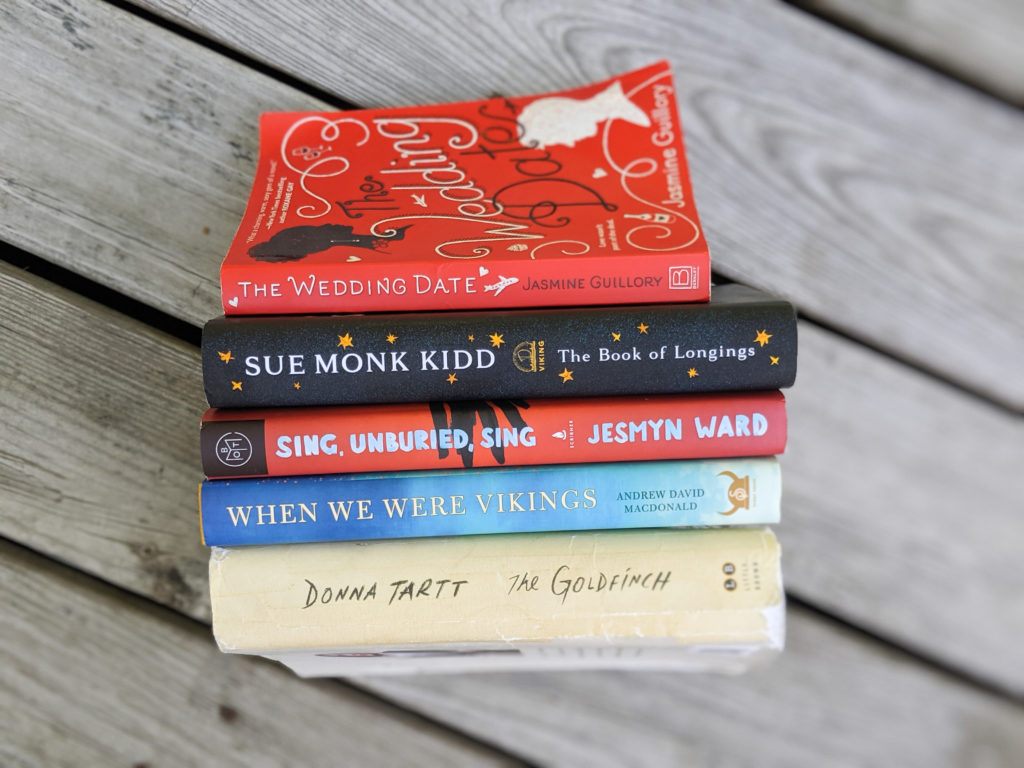 Sing, Unburied, Sing by Jesmyn Ward
"You don't know the sergeant come from a long line of men bred to treat you like a plowing horse, like a hunting dog—and bred to think he can make you like it." – Sing, Unburied, Sing
I think that this novel masterfully deals with the legacies of racism. The novel takes place in Mississippi. Jojo is 13, and his sister, Kayla, is a toddler. Their mother, Leonie, is Black. All of them live with Leonie's parents, Mam and Pop. Pop is haunted by the past, Mam is dying of cancer, and Leonie is addicted to drugs. She is such an inattentive mother that Jojo has taken on the parental role for Kayla. Their father, Michael, is white and is being released from prison. Leonie, Jojo, Kayla, and Leonie's friend Misty all drive to get him. It sounds like a simple plot, but this book has so many layers to it.
This is not an easy book to read, but it is such an important book to read, especially right now. It is easy to judge Leonie, until you get to the chapters told from her perspective. She knows all of her failures as a mother; it kills her to see Kayla reach for Jojo instead of her. But her addiction prevents her from being able to do anything about it. The chapters told from her perspective were my favorite in the book. 4 stars.
The Ballad of Songbirds and Snakes by Suzanne Collins
This is the prequel to The Hunger Games trilogy, where you see how President Snow became the monster we know in the trilogy. I have mixed feelings about this book. Snow is a high school student during the 10th Hunger Games. As an experiment, all of the students are assigned tributes to mentor during the games. He is given a girl from District 12. His entire future, his chance to go to college, is dependent on her outcome.
I loved the first half of the book. I liked seeing young Snow. He lives with his cousin and grandmother. He has no money and hardly any food. He is constantly hungry. He has friends who are outspoken in their opposition to the Hunger Games. He hates the games and sees how horrible Panem's leaders are first hand. But, ultimately, he goes with the status quo, looking out only for himself and his family. He has chances to go one way, but you know the path he's going to take. For that, I enjoyed the book.
But once the games ended, the book quickly fell off of the rails. I can't really say too much else without giving away spoilers, but I was disappointed with the second half of the book. If you're a fan of the hunger games like I me you almost have to read this one, though. 2.5 stars.
The Book of Longings by Sue Monk Kidd
Thank you to my friend J for sending me this book for my birthday. I was immediately drawn to this book because of the premise – what if Jesus had a wife? A feminist, outspoken, independent wife? And if he had a wife, how could she have become erased from history?
The book centers on Ana – not on Jesus. In fact, they don't even get married until well over 100 pages into the book. Jesus is not present in the book much because they spend so much of their lives apart. This book was more about Ana, a strong, independent woman in a time where women were meant to be anything but. Ana fiercely loves Jesus, and they help each other become the people they need to become, but they really don't spend much time together.
At the center of the book, I think, isn't Ana's relationship with Jesus, but her relationships with other women. It's more political than religious – Jesus' miracles aren't discussed, for example.. The book also skillfully deals with how Ana could have been forgotten, which I think is a key element that makes this book work. Five stars.
The Wedding Date by Jasmine Guillory
I normally don't read romance novels, but I got this at my book swap. Alexa, who is Black, meets Drew, who is white, when they get stuck in a hotel elevator. Drew is in town to go to his ex-girlfriend's wedding. They hit it off in the elevator, and he asks Alexa to pose as his girlfriend for the wedding weekend so that he doesn't look like a total loser.
She agrees, and, well, you can imagine the rest. Even though this book was light and steamy, it dealt head-first into issues surrounding their interracial relationship, being long distance, and dealing with past relationships. I liked that this book with some real issues. There is a sequel that I want to read. 3 stars.
The Goldfinch by Donna Tartt
I finally read The Goldfinch. I am trying to keep these reviews short, and it's hard to review or even summarize this 700+ page book in just a few sentences. The book begins when Theo is 13. He survives an accident in a museum that kills his mother. During the chaos, he steals a painting from the museum. These events drive every action, every decision he makes for the rest of the novel. We watch Theo grow up and the person he becomes, haunted by the death of his mother and the piece of art he stole. 5 stars.
When We Were Vikings by Andrew David MacDonald
This was a Book of the Month book I got a few months ago. Zelda is 21 years old. She has Fetal Alcohol Syndrome and lives with her older brother, Gert. She loves Vikings and wants to create her own legend. Her brother is involved with some shady people and Zelda becomes determined to figure out what is going on and save him.
The book is written in the first person, from Zelda's perspective, which is what makes it so powerful. It reminded me a bit of The Curious Incident of the Dog in the Night-Time. I loved that book, but this one is much better and it deals with much heavier topics. Zelda is painfully aware how different she is but longs to fit in, have her own legend, and be independent. She wants to have sex with her boyfriend. She wants to take care of her brother. This book is hard to read at times but I think sparks some important discussions. It is a coming of age story of a fierce and strong woman that I think everyone can relate to and learn from. 4 stars.
This month, I am planning to focus more on Black authors and anti-racist learning. If you have any recommendations, I'd be glad to have them.