August 26, 2016
Gosh, you would think that now that we moved into our home in Hawaii, I would be back into my routine and conquering the world. Ha!
It's been a crazy few weeks just figuring out life. I'm grateful that we are back to a place that we have lived before because knowing where things like the commissary, gas station, etc, are has made things so much easier. The movers are coming next week and then things will get even crazier with boxes and unpacking, but I am ready to finally settle down and get organized.
Here's what I read this month. I've got a linkup at the bottom of this post and I hope that you will join in the fun!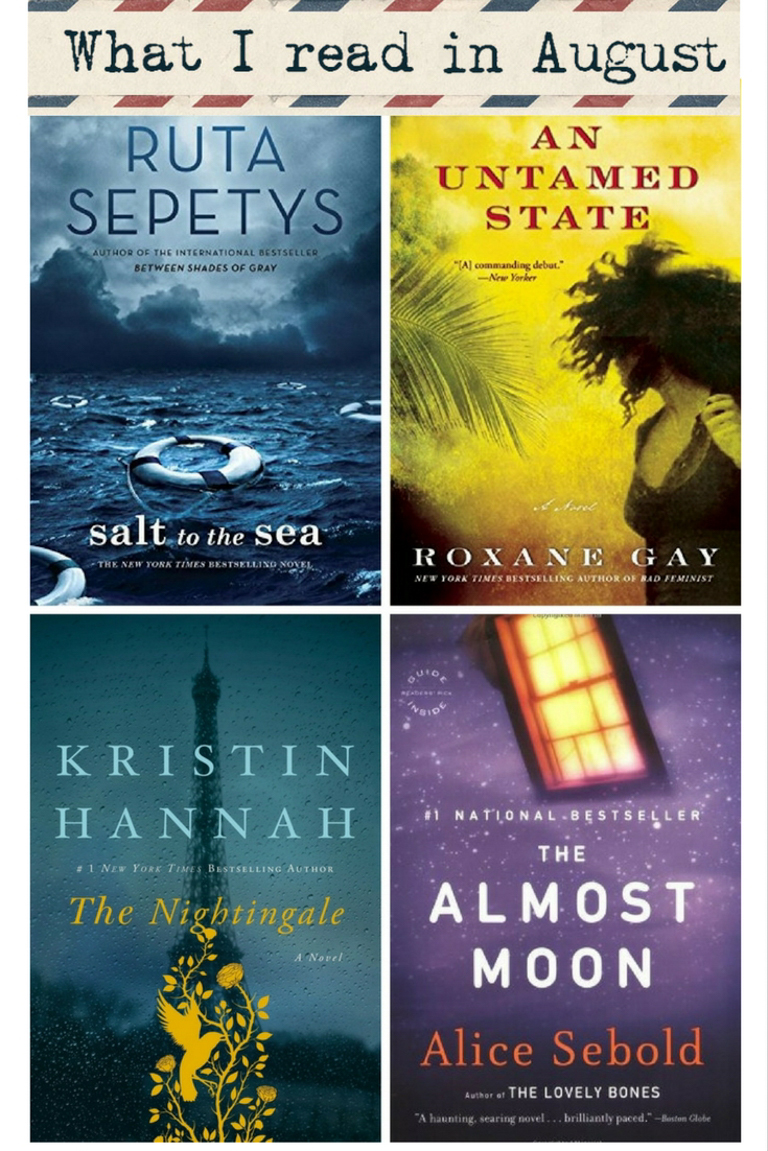 Salt to the Sea by Ruta Sepetys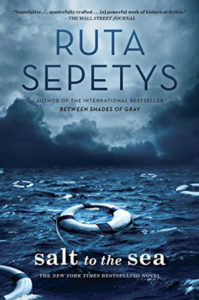 After reading about this book on Mandy's blog, I suggested it for our online Book Club, Beyond Words. I was so excited when it was voted our August book. If you aren't familar with Mandy's blog, you definitely should check it out. So far, I have read two books that she recommended, and I loved both of them.
Salt to the Sea is a YA historical fiction novel about the worst maritime disaster in history, the sinking of the Wilhelm Gustloff. 10,000 refugees crammed into a ship only meant to hold 1,500. The 10,000 refugees were seeking safety as the Soviet army advanced, leaving from Gotenhafen, Poland, for Kiel, Germany. A Soviet submarine sank the ship with three torpedoes and it is estimated that 9,400 people died.
The story is told in quick 1-2 page chapters that rotate between the perspectives of four different teenagers. They are all from different countries, coming from different circumstances, and fighting the war in their own ways, yet their paths cross and they find themselves bound to each other. It was a bit difficult to keep all of the characters straight at first, but once I got into the book, I was hooked. I liked the shorter chapters because you were constantly getting the perspective of multiple characters about pretty much everything that happened.
Lately I'm noticing when an author has that rare gift to enable you to feel empathy for even the most grimy characters. I felt for all of the characters, even the German soldier who was one of the most unlikable characters I've encountered recently.
This book was written about events that occurred in World War II, which may seem far away from us or from the young people for whom the book is written. But the plight of refugees — their fear, their pain, their losses, their uncertainty, their willingness to go on an overcrowded boat with horrible conditions to flee what they are currently facing, their sacrifices for each other — that is unfortunalely relevant today. This was especially apparent to me in the character of Emilia, a Polish teenager, pregnant and afraid that if anyone finds out she is Polish she would be murdered. I highly recommend this book, especially if you enjoy YA and/or historical fiction. I think it would make a great gift for a young adult.
An Untamed State by Roxanne Gay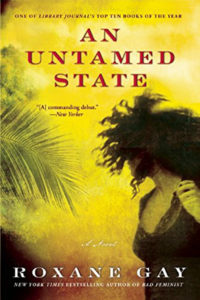 The day before I left for Hawaii, my friend Joyce let me borrow a couple of books for the plane, and this was one of them. I ended up sleeping most of the plane ride so I just got to this book. Roxanne Gay is the author of Bad Feminist, which I loved, so I was interested to read her debut novel.
I can't recommend this book highly enough. A woman named Mireille, the daughter of one of Haiti's richest families, lives in America now. She goes back to Haiti with her American husband and their son. On her way to the beach, Mireille is abducted by a group of men. They abducted her because of her family's wealth, believing they can get a large ransom from her father. They cannot stand to see such wealth being thrown around when so much of the country is in poverty. But her father resists paying the ransom, unwilling to give up the fortune that he worked his whole life to earn to a group of kidnappers. She spends 13 days enduring the unthinkable.
The book details in graphic violence her days in captivity, with flashbacks Mireille's childhood. It also covers what happens after she is finally freed, which I think was the most important part of the book. This book is about so much. It's about class and violence and family and forgiveness and redemption and womanhood and love and survival.
I must quote a review from another Goodreads member, which can be found here. I don't think I could say this any better:
"For me, An Untamed State is about what a woman absorbs. It's about the things she keeps quiet to protect those she most ferociously loves. It's about a willingness to die and come back from the dead, to run and be brave enough to return."
One character that I couldn't connect with was Mireille's father. He clearly states his reasoning for why he doesn't want to pay the kidnappers, but I couldn't buy it. What father wouldn't give up literally everything he had to save his daughter from rape and violence and possibly even death? I didn't feel like he did enough for Mireille and I hated him for it. Mireille's response to him only highlights the Goodreads review above. If you have read this book, what did you think about him? Did you think this was realistic? 
I highly recommend this book, but I also must warn you that is it very graphic and violent.
The Nightingale by Kristin Hannah
I just joined a book club here in Hawaii, and The Nightingale was our first book. It revolves around two French sisters during WWII. Although their relationship is strained and they experience the war very differently, the war brings them together in unexpected ways. I loved both of the sisters and often wondered whose response to the war mine would have been closer to. I think I am closer to Viann. If you have read the book, who did you feel you related to more?
In both sisters, I admired their bravery and their willingness to stand up for what they believed to be right, even when they put themselves and their families in grave danger to do so. Even when that meant disagreeing with each other. Even when that meant loneliness, fear, and sacrifices I could never even comprehend. Their strained relationship with each other and with their father was one of the most heart-wrenching aspects of the story for me.
This ended up being a perfect book club book. There were so many well-developed characters and so many different choices that were made that we could have spent days talking about it. I felt that you could really understand the motivations, desires, and decisions of all the main characters. At our book cub we talked a lot about whether or not the characters' actions were justified. We kept coming back to the same thought: they didn't know when the war would end, how it would end, or how bad things would get. Could anyone really have imagined gas chambers, children being shot, children being ripped from their mothers' arms?
Although it was bit too sentimental at times, I loved this book and I'll be recommending it to anyone who will listen. This is the kind of book that sticks with you long after you put it down, and I still can't stop thinking about it.
The Almost Moon by Alice Sebold
Just skip this one. I am a huge fan of Alice Sebold and I loved The Lovely Bones and her memoir, Lucky. I  read The Almost Moon because I really enjoyed Sebold's other two books, but this book was … boring. Not interesting. My favorite Alice Sebold book so far is Lucky (read my review of Lucky here).
What are you reading lately? I think I need a break from books about war, but I just can't stop reading them. Any suggestions?
Loading InLinkz ...