March 3, 2017
Today, I'm linking up with some lovely bloggers whose blogs I often read: Polly from Follow Your Sunshine, Emma from Adventures of a London Kiwi, Angie from SilverSpoon London, and guest host Tiffany from A Girl And Her Passport. When Emma sent out her email telling us that this month's travel linkup was all about hidden gems, my brain went into overdrive because there are just so many hidden gems here. I haven't written much about Hawaii since moving back here because I don't want this blog to just be about Hawaii, but Emma inspired me to share some of my favorite places today.
When I first started writing this list, it was kind of all over the place. So I decided to expand on the linkup idea and create a little series on hidden gems on Oahu, starting with places to eat. If you are a foodie, Oahu is going to be your heaven.
So here's my disclaimer. Oahu is a small island. There are only so many places to go. What I think is a hidden gem might already be written about in a guide book or a million other blogs by now. But here are a few places you definitely should check out when you're in Hawaii, places that I've been to, places that have taken me a while to uncover, places that feel like hidden gems to me.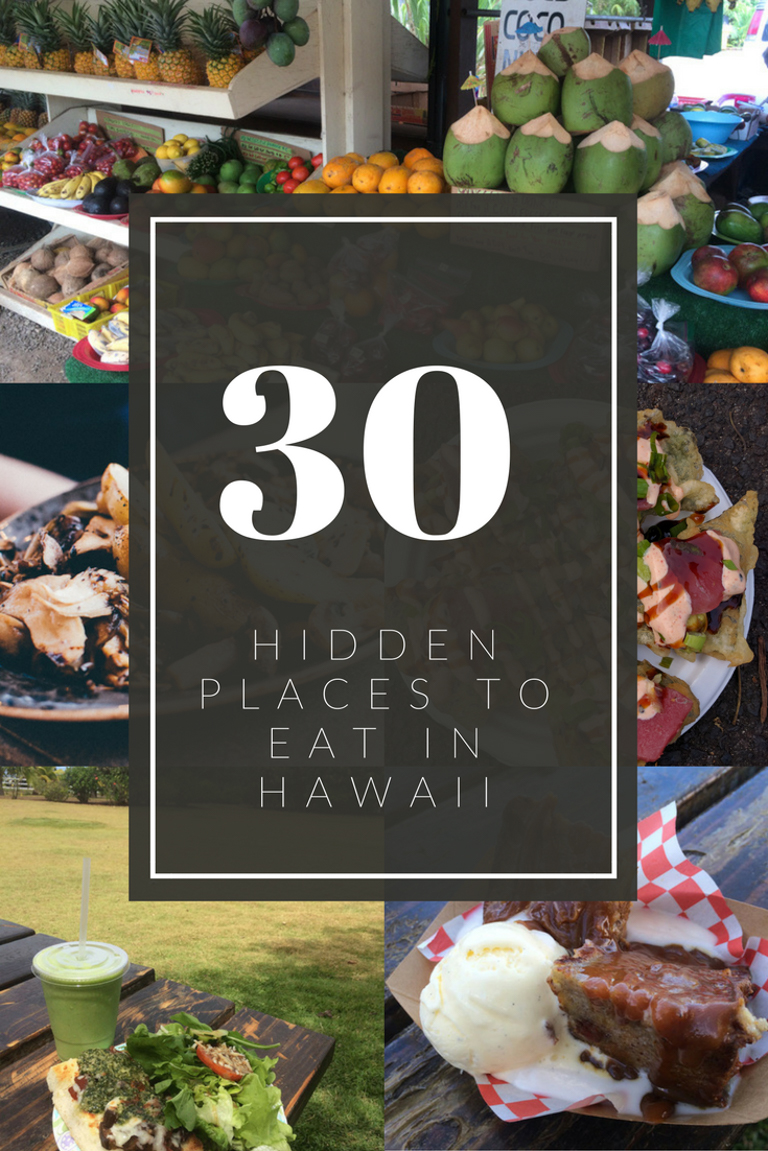 Side Street Inn calls their food Hawaiian comfort food. Pretty much a hole in a wall, literally down a side street you would never think to go down, they have the best food served family style. They even have a special beer from Rogue Brewery made just for them. I love this place so much that I wrote a whole blog post about it here. It's Nick's favorite place to eat in Hawaii.
2. Kahumana Organic Farm and Cafe
Eating here can truly make a difference in the community. Everything is local and sustainably farmed. The people who work in the cafe are getting vocational training in the culinary arts and hospitality. Proceeds also go to supporting the comment. The food is delicious and the view is secluded.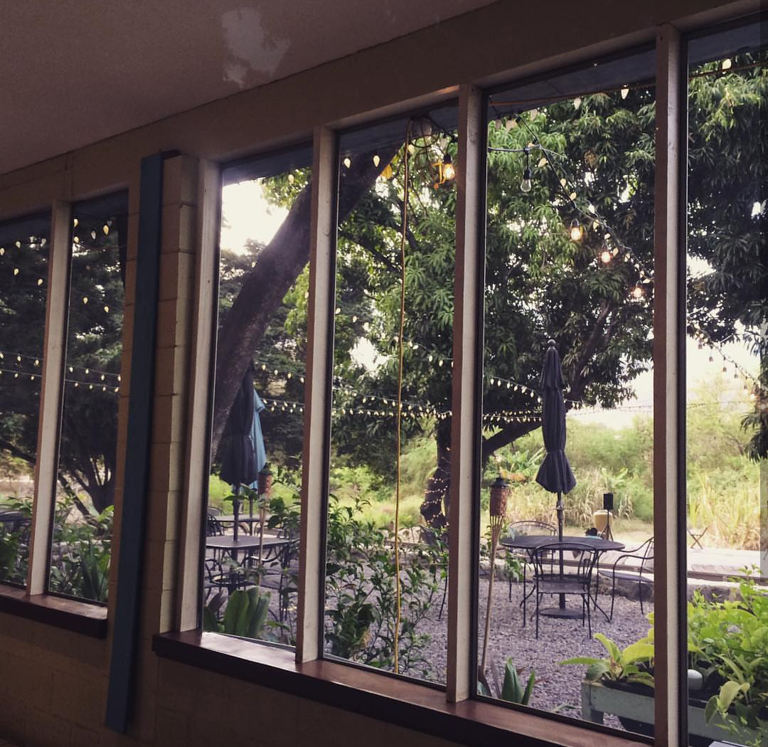 3. Sansei Seafood Restaurant and Sushi Bar
Delicious sushi in Waikiki. That is all you need to know! We found out about this restaurant when we went on our food tour of Oahu. Our guide mentioned it to us and somehow Nick remembered. Thankfully Nick has such a great memory because I never would have remembered.
Their motto is "Local first, organic whenever possible, and with Aloha always," so you know you can't go wrong. With a menu that changes constantly, go here for a gourmet local meal away from the crowds of Waikiki.
5. The Nook
I ended up her anciently when looking for a place to eat in the area at the last minute. It's literally a nook with only a few tables, but the food is so good. Local ingredients, Hawaiian inspired menu.
6. Kahuku Farms
I wrote this post about Kahuku Farms a few years ago, and it's still one of my favorite place to eat. Think fresh veggies, farm pizza, and the best smoothies around. They also have the best locally made gifts to bring home, too.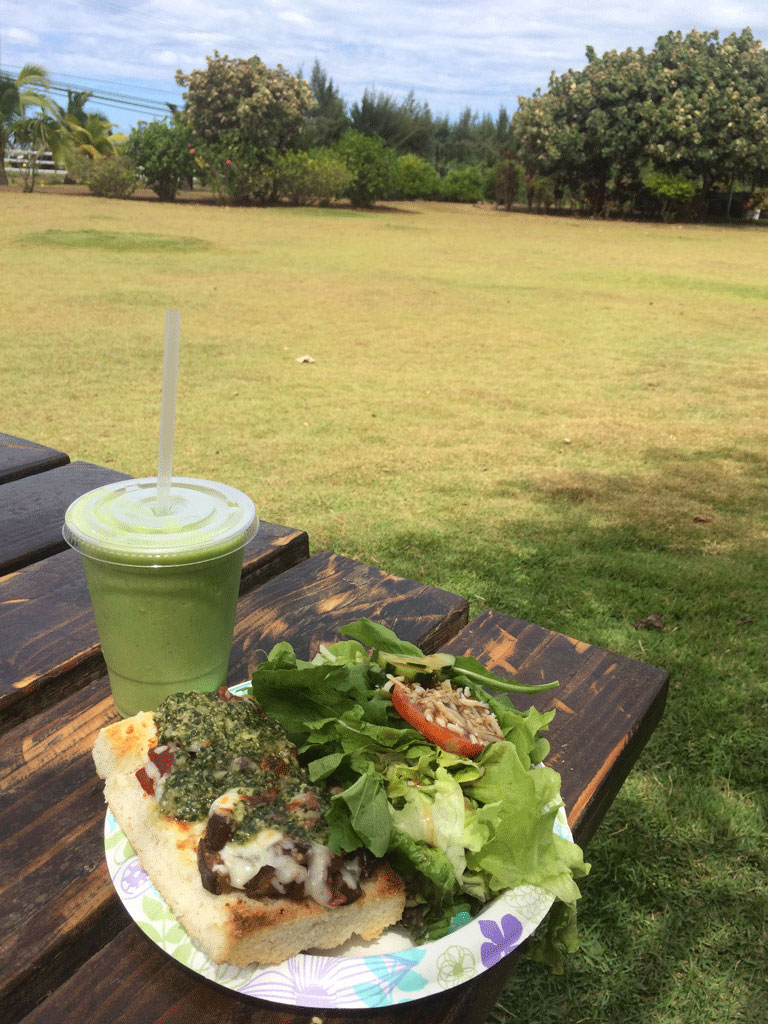 7. The Curb
About to open its 4th location on Oahu with a 5th in Seattle, The Curb started as a food truck and ended up buying out retail space from a chain called Peet's coffee, which I think just goes to show you the value people in Hawaii place on local businesses. They sell the best coffee on the island, in my opinion.
One of my favorite spots on the north shore is this hole-in-the-wall BBQ place that you can't miss. I love their pulled pork sandwiches, fries, cheesecake, and their iced coffee…. better come hungry.
9. Farmers Markets
Click here to find out where the farmers markets are near where you are staying. You can get Hawaiian fruits here, but most of the farmers markets also have food trucks where you can get meals as well.
The Vintage Cave is a restaurant that costs several hundred dollars per person. I've never been there and I don't plan to go there. But in the basement of the Ala Moana mall, they have a bakery, where you can try their sweets. Worth a visit if you're in the area!
11. Seven Brothers
I will drive up to the north shore just to have a burger from this place! I have done it. They also have a food truck where they serve coconut fried shrimp.

12. Eat the Street
On the last Friday of each month at Kaka'ako Waterfront Park, over 40 different vendors come to sell food. I usually go to a few different places and split little meals with Nick. It ends up being pretty cheap date night, too. Check our their website to find out about other events that might be happening when you're in town.
13. Casablanca
Who would have thought that here in Hawaii you would be able to find Moroccan food? The owners are from Morocco and they serve a 5-course meal for $40 per person. BYOB. Make a reservation. But if sitting on the floor & eating family style with your hands isn't for you, skip this place.
14. Royal Kitchen
Nick and I went here on our food tour. Royal Kitchen has the best baked manapuas. Baked Manapua is what happens when Hawaiian flavors meet Chinese bao buns. Traditionally these buns are steamed with Chinese sweet roast pork (char siu). Instead of steaming them, Royal Kitchen bakes them and has a ton of different fillings, including smoked kalua pork, chicken, curry chicken, Portuguese sausage, Chinese lup cheong sausage, Okinawan purple sweet potato, coconut, and Chinese black sugar.
15. Nalu
My favorite acai bowl on the island. Period. They also have delicious ahi tuna wraps, smoothies, and coffee.
16. Hau Tree Lanai

Not really a hidden gem based on all the tourists here, but they have great breakfast right the beach! There are not as many places like that here as you would think, so it makes it worth a visit.
17. Bogart's
I always tell people to go eat here after hiding Diamond Head because it's nearby and because it's delicious. They have a huge menu from sandwiches to fried rice to acai bowls. Special thanks to Christy for randomly finding this when she came to visit!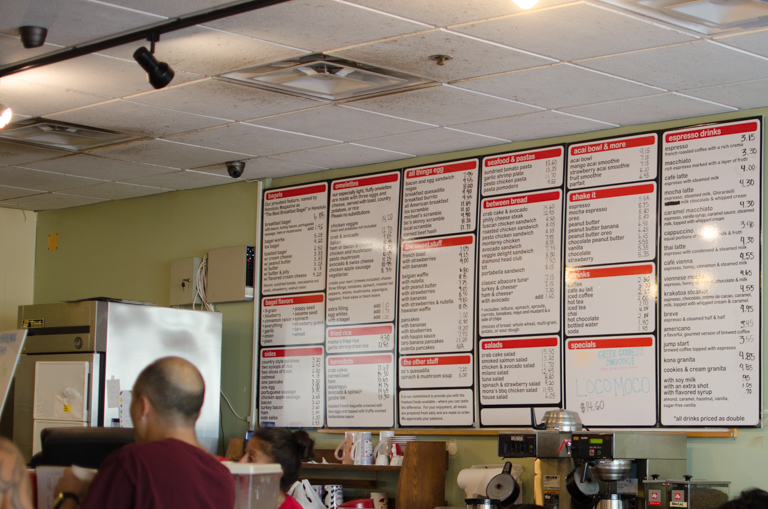 18. Azure

I wrote an entire post about Azure here because Nick took me for my birthday. Not only is the food incredible, but this is your view: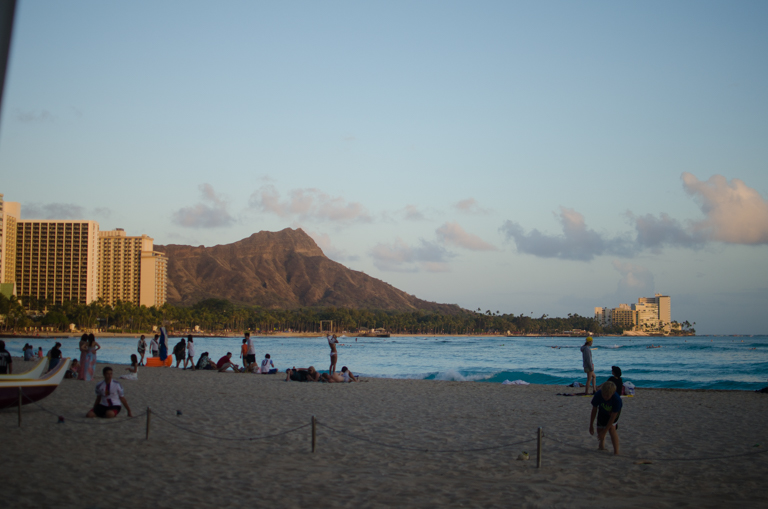 Pro tip: go to the Mai Tai bar right next to the restaurant if you don't want to spend a lot of money but still want a cool view and good drinks.
19. Nico's Pier 38
A casual restaurant right on the pier. There is a fish market right next door where the owner picks out each day's fish. Delicious food, as fresh as it gets, and a pretty cheap menu make this a place you can't miss.
This is a new ice cream shop that serves small batches of locally made ice cream. They use fruits grown on the island and sometimes they even use a local porter made by Lanikai Brewing Company.  ease they make small batches and are always trying new things based on what is available, there is something every time I go.
21. Whole Foods
Why is Whole Foods on my list?! Because they have delicious poke bowls and if you're in the area you should check them out.
Self-serve taps enable you to try as little or as much of a beer as you want. They have small cups so you can just get a few ounces of a bunch of different beers. And there are bigger cups if you know what you want. There are tons of board games to play, too. The best part is that 100% of the profits go directly to supporting the local community. You can't actually get food here, but you can order from some restaurants nearby and they will deliver, or you can bring your own.
Local ingredients at a restaurant with a beautiful view make this a place I'll go back to over and over again. There is never anyone in here. Pro tip: You can see the sunset from the restaurant, so time your visit with the sunset.
24. Uahi Island Grill
Hawaiian food, local ingredients, plate lunches, and a great Sunday brunch.
25. Farmers Stands
Driving through the north shore, there are farmers stands like this as well as food trucks. This one near Turtle Bay will cut open the top of a coconut and give you a straw so yo can drink the coconut water.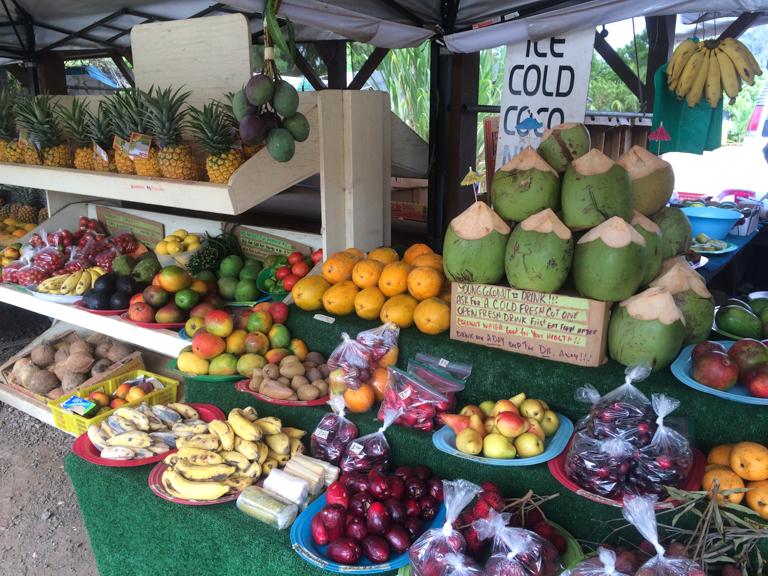 26. Pint and Jigger
This place has legit cocktails and delicious food. Go as early in the evening as possible because this place gets loud and crowded… Did I just write that?! Gosh, I'm getting old!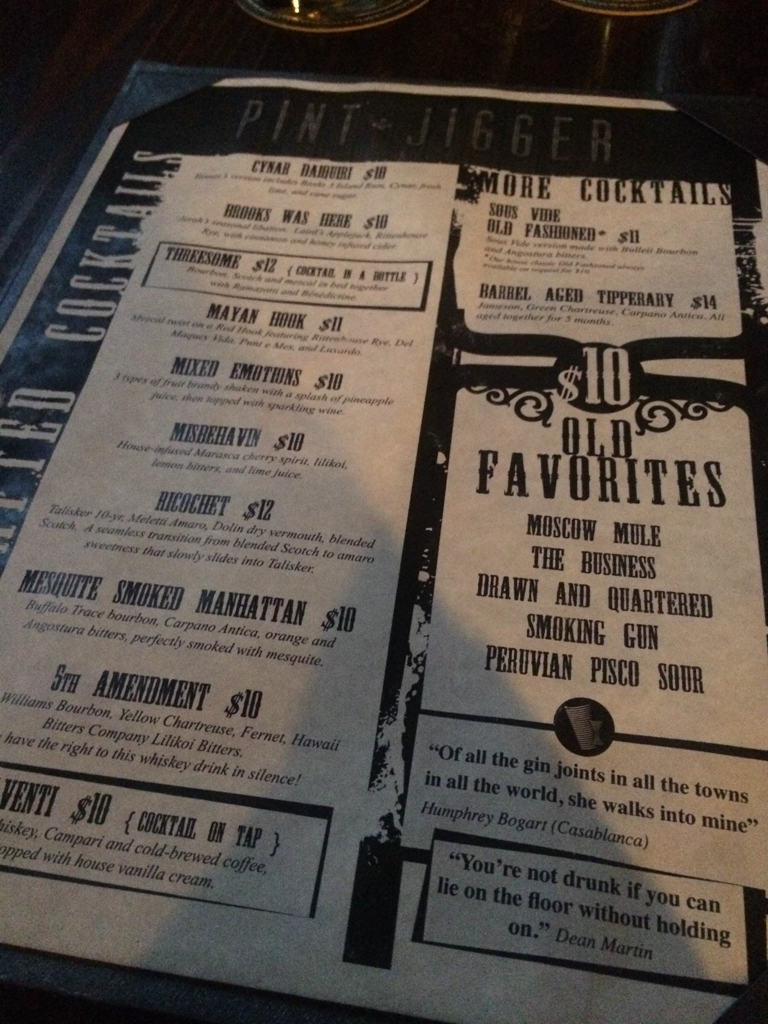 Delicious coffee brewed by a team of volunteers. All proceeds go to charity. If you are staying in Waikiki, you literally pass Surfers on your way up. Stop and try the coffee!
28. Char Siu House

Located in Chinatown. It's not a restaurant, but stop in and grab something to go
29.  12th Ave. Grill

American food with Hawaiian influences. Totally understated.
Go here for a sushi experience. You put yourself in the hands of the chef in this restaurant. You never know what is coming next and you are given instructions on how to eat it (whether or not you should put wasabi, eat in one bite, etc). This was a really cool experience and there weren't any rolls like you normally get in an American restaurant. It gets pricey though!
If you have any questions about any of the places, let me know!