May 7, 2020
In trying to get back into blogging I decided to link up with Kristen today for What's New With You?
As I started writing this I realized that everything I'm doing has to do with my birthday last week. Despite being quarantined, I had a great day home with M and Nick. They made my day really special along with all of my family and friends who sent lots of love. Currently, I'm:
Reading The Book of Longings by Sue Monk Kidd. I didn't know this book was coming out but a good friend with awesome taste in books sent it to me for my birthday. As soon as I read the inside cover, I knew it was going to be good. I'm about 50 pages in and I absolutely love this book. It's a historical fiction novel that answers the question – what if Jesus had a wife? A feminist, progressive wife? I am in love with everything about this book from the premise to the writing to the characters. I can't wait to sit down this afternoon with a cup of coffee and read more.
I also have an addiction to parenting novels and I am reading The Danish Way of Parenting which I am really enjoying. Ever since I went to Denmark a few years ago I have been really interested in Danish culture and this book offers a way of looking at parenting that just feels natural to me.
Watching Parks and Rec. I've seen this show so many times I can quote it but Nick had never seen it before so we decided to watch it. Thankfully he loves it just as much as I do so we can stay married 😉 Next I think we're gonna watch Brooklyn Nine-Nine which neither of us have seen before.
Drinking lots of lattes. As an early birthday/housewarming gift, my parents and brother bought me an espresso machine. I used to live on the same block as an amazing coffee shop in DC and I was really bummed about not being able to walk to get lattes anymore. So they surprised me with this. I love this thing so much. It's just such a simple and perfect little treat to be able to sit down on my couch with a hot latte (without having to even go anywhere!). The timing could not have been better since I can't go anywhere to get lattes anyway these days. I'm still working on foaming the milk, but I'll get it.
Eating pictured above is a pice of the crumb cake that my mom sent me for my birthday. One of my best friends back in New York made it! She is now pursuing her dream of running a bake shop and she is really amazing. You definitely should follow her on Instagram @the_crumb_picker. She doesn't ship but I might have to beg her to make an exception for me. I had a few pieces and then put the rest in the fridge
And can we talk about these cookies that another friend sent me for my birthday? These are amazing – soft, chewy, and big – and among the best cookies I have ever had.
And since we're talking about birthday treats I have to mention the cinnamon rolls Nick baked from scratch for my birthday. I mentioned a few weeks ago to him that I really wanted cinnamon rolls but I had no desire to make them. They took him about 3 days to make them but somehow managed to surprise me with them on the morning of my birthday. And lucky me, there are 10 more in the freezer.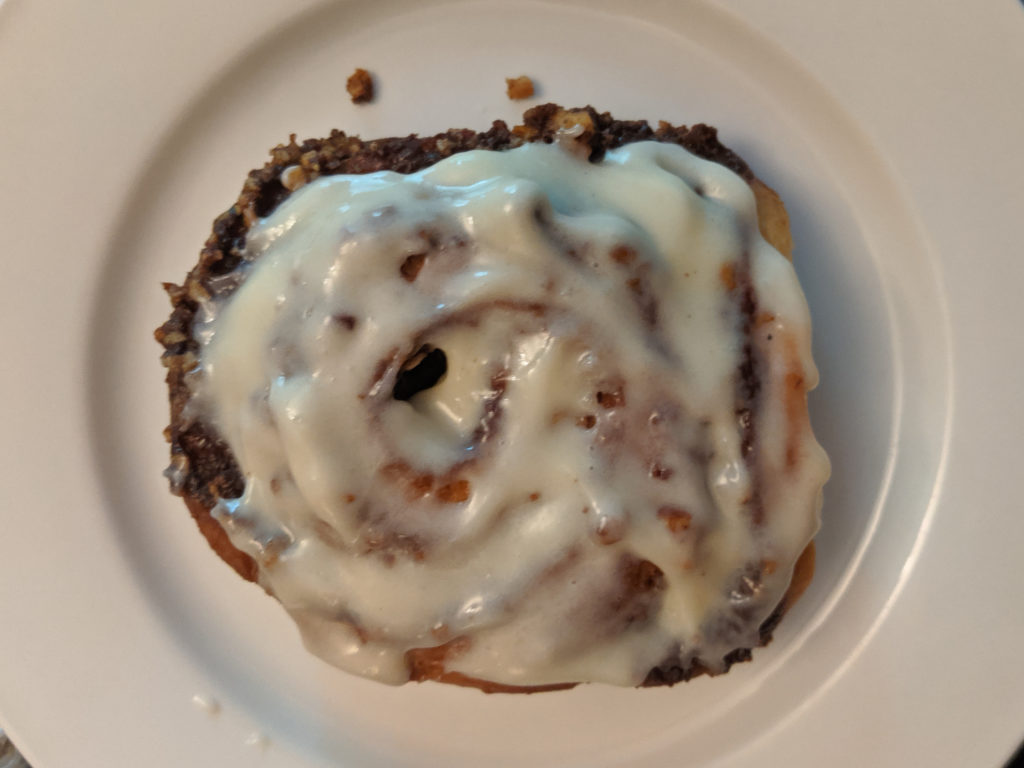 Crocheting lots of new things. I recently made a ball for M to play with and a blanket, and I just started experimenting with some yarn and patterns to make trivets, kitchen towels, and scrunchies. Crocheting helps me with my anxiety, it's relaxing, and it makes me feel so accomplished.
Planning nothing. Nick and I had so many plans for the summer and the rest of the year. We're supposed to be on a trip to Canada with my entire family right now. For M's birthday we were planning to go to Maine and then at the end of the summer we wanted to take her to Iceland for our first big adventure as a family of 3. I was also supposed to go on a girls trip in July and we had a few more visits to NY planned in there. All of that is cancelled. I don't want to many any plans because I have absolutely no idea when I will feel comfortable traveling and I don't want to plan something just to have to cancel it. These are the places we would probably like to go next if we could.
Trying hard not to panic and keep my anxiety at bay. Trying to be strong – for M, and for myself. Trying not to worry about things I can't control and to only focus on things I can control.
Thankful for a great birthday, for great friends and family who made it so special. Thankful for M and Nick. Thankful to be healthy and that my family is healthy.
What's new with you?