August 16, 2016
Yosemite National Park in California will always have a special place in my heart. Nick grew up hiking and camping in Yosemite with his family and to this day, despite all his travels and deployments and port calls, he still says it is one of the most beautiful places he's ever been.
The first time I went to Yosemite with Nick, I had never been hiking before. I laced up my brand new hiking boots that I bought specifically for the occasion and stepped onto the  Panorama Trail. It's an 8.5 mile, one-way trail that begins on top of Glacier Point. You take an hour bus ride up to the top of Glacier Point:
And that's where you get the trailhead. If you don't want to hike, you can still the the bus up to Glacier Point for these incredible views, and then just get right back on the bus and go back down the way you came.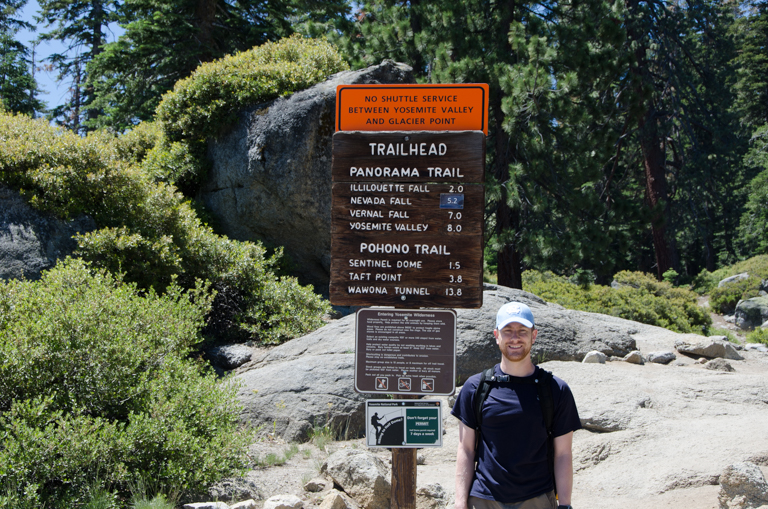 You walk down all throughout Yosemite Valley. You get views like this the entire time, hence the name, the Panorama Trail!
8 years ago, that hike challenged me in ways that I had never been challenged before. I didn't check the weather and it was so cold on the top of the mountain that it was snowing as we began our hike. Nick was kind enough to loan me his jacket and bought himself a long sleeve shirt. We were totally unprepared for the weather, but as we started hiking we warmed up and the snow stopped. I had never been hiking before and I probably had never even walked 8.5 miles all at once, but the views kept me going and I distinctly remember that my legs and feet didn't hurt until we finished the trail and I took my boots off.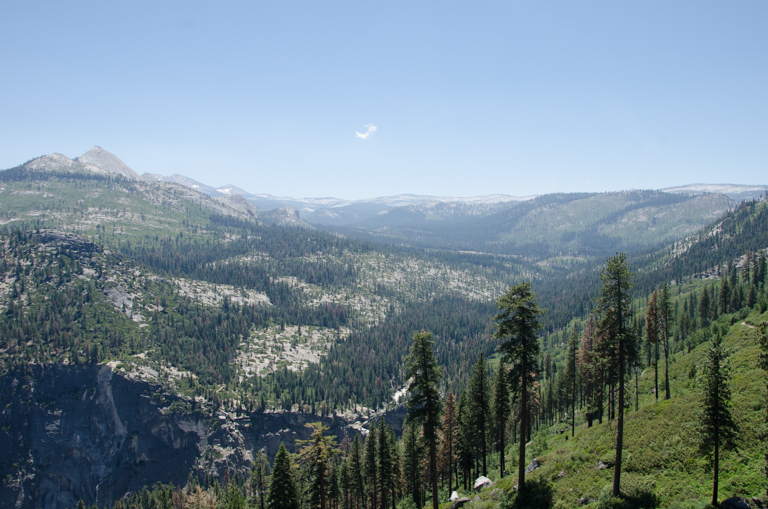 Not many people start off hiking with an 8.5 mile trail, but Nick knew what he was doing. He knew that this would be the trail that would get me hooked.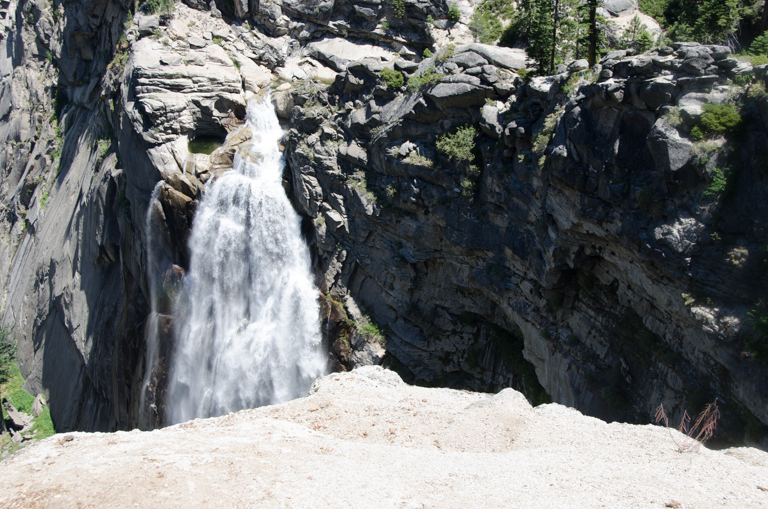 8 years ago, this trail was life-changing for me. It's the trail that made me fall in love with hiking. Ever since, I would plan my vacations around the hikes I wanted to do, around the mountains I wanted to climb, around the waterfalls I wanted to swim in, and around the views I knew I needed to see for myself.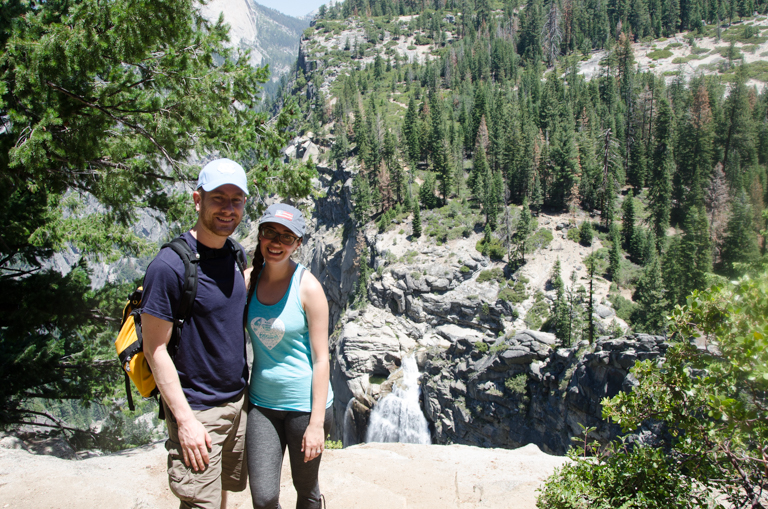 Sometimes I think that the point of travel is to see as many places as you can. But travel is more than just crossing off places on your bucket list, it's about finding places you love and enjoying them as much as you can. So instead of going somewhere new, we went back to Yosemite last month when we went to California. And instead of trying a new trail, we did that exact same hike. Just because we love it so much. How could I pass up these waterfalls, these views?
This is what it looks like to stand on top of a waterfall. Probably one of the best views you can ever get.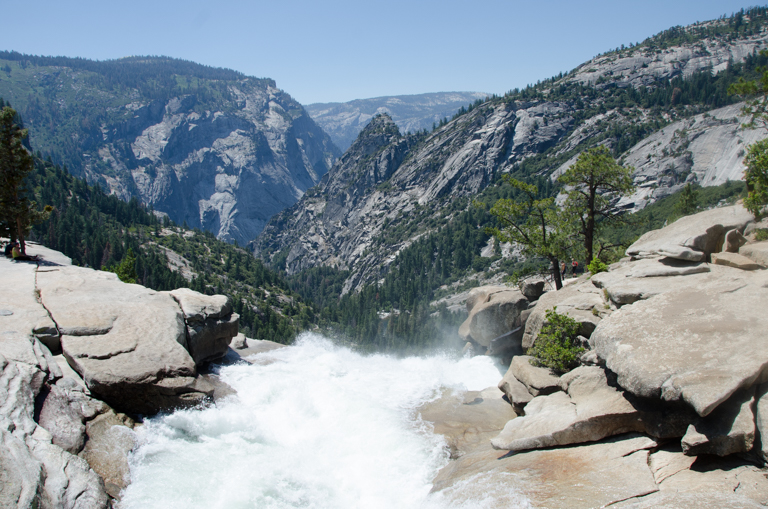 Nick's look of pure joy is one of the things I love most about hiking and just getting outside with him.
This is the waterfall we were standing on top of! As you keep going on the trail you get a view from further away.
Going back for the second time, the trail was even more beautiful than I remember. It was also harder than I remembered. It's funny how after you finish something hard, you don't remember it as being so hard! The Panoramic Trail is mostly downhill, since you start up at the top of Glaicer Point and end up down in the valley. The hardest part is about a 2 mile stretch going uphill, and toward the end there are bunch of stairs that you have to go down.  But we had a great day and loved every minute of it.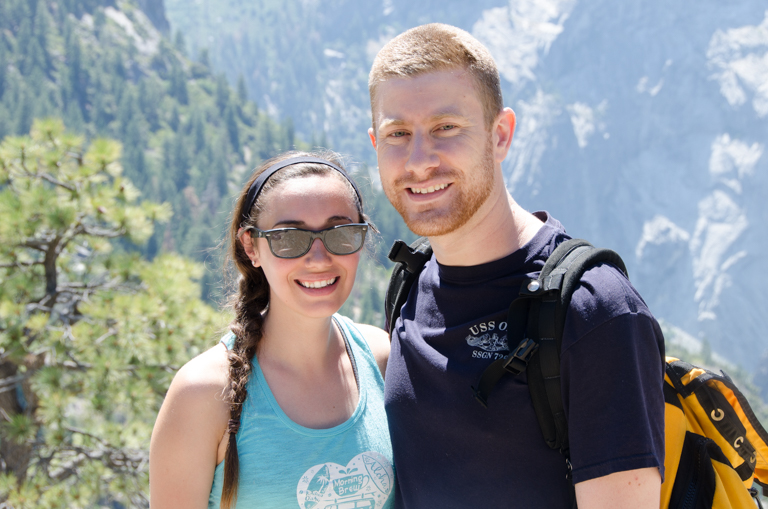 Just for fun, here's a picture of us on the trail 8 years ago:
Oh yeah, and this was all on the Fourth of July! What better way to celebrate America than in one of its most beautiful National Parks?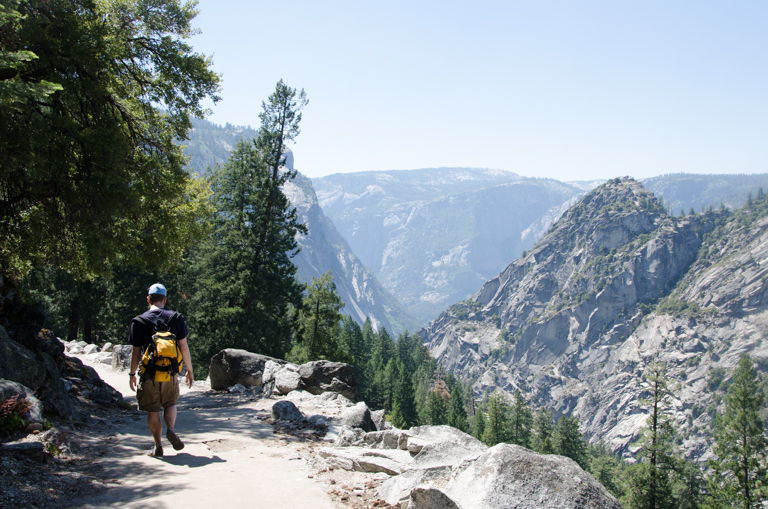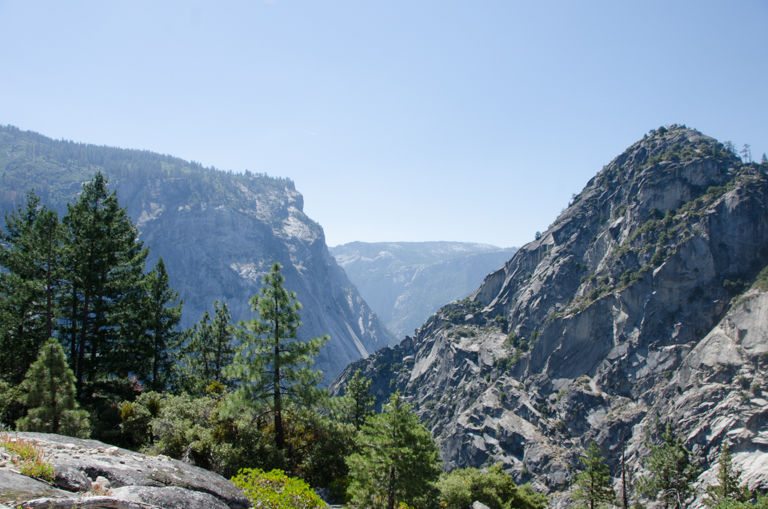 The third waterfall of the trail. I love this trail because you get to see so much.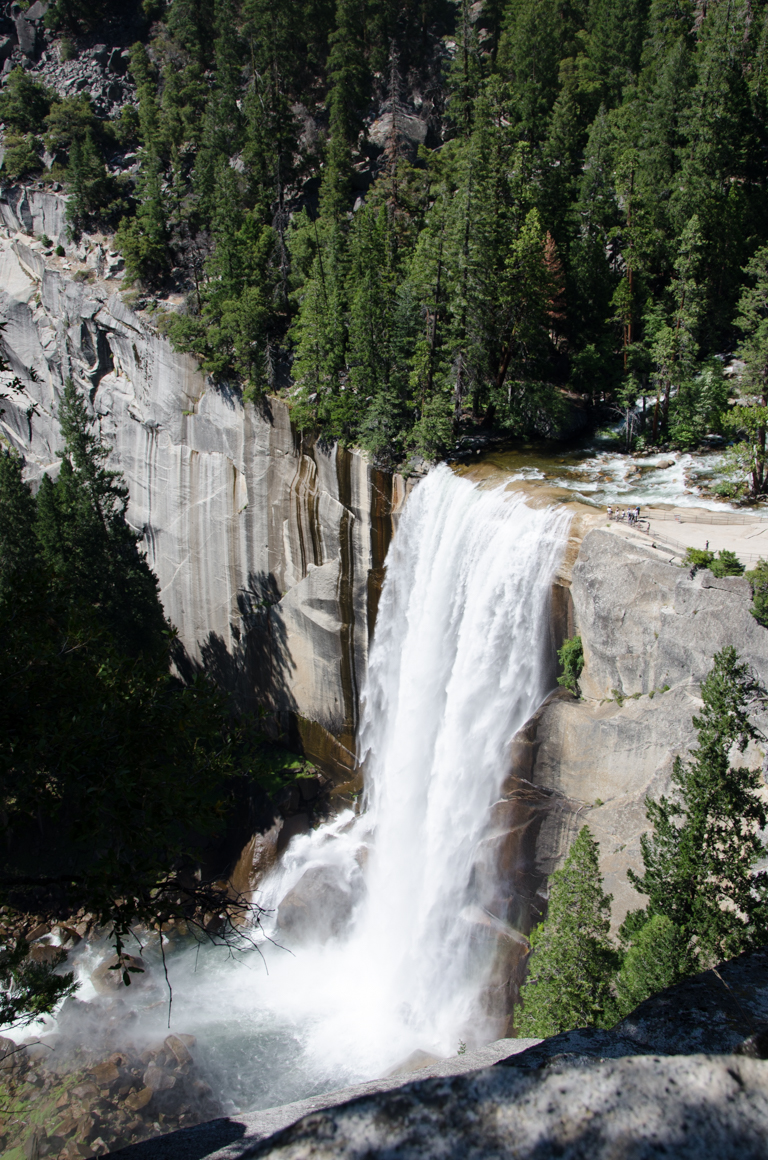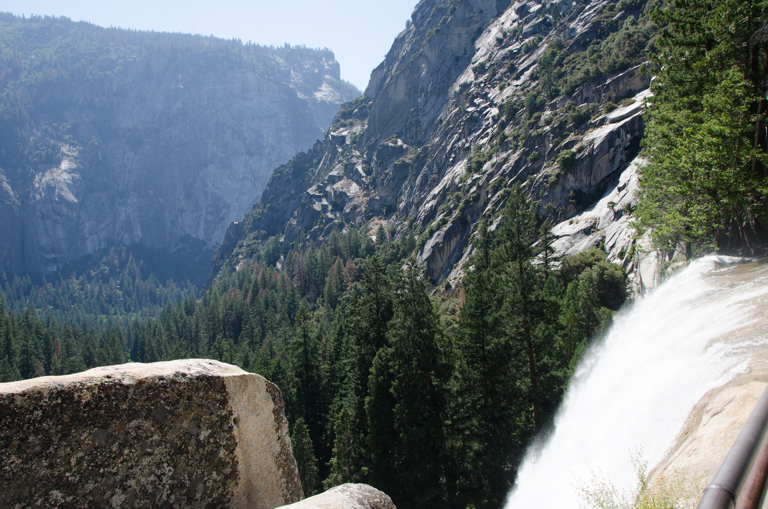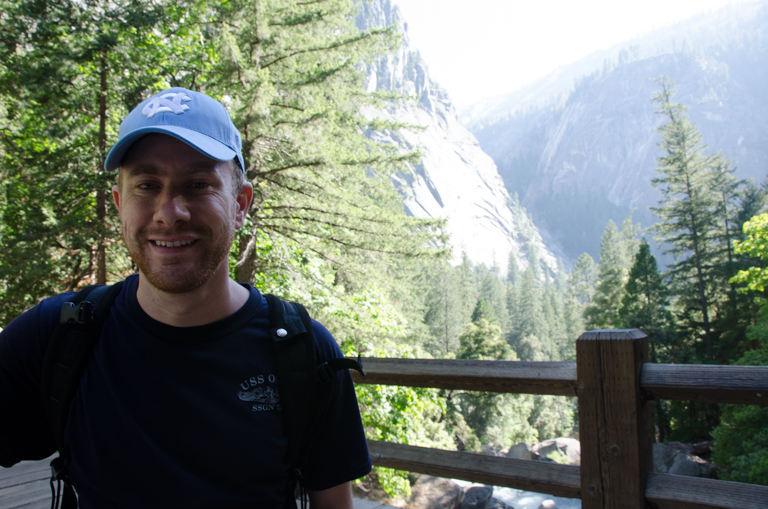 And we finished.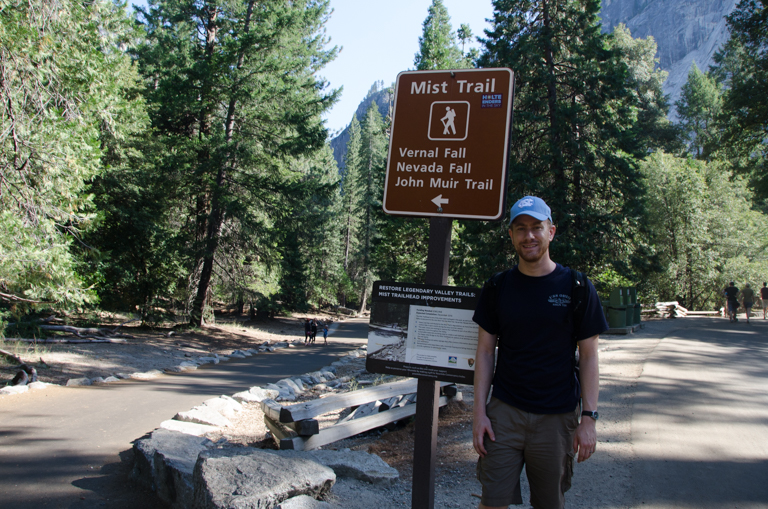 8 years ago, after we finished the trail, we went straight to a restaurant right inside the park.  In our muddy hiking boots, with dirt on our legs and our hair plastered to our faces with sweat, we fit in with everyone else.
I had just turned 21 a few weeks before, and I ordered my first glass of wine. I felt like I definitely deserved it after accomplishing such a feat. We were starving so we went all out, ordering much-needed appetizers, meals, and dessert. Were completely shocked when our waiter brought us a blank bill. He told us that another guest of the restaurant had paid for our meal.
I was completely shocked and confused. At first I thought that maybe one of our moms had called and paid, but no one in our family knew where we were – it was a random, spontaneous dinner. Nick and I think that we remember seeing an older couple sitting next to us and we like to think that it was them, maybe seeing a little bit of themselves in us. Nothing like this ever happened to us before or since, and I think it will always be one of our favorite stories, one mystery that we are okay never solving.
Last month, we went to the same restaurant right in Yosemite. We paid our own meal this time. One of these days I will pay it forward and pay for another hiker's meal. Nick said it was the best food he has ever eaten because he was so hungry.
Has a trip/hike/excursion ever changed your life?
What kind of vacations do you like the most?