June 3, 2016
Nick and I just got back from an extra long weekend in Burlington, Vermont! It was definitely one of my favorite trips we've ever taken. We decided to go up to Vermont because we were itching to be somewhere where we could explore outside, somewhere with hikes and mountains, after the long, cold winter that we mainly spent inside cuddled under blankets. Don't get me wrong, I had a lot of fun this winter here in Connecticut, but I was ready to get outside and onto some trails.
Luckily, one of my friends went to college in Vermont and gave me lots of insider tips and places to go. She has been telling me for years and years how much I would love Vermont, and she was right.
She told me that one of her favorite things to do was to ride her bike along Lake Champlain.  There is this beautiful, wide trail that takes you right out into the middle of the lake! Sold.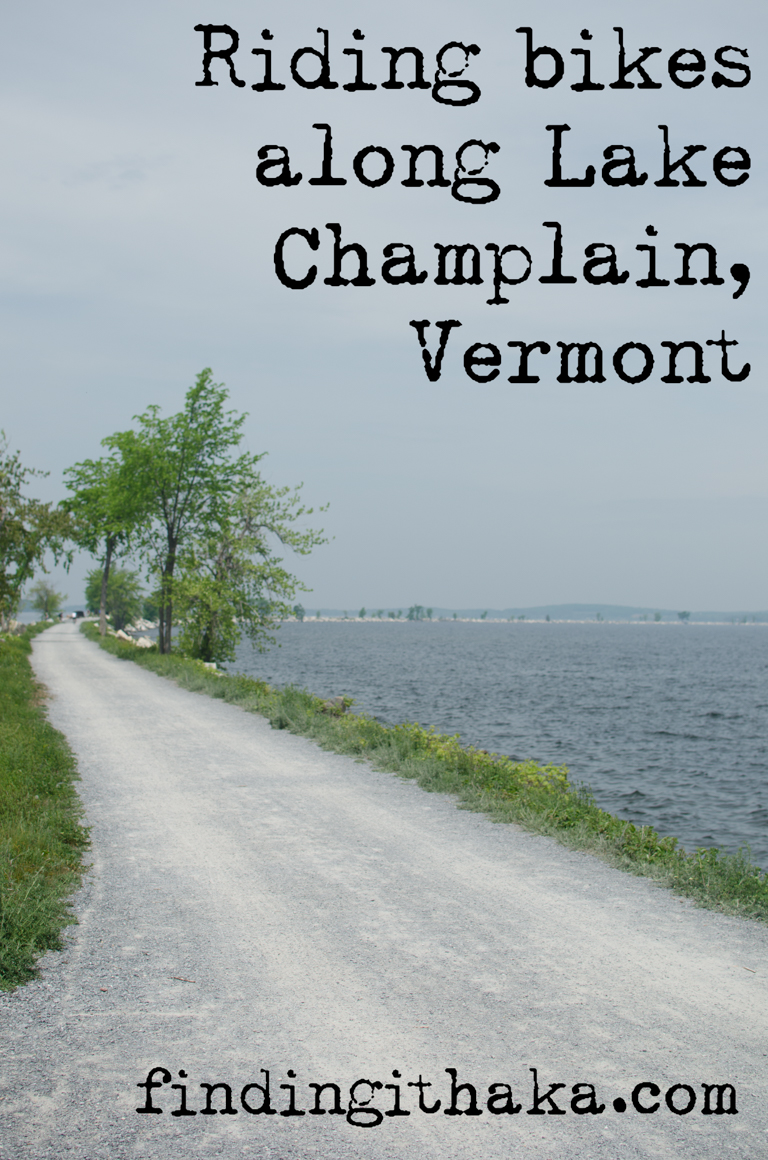 We found a bike shop strategically located right on the bike path. I loved that we rented our bikes from Local Motion, a nonprofit aorganization dedicated to making Vermont communities walk and bike-friendly. One thing I noticed about Vermont pretty quickly was how people seem invested in their communities, in keeping them clean, in helping each other out, in purchasing local products and supporting small businesses. This bike shop was no different.
As soon as we arrived, I also noted for later that the bike shop was also conveniently located about 20 steps from an ice cream truck.
The weather was warmer than I expected it to be up in Vermont in May. I loved it — I definitely don't mind 80+ temperatures, especially after living in Hawaii. When we weren't looking out at the water, the path was surrounded by trees.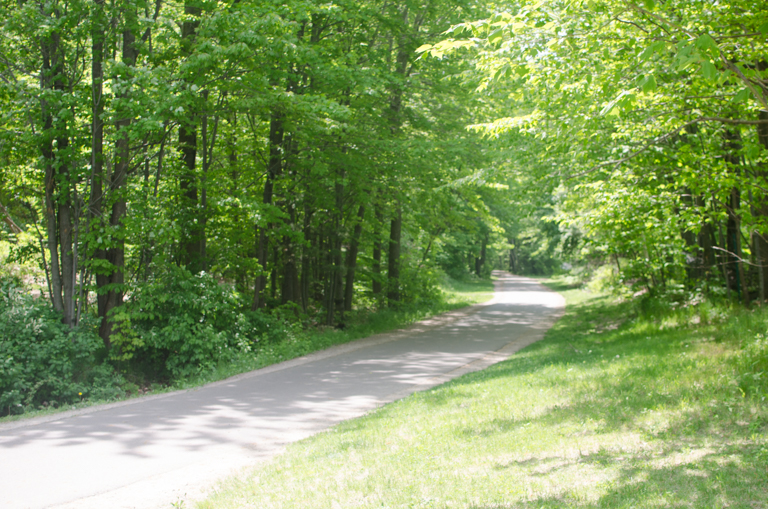 Like the good Blog Husband he is, Nick took pictures of me while we were riding. I could barely stay focused on pedaling and not crashing into people, so I give him lots of props for this picture: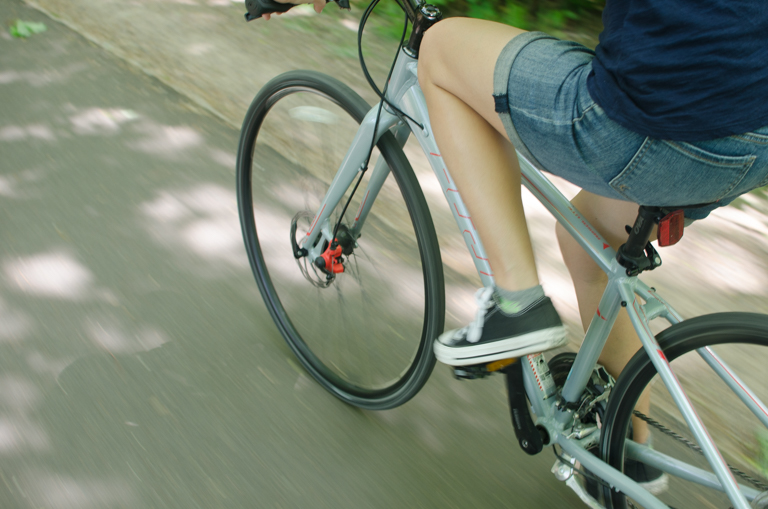 The trail itself was about 25 miles round trip, but there were so many beautiful places to stop along the way to break it up and get some great views.
During one of those stops, Nick fixed my bike with his swiss army knife, which, of course, he brings with him everywhere. He noticed that I was pedaling hard on some of the easier spots and thought that something might be wrong with my bike. Turns out that there was something wrong with the brakes — he said basically I was trying to pedal while the brakes were slightly engaged, which was making it more difficult. I honestly thought I was just weak so it was reassuring to know that it was my bike, not me!
Thank goodness I married an engineer!
We rode over this bridge, through a neighborhood, and soon we were out onto the lake.
There was just this tiny strip of land surrounded by the lake, so you were literally riding in the middle of the lake.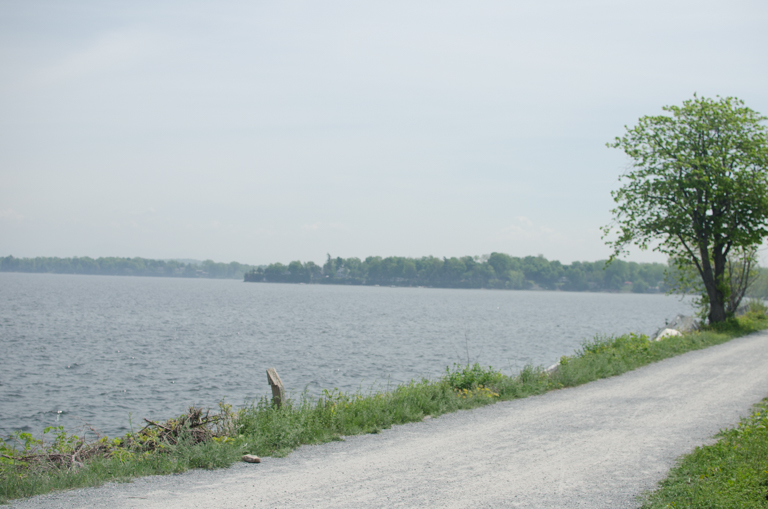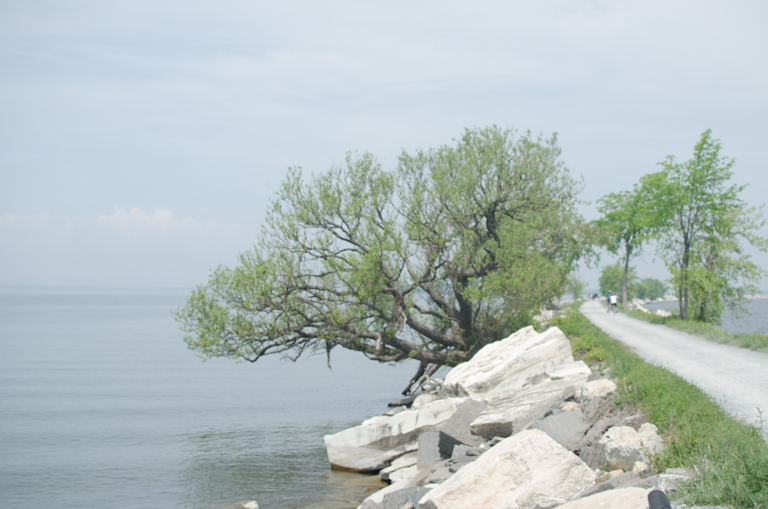 Eventually we made our way out as far as the trail would go.
Soon it was time to head back. The way back was a lot easier — I think that there were more downhill parts going back.
As soon as we returned the bikes, I headed straight towards the ice cream truck for a Maple Creemee, as they call them in Vermont. I wasn't sure how I would feel about maple flavored ice cream, but oh my gosh, this was one of the best ice creams I've ever had! We ate a lot of ice cream on the trip (isn't that what you do on vacation?!), but this was my favorite:
It was one of the best days of our trip! It felt so good to be outside. My legs sure hurt, but I didn't mind. It was so worth it, and it was an excuse to get ice cream.
I am now officially in love with all things Vermont — riding bikes, gorgeous views, love of local everything, and maple ice cream.
This ride also made me realize how important it is to be prepared for just about anything! Nick carried a backpack with his swiss army knife, sunscreen, lots of water, and some first aid stuff — and we used everything except the first aid stuff, thankfully. Sometimes we get lax about carrying this kind of stuff with us, but it's so good to be prepared, especially when you are 10 miles out on a bike trail.