October 23, 2018
Alternate title: Thrillers I have read recently.
I have been so bad about blogging the past few months that I have read dozens of books that I never blogged about. I want to get back to monthly posts, but today I'm going to recap the best thrillers I've read recently, just in time for Halloween.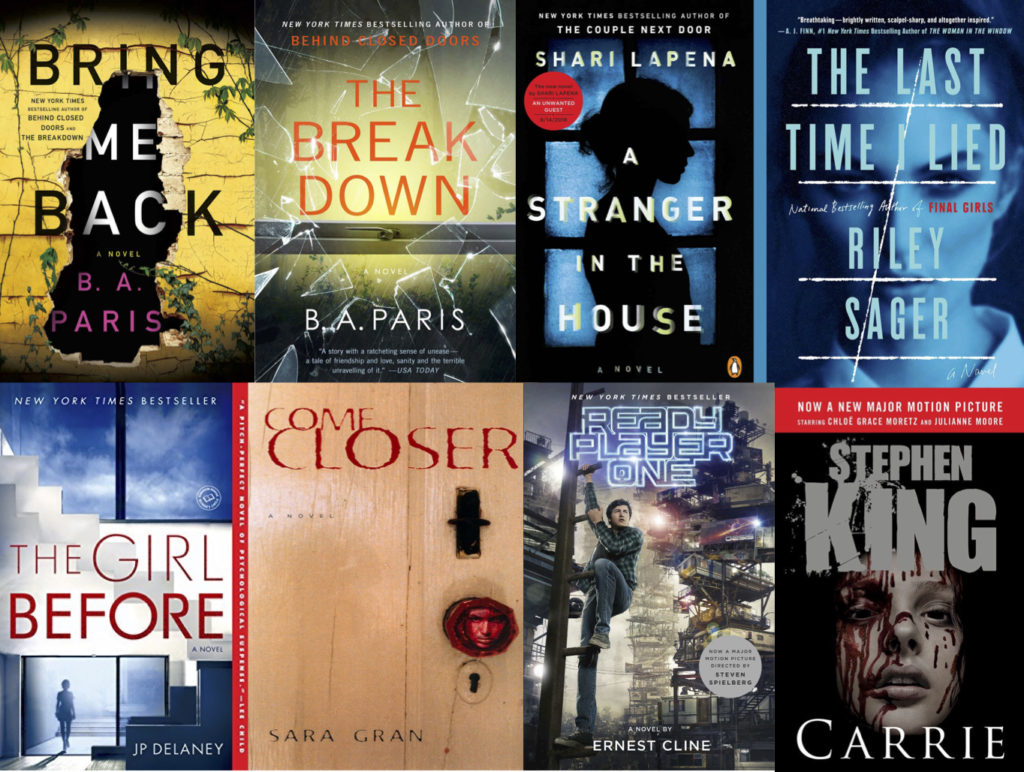 Note: Links are affiliate links. If you click on the link and make a purchase, I will make a small commission. Like .02 cents.
The Last Time I Lied by Riley Sager
This book kept me guessing, which makes it a good thriller in my eyes. Emma's cabinmates were murdered at summer camp when she was younger. They left one night without Emma and never came back. Their bodies were never found. Now an adult and an artist haunted by not knowing what happened to them, Emma returns to the camp to be the art instructor. Obsessed with finding out what happened to the girls, she makes digging into the past her mission while at the camp.
I love BA Paris. Her books are suspenseful, gripping, twisted, and so easy to read. If you are looking for thrillers with unique plot lines I definitely recommend her. I feel like so many thrillers are so similar, but hers really stand out to me. Bring Me Back came out in June and I am already dying for her next book. Finn and Layla were on their honeymoon when Layla disappeared at a rest stop. Years later, he's engaged to her sister. We learn that Finn lied to the police about the night she went missing as items from her past being to pop up around him. The book goes back and forth between the perspective of Finn and Layla, which I thought added a lot to the book.
The Breakdown by BA Paris
After I read Bring Me Back, I decided to read the last book by BA Paris that I hadn't read. I loved The Breakdown even more than Bring Me Back because it was so different from anything else I've ever read. Cass is driving home one night when she sees a car stopped in the woods. Instead of stopping to help, she drives away, believing she could be in danger. After that night, she begins forgetting things like how to use the washing maching and turn off the alarm. She begins to forget things she did, like ordering things and making plans. She believes she may be getting early onset dementia, like her mother, but she also feels that it could have something to do with what she saw on the side of the road.
Ready Player One by Ernest Cline
If you have just seen the movie, forget everything you know about Ready Player One. The book was scary/creepy at times.  There are a lot of 80s references that I didn't get that I just kind of skimmed over, but overall I liked this book a lot. I watched the movie on a plane and it was so different from the book!
Carrie by Stephen King
I mean, who better to celebrate Halloween with than Stephen King? This was my first Stpehen King novel and I loved it! I already knew the plot and the ending but I still thought it was a really good read.
Come Closer by Sara Gran
My friend was reading a list of the books that scare thriller authors, and this was on the list. This book is terrifying, but it didn't make me too scared to sleep or anything like that. This intense psychological thriller is about a woman who begins to say and do violent and disturbing things. She burns her husband with a cigarette. She doesn't remember writing a memo to her boss that's completely obscene. And it gets worse from there as she begins to listen to a voice in her head. A good Halloween book for sure. I got it on my kindle for $1.99!
A Stranger in the House by Shari Lapena
I was eager to read this books because I loved The Couple Next Door. While I didn't love this book as much as The Couple Next door, it kept me occupied for a plane ride as I read the whole thing in one sitting. The novel begins with Tom coming home to find that his wife Karen has abruptly left the house. Her purse is out, dinner is in the middle of being cooked. We find out that she left the house in a hurry and got into a car accident. Karen can't remember why she left the house or anything about the accident. When she comes home she starts to realize that someone has been in their house.
The Girl Before by JP Delaney
I was intrigued by the plot and it did not disappoint. However, you do have to suspend your disbelief in order to get behind the plot. There is a famous, eccentric architect who created One Folgate Street, a beautiful house with a minimalist design. The home is up for rent, but there are many bizarre rules that the renter must agree to. The book alternates between the perspective of Emma (the girl before) and Jane (the girl after). Jane figures out pretty early on that something happened to Emma and tries to figure out what, but the rules and owner of the house make it impossible for her. This is also becoming a movie with Ron Howard as the director, so read it before the movie comes out.