September 4, 2015
After a few weeks of seriously slacking on this blog, I'm excited to get back into the swing of things by joining my favorite link-up with Kelly, Emma, and Rebecca, along with their guest host Liz, for this month's topic of places you can't get out of your head.
New York City at Christmas.
Maybe it's because no matter where life takes Nick and me, no matter where the military sends us, we always end up back here. I don't care if it's cliche, I don't care how crowded it is, I don't care how cold it is –  New York at Christmas is always magical to me. Nick's birthday is in December, right as the holidays get into full swing. Between his birthday, Christmas, and the whole season, I feel like there is just so much to celebrate. And New York City has been the place of so many special memories for us this time of year.
Nick and I met when we were both going to college in New York. We started dating over the summer, and by that Christmas, I was head-over-heels for him. That winter, we spent a few weekends in New York City, visiting the tree and celebrating Nick's birthday. We made the obligatory stop by the Rockefeller Center Christmas tree (the exact spot where we would get engaged 6 years later!). I remember it being an unusually warm night, so we were able to sit outside for a while. I'm a huge wimp so I usually have no desire to sit out the cold! But that night was magical.
The best part about the entire month was that on Nick's birthday, I managed to pull off a surprise birthday dinner with his friends at his favorite restaurant. Nick was completely surprised and it was so much fun! To this day, this is one of my favorite pictures of us.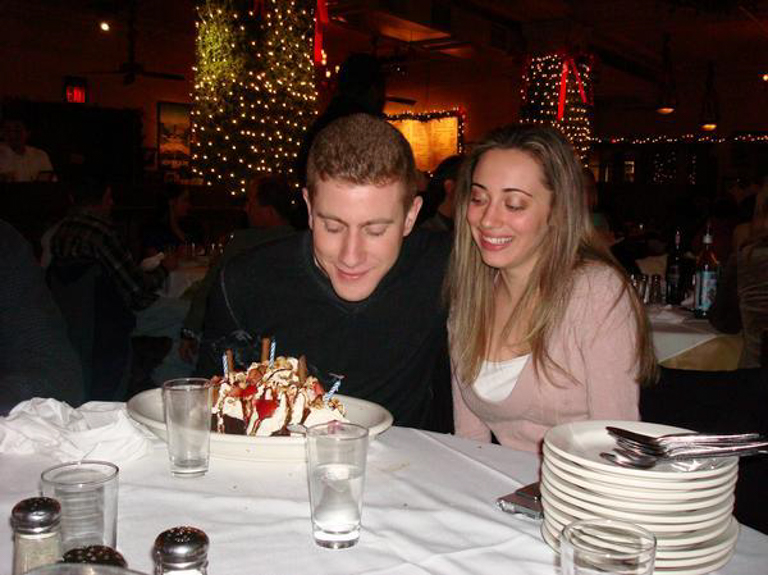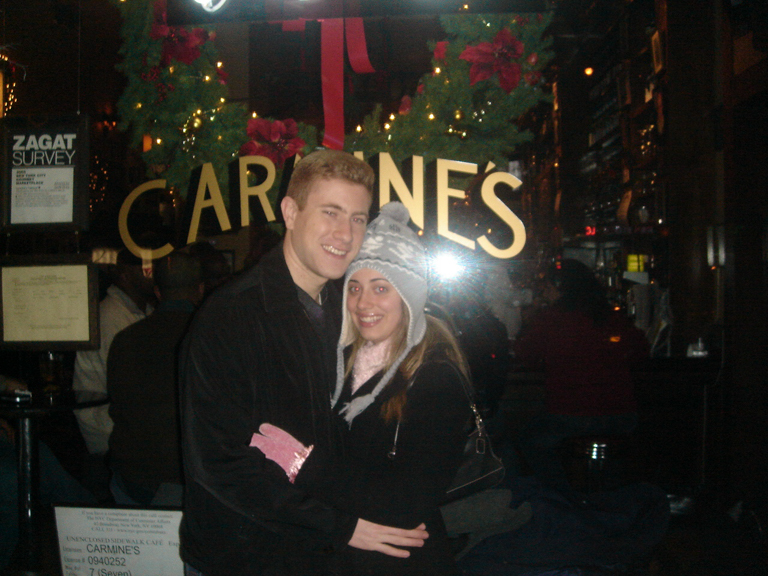 Now fast forward to 6 years later.
Nick was living in Seattle and I was living in New York. Nick was celebrating Christmas with his family in California while I was in New York with mine. I had booked a plane ticket and was planning to join Nick on December 27 to celebrate New Year's with him and his family in California.
I woke up on the day after Christmas to the most amazing surprise…. Nick was here!!. He had flown from California to New York throughout Christmas night. I was completely shocked to see him. A visit from Nick was the last thing I could ever have expected, especially when I was planning to go see him the next day.
I asked him, "Why did you come to New York when I was going to meet you in California tomorrow?"
He replied, "I couldn't wait."
Not going to lie, once I got over the shock of seeing him, I knew exactly why he was there. But it was still the most awesome, unexpected,  sweet surprise ever.
Nick and I spent the whole day together in New York City. He planned out an amazing day that included massages and lunch, and at the end of the day, we ended up at the tree at Rockefeller Center.
He got down on one knee and proposed at the same spot where we had been years earlier, when we were just starting to fall in love. Of course, I said yes! And it was magical.
Someone offered to take this picture right after Nick proposed!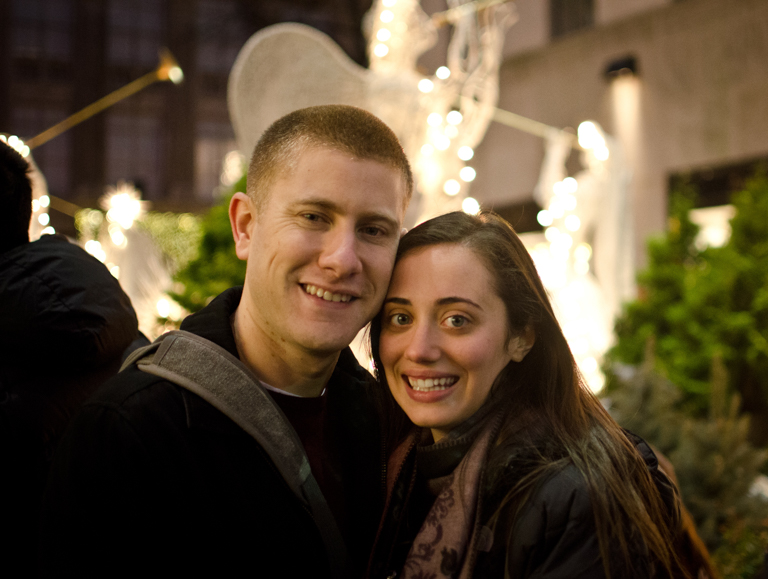 I love that my whole family was in on the proposal – my parents picked Nick up from the airport that morning, everyone was waiting for us when we got home from New York City, and my brother took a few quick engagement pictures of us, which I really cherish. It made our engagement so much more special having my family there. I knew Nick wanted to surprise me with a proposal, which was going to be really hard after being together for 6 years. And surprise me, he did.
As soon as we got back to my parents' house, we all went out to dinner to celebrate. The next day, Nick and I went to California together, as I had originally planned, and we got to celebrate with his family, too.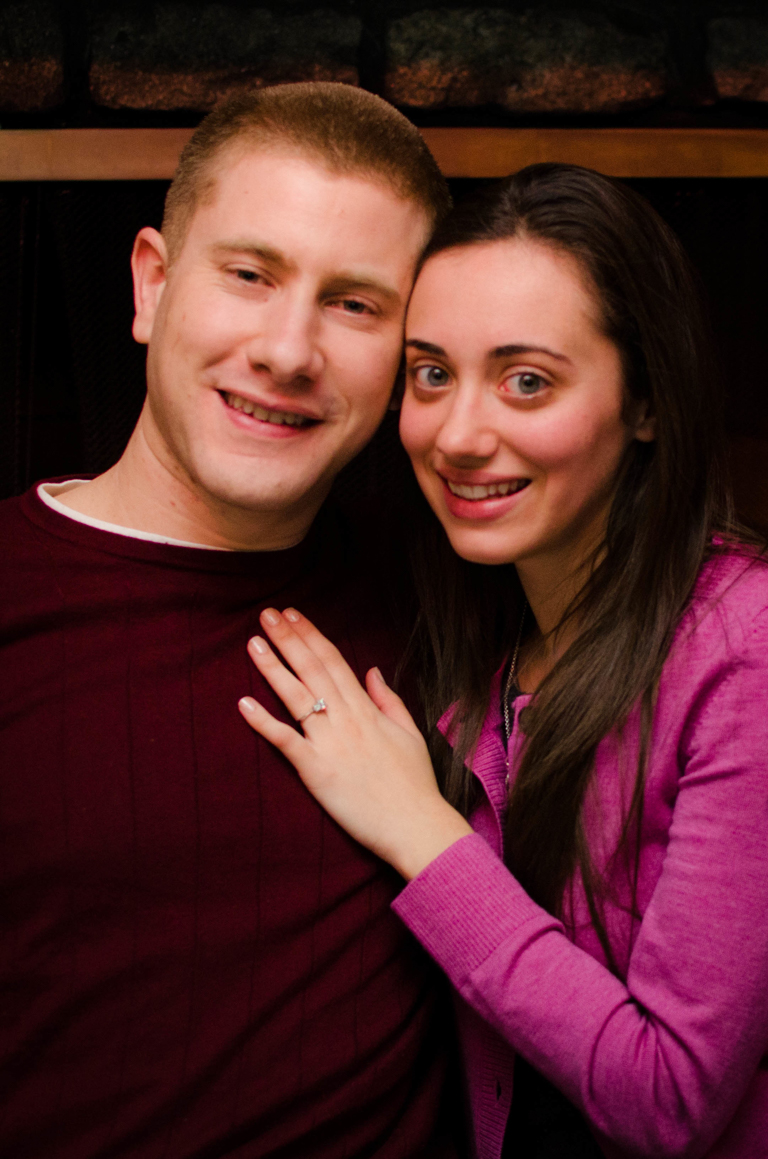 Exactly one year later, we went back to New York City for our engagement photos. First we stopped at the tree: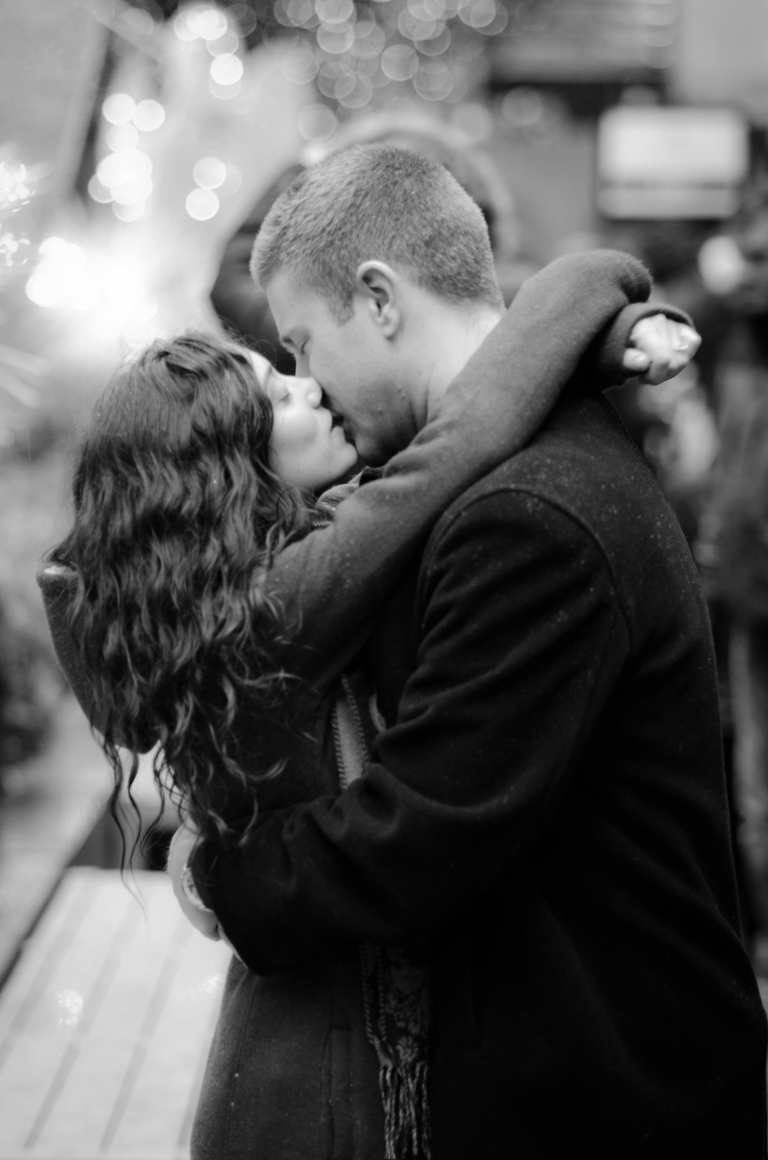 And then we met our photographer, Basia, for some photos at Grand Central Station. Just as we got outside, it started to snow!
Pure Magic.
New York has given us so many magical moments during the Christmas season. I don't know when our next Christmas in New York will be, but it will always be on my mind, and I will always be trying to get back.
What's place will always be on your mind?!