January 26, 2018
Note: Finding Ithaka is a participant in the Amazon Services LLC Associates Program, an affiliate advertising program designed to provide a means for sites to earn advertising fees by advertising and linking to Amazon.com. If you click on these links and make a purchase, I will receive a small commission. It doesn't cost you anything, but it helps me keep my blog going!
Thank you so much to everyone for your supportive comments on my post about the false missile alert. I posted it and then kind of turned away from blogging for a good while because it was just a lot to process and because I've just had a lot going on in life. As soon as I publish this post, I'm going to re-read all of the comments on that post, reply to them, and finally get caught up on my favorite bloggers. I hate when I fall off the blogging bandwagon but I love that all of you are there for me whenever I get back.
After being in a reading rut for most of 2017, I started 2018 off with a bang. I'm participating in Erin's Reading Challenge, which is so much fun so far. I love her Facebook group because it's so supportive and because people are always recommending books. I don't know how some people have already finished their 10 books but it's inspiring!
Plus, Christy and I have moved our Beyond Words Book Club to Facebook, which I think was a great idea. Join our Facebook book club here! Each month we will vote on a book and then talk about it in the group. You can ask for book suggestions or talk about any other books you are reading, too.
I have to admit, I didn't get around to reading this month's book because I never got it from the library. I put a hold on it and then kind of forgot about it, but I do hope to read it soon because it looks like a great read.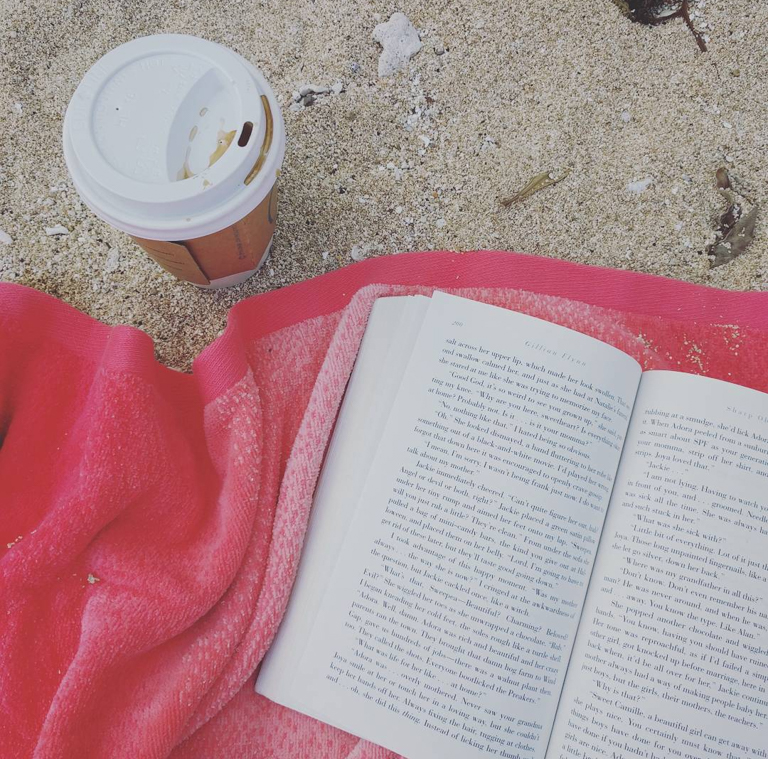 1.The Book of the Unnamed Midwife by Meg Elison
This is my new favorite book that I think everyone needs to read.
The unnamed midwife woke up in a new world, a world where most of the women in the world – and many of the men, too – have been killed by an unknown fever. There is no more government or infrastructure. Civilization as we know it is over, and there are hardly any people left to pick up the pieces.
Hardly any women have survived. The fever seemed to afflict women the most. The fever seems to still have an impact because women are dying during childbirth and no babies are surviving. Many of women who have survived are enslaved by groups of men, unable to escape them. But the unnamed midwife dresses as a man and is able to pass as a man. She saves women from this enslavement. The ones that she can't save, she sneaks birth control to, because no women are surviving pregnancy.
She meets a lot of different people along the way. She doesn't spend too long with anyone, which I think adds a deeper element to the book. You get to see how different people react, survive, and try to make sense of what happened. Probably the most interesting group of people she meets is a huge Mormon community.
I probably won't stop talking about this book or recommending it for a while, it was that amazing. The funny thing is that my friend recommended it to me and so I requested it from the library. I was about to take it back because I had so many library books out (don't you hate when all of your re
It was a bit eerie to finish this book right before the false missile alert because all I could think about was how the people in this book reacted and survived.
2. The Chalk Man by CJ Tudor
I chose this to be my Book of the Month kind of on a whim. This book was not what I was expecting it to be. I was expecting a run-of-the-mill thriller. While this book was easy to read, it was not run-of-the-mill!
When Eddie was younger, he and his friends developed a secret code. They would leave messages for each other in chalk. The "chalk men" became their secret code. Different colors meant the message was written by a different person. Different symbols meant to meet in different places. However, one day, a chalk man leads them to a dead body.
The book goes back and forth between the story of Eddie as a teenager dealing with this, and as an adult where the past comes back to haunt him.

There were lots of twists and turns to this story that made me unable to put it down. I loved that the story had two different storylines, one from the past and one from the present, so you were constantly guessing who was up to something. It was really well written, too. I was hesitant to try this book, but I loved it! If you like thrillers and mysteries, I think you should try it! I can't wait to read another book by CJ Tudor.
3. All the Missing Girls by Megan Miranda
Nicolette comes back to her hometown 10 years after her best friend, Corinne, disappeared. Her father, who is suffering from Alzheimer's, needs help selling his house, but she is mainly drawn home after receiving a cryptic message from him that leads her to believe he has information about what happened to her.
Just after she returns home, her high school boyfriend's new girlfriend goes missing (did you catch that?!).
I read this book in about a day while sitting on the beach on vacation. It's a great beach book. I really enjoyed the
 plot and  the twists, but I was not a fan of the story being told backwards to forward. Honestly, it seemed a little gimmicky to me and didn't add anything to the story, in my opinion. Still, this book is worth reading, I just think that there is a reason why storied are told beginning to end! I'd still recommend it to thriller lovers. 
Loading InLinkz ...