October 26, 2017
Note: Finding Ithaka is a participant in the Amazon Services LLC Associates Program, an affiliate advertising program designed to provide a means for sites to earn advertising fees by advertising and linking to Amazon.com. If you click on these links and make a purchase, I will receive a small commission. It doesn't cost you anything, but it helps me keep my blog going!
First of all, thank you to everyone for all of your supportive comments on my last post. I was somewhat hesitant to tell you all that I quit a job that seemed so cool, but I needed to share it. I thought people would say, "you're crazy for quitting!" Instead, everyone wrote supportive comments. I will say, it's hard to accept your limits. It's hard to quit something that's not right for you. It's hard to say no. But it's so worth it and I feel so much lighter.
Because I just love all of you (and because I am quite literally out of space on my bookshelves), I am giving away two of the books that I read this month. If you wantBeasts of Extraordinary Circumstance by Ruth Emmie Lang (a book that is not coming out until November 14!), 
or All the Ugly and Wonderful Things by Bryn Greenwood
, just comment on this post telling me which book(s) you want. I will choose winners at random and mail you the book along with a Hawaii bookmark. I will choose the winners next Friday, November 3.
So, here's what I read this month: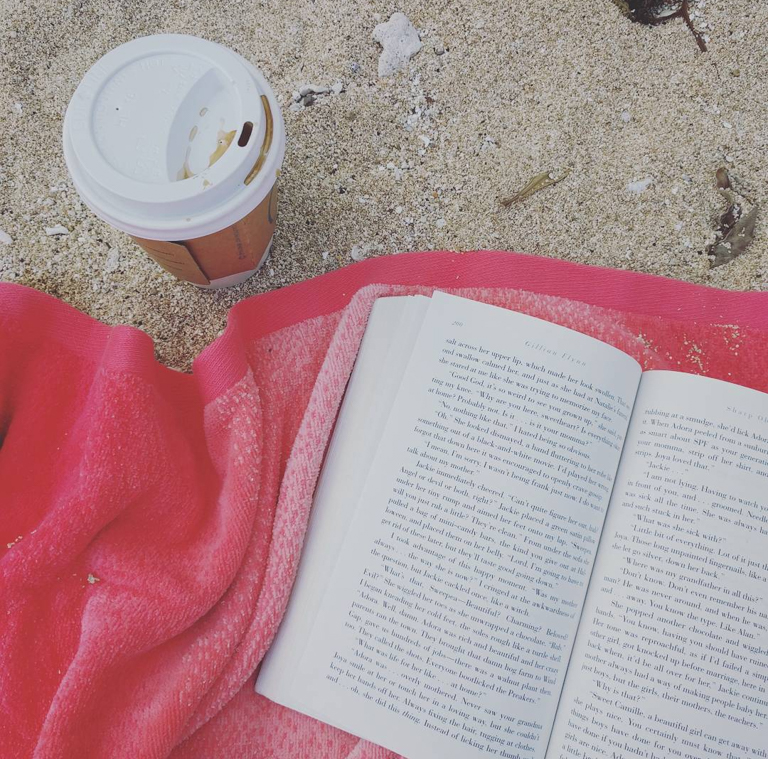 1. All the Ugly and Wonderful Things by Bryn Greenwood
This book made me uncomfortable. It tore at my heart. It made me cry. It made me unsure how I felt. It made me question a lot of things. Throw in a murder, and this is exactly my favorite kind of book to read.
This book is about a girl named Wavy and a boy named Kellen. They meet when Wavy is 8 and Kellen is older. Wavy's parents are meth dealers, basically leaving Wavy on her own to take care of herself and her little brother. She meets Kellen, who begins taking care of her. For a while, they need each other. Then, they fall in love when she is 13 and he's in his early 20s. I know how it sounds, but just read this book before you make a judgment. Give this book a chance – it's about all of the "ugly and wonderful things."
I'm giving this book away. If you're interested, comment below!
2.Beasts of Extraordinary Circumstance by Ruth Emmie Lang
If you like magical realism, you need to pick up this new novel. I got this book because of my membership in the Book of the Month Club  (comment below if you want a referral link. If you join, we each get one free book).
This book doesn't come out until November 14, but Book of the Month members had the chance to order this as their October book, a full month ahead of everyone else. I ordered it along with one other book I haven't gotten to read yet.
Beasts of Extraordinary Nature is about a boy named Weylyn Grey, told through the point of view of the people who loved him throughout his life living in different states. Raised by wolves, Weyln isn't like most people. Strange things seem to happen when he's around and he has a unique way of looking at the world. He's a character that you will instantly love and won't soon forget.
What I love about this book is that not everything is quite explained. I'm giving this book away! If you want it, just leave a comment telling me so!
3.The Girl With All the Gifts by MR Carey
"Every morning, Melanie waits in her cell to be collected for class. When they come for her, Sergeant Parks keeps his gun pointing at her while two of his people strap her into the wheelchair. She thinks they don't like her. She jokes that she won't bite, but they don't laugh.
Melanie loves school. She loves learning about spelling and sums and the world outside the classroom and the children's cells. She tells her favorite teacher all the things she'll do when she grows up. Melanie doesn't know why this makes Miss Justineau look sad." (I stole this description from Goodreads because it's perfect without giving too much away).
I loved this book. I can't remember where I first read about this book, but I knew that I had to get my hands on it immediately. I think that it was recommened on a website somewhere to fans of Neil Gaiman. So I went to the library, picked it up, and devored it. This book had all of the checkmarks for me: dytopian, thriller, and a hint of fantasy.
But if you don't like any of those things, I still suggest reading this book. It didn't really get overrun with any of the dystopia or thriller aspects, and it was about so much more than it seems. 
This book not only held my attention, begging for more, but it also made me think about a lot of things, like what it means to be human. I also loved that the main characters were strong females.
I will say that a few parts of the book were slow, but looking back, I see why they were important. Highly recommend!
When a baby is found dead in a building site, many different people think they know who she is. A reporter decides to go to great lengths to find out who she really is.
Things I liked about this book: I liked that instead of a cop trying to solve a murder, it was a female journalist. I liked that there were multiple perspectives throughout the novel. I liked the storyline.
Things I didn't like about this book: It was slow, and I usually expect thrillers to be fast-paced. Also, I figured out the big twist and it wrapped up too neatly for my liking. Not the best thriller, but not the worst one, either. However, a lot of people in my book club really enjoyed this book, so maybe it was just me.
Loading InLinkz ...