October 12, 2016
Being a military spouse challenges and changes you in ways you never could have imagined.
And that can be a very good thing. For me, it's been the very best thing. But there is no way around it, military life is a family affair. You end up holding down the home front, making decisions without your partner, spending holidays missing each other, representing them at military functions, and attending all kinds of military events. You end up with a lot of different responsibilities and you meet so many different kinds of people. It can be stressful.
I love it and I think that I'm getting better at it. But being a military spouse can be hard to navigate, and there can be a lot of pressure to do it "right."
During the past nine years that I've known Nick, I've met all kinds of incredible military spouses. I know women who have lived separate from their husbands so that they could pursue their career dreams (including myself). I know women who have also decided to take a step back from their career for any number of reasons (and yup, I've also done that).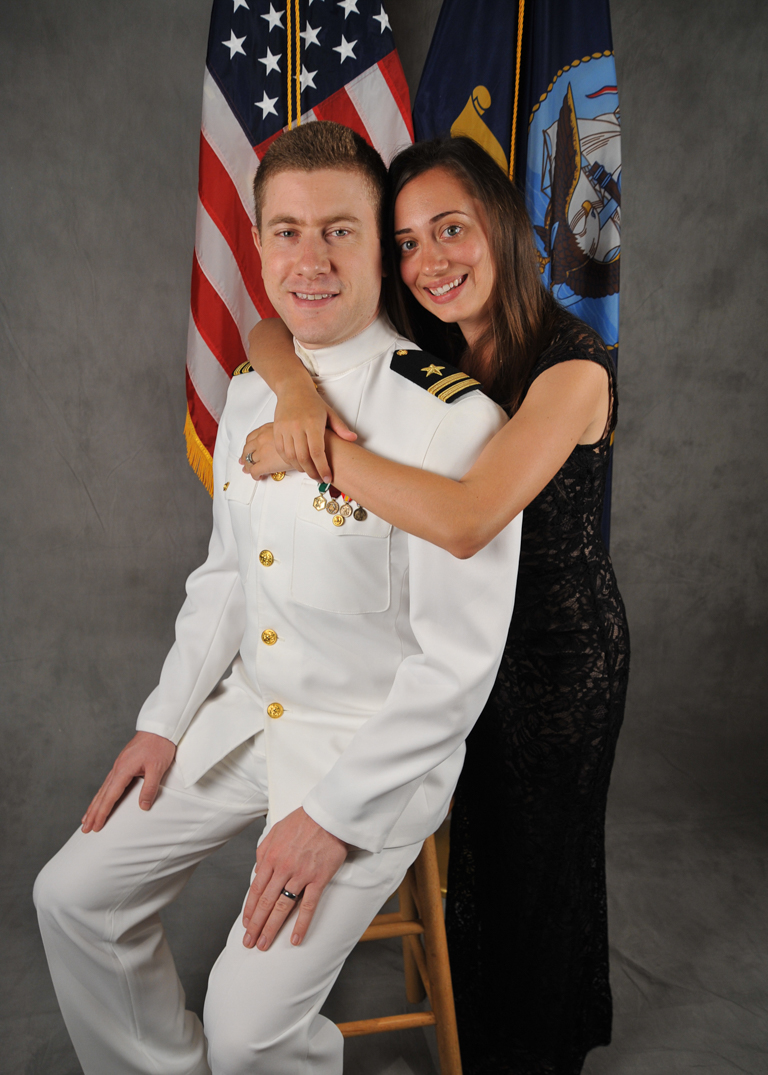 When Nick was first assigned to a submarine in Washington state, I lived in New York. I had a great job, and I wanted to get some work experience and get my Masters degree. I went out to see Nick for a weekend because the submarine was having a family event. Every single person I met asked me when we were getting married and when I was moving out there. At the time, I was not ready to move across the country and neither of us were ready to get married.
I found it hugely frustrating to feel this pressure to do what I thought all of the other military spouses were doing, to do what I was "supposed" to do. But I held on strong, and we didn't get married until the end of his submarine tour. Until we both were ready.
Still, I felt like I was being judged, because I wasn't there for Nick, supporting him in Washington and doing what I was "supposed" to do like all the other submarine wives.
I felt like I was failing Nick somehow, even though we both knew that this was best for us. I felt guilty. I felt scared that I was dong the wrong thing. I wondered if I would ever fit in with other military spouses since I didn't know anyone else who had done what I did.
But the longer Nick's been in the military, the more I've learned that there is no "most of what the other military spouses do." There is nothing that you are "supposed" to do. We're all different, just like in the civilian world. And we're all just trying to make it work.
Maybe you want to have children and stay home with them. That is amazing. So many people don't get that opportunity. Maybe you want to move to another state for a few years to get your Masters degree, even if it means living separate from your spouse for a while. That is also amazing. Many people also don't get that chance, or feel like they have to give up on their dreams because their spouse is in the military.
Maybe you can't keep moving around with your spouse so you settle down somewhere else. Maybe you want to live with your partner for a few years before you get married. You shouldn't feel pressured into doing something you don't want to do or aren't ready to do just because it seems like everyone else is doing it. I think that military relationships tend to move faster than civilian ones because the active duty member is deploying or moving so you feel like you need to get married or move together. Nick and I were highly aware of that and didn't want to rush into anything because we felt the military life was forcing us to. You can still take it slow, do what's right for you.
Maybe you ask your mom to come stay with you to help you with the kids while your spouse is deployed. Maybe you move home during a deployment because being with your family makes it easier on you. Maybe you stay where you are and work like crazy.
Military life has enough challenges that I don't want to add fear of being judged to my list of worries. Some people might not understand why you make certain decisions, but that doesn't matter. As long as you are doing what's best for you and your family, no one can tell you that your choices are wrong.
There is a famous quote from Eleanor Roosevelt that says, "Do what you feel in your heart to be right – for you'll be criticized anyway." And while that is kind of a negative way of looking at things, feeling like you will be criticized no matter what you do, it's also freeing to think that you really can do whatever works for you.
I'm in a bunch of military spouse Facebook groups and whenever someone is looking for advice, one thing I've noticed is that there is always a huge range of answers. People will explain why they did what they did and why it worked for them, knowing that what they did will not work for everyone. I like knowing that there is no one way to be a military spouse. And most other military spouses will get it and understand, even if what you need to do isn't right for them.
I find it hugely comforting to know that despite the challenges, my husband's career has given us a lot of freedom to do what is best for us. You do you. I'll do me.
Have you ever made an unorthodox decision, whether you are a military spouse or not? How did you cope with it?
Pin for later: