June 14, 2016
June 14, 2013.
That was the date that Nick and I picked for our wedding. We picked it because that's what worked with Nick's schedule.
Everything was set. The Save the Date cards were printed. I was just about to mail them out.
And then I got a call from Nick.
He was deployed.
He had stopped in Hawaii for a few days. He was about to get back on the submarine for the rest of his deployment. He was calling me to say goodbye.
I can't remember the exact words that were said. But he started talking about the deployment that the submarine was scheduled to do after the one he was on.
I still have no idea why he was talking about this when we were about to not be able to talk to each other for another few months.
He was acting a little bit weird. I got the sense that Nick felt like he was still needed on the submarine because there were so many new people. I got the sense that he didn't feel like it was his time to leave the submarine. I got the sense that he actually wanted to go on the next deployment despite always talking about how hard they are.
But he was not supposed to go on the next deployment.
Our wedding was scheduled to occur right in the middle of the deployment. He had already talked to his captain. He was planning to leave the submarine before our wedding. After our wedding, he would go to a shore tour (a job where you are not on a submarine, an office type job).
I sensed something was off with Nick. I asked him if he wanted to stay on the submarine for the next deployment.
He said yes.
But.
This meant that he would be underwater on June 14, 2013. He said that didn't want to ask me to move our wedding.
I told him that I didn't care. Then I asked him when I should reschedule our wedding for.
He said the middle of August.
We said goodbye and I love you. He hung up.
I immediately called our priest, then all of our other vendors, to reschedule our wedding. I re-planned everything in a few hours.
Our wedding was now set for August 23, 2013. I emailed Nick to let him know the new date, and then I called our families and ordered new Save the Dates.
Sometimes when I tell this story, seasoned military spouses and even military members give me a hard time about agreeing to change our wedding date. They said it set a bad precedent that I "let" Nick do this and that I shouldn't be so okay with changes like that.
Um. Welcome to the military.
If Nick really wanted to, he could have gotten off the submarine in time for our wedding. Some people don't get that option. But I didn't want to start our marriage by asking Nick to give up on one of his dreams. As hard as working on a submarine is, I know that he loves it. He was made to be a submariner.
I wasn't thinking about it at the time, but I was also set to have my final week of graduate school that week. Looking back, my last graduate class, Bioethics, was the hardest class of my Masters degree. I would have failed that class if Nick and I got married on June 14 as scheduled. And it would have made me much more stressed out during our wedding.
By postponing our wedding by 2 months, I knew that I was postponing starting our life together by 2 months.
But we both gained so much more.
Nick and I gained a new level of trust and communication. In that 10-minute phone call, somehow I was able to read Nick well enough to know how important this was to him. Our relationship when to a whole new level in that phone call. From that moment on, I knew that we would always put each other first, that we would always give each other the space we needed to chase our own dreams, that we would always have each other's back.
I also gained a whole summer at home with my family before moving far away.
I gained a whole week with my three bridesmaids, who now are scattered all over the world, in Europe, Africa, and America. They all took off from work the entire week before our wedding to help me get ready. They are the best sisters you could ask for. If I was failing a class, I wouldn't have enjoyed that time with them at all.
Nick gained another deployment under his belt. He says that the experience he gained on that deployment will help him throughout his career.
So, I'm glad that today is not our wedding anniversary.
And when August 23 finally came, we had a beautiful wedding. All of the waiting was worth it. And we started our marriage stronger than ever.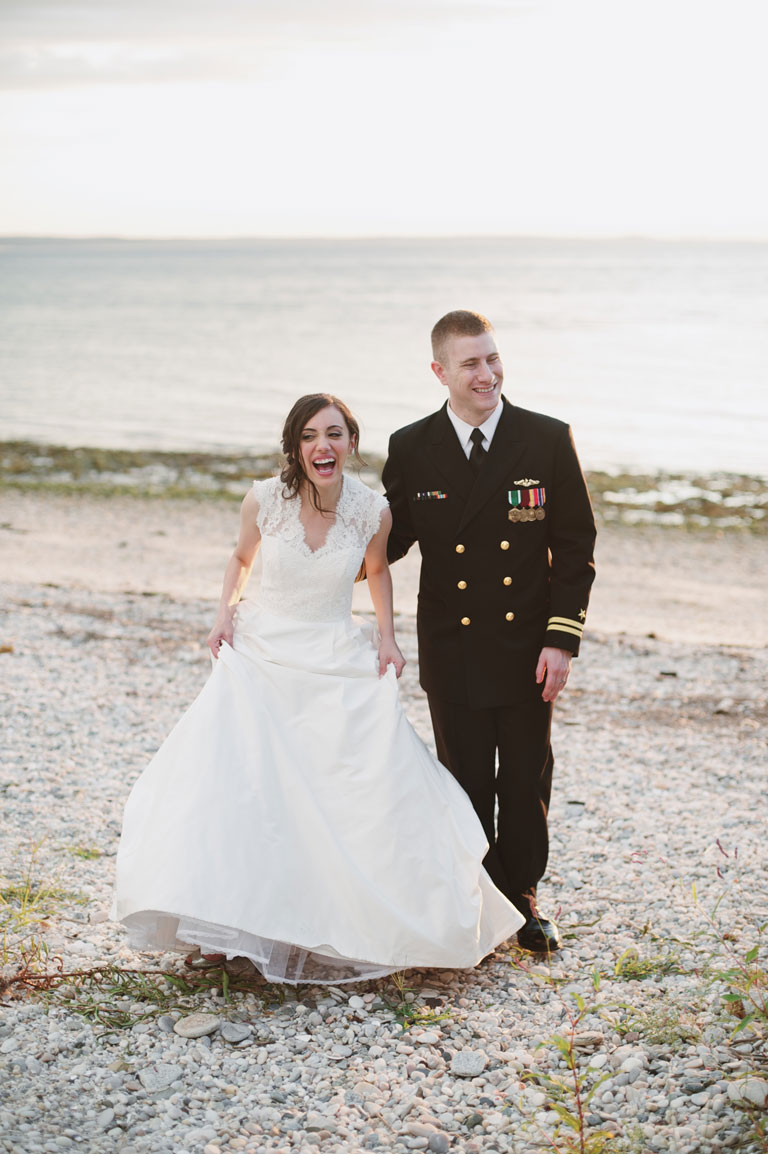 Every year on June 14, I think about how unpredictable life is. I think about how important it is to be open-minded.  I think about how important it is to not be afraid to change your course. I think about how thankful I am to be married to Nick and how we always have each other's backs for whatever crazy dreams we have.
I'm also glad that today is not our wedding anniversary because the movers are coming today to pack us up. It would not be a very romantic way to spend the day. Wish us luck :))

PS: For some reason, I have such a hard time remembering our wedding anniversary, and I blame it on the fact that we changed it. On our first anniversary, I gave Nick a present in which I wrote that our wedding was August 28. Epic fail.