May 17, 2020
Note: contains affiliate links
When I was pregnant, Nick and I bought a deep freezer. During my last few months of pregnancy, we made over 80 freezer meals, plus snacks. The deep freezer was completely filled with food by the time M was born. We ate it all in those first few months after bringing her home.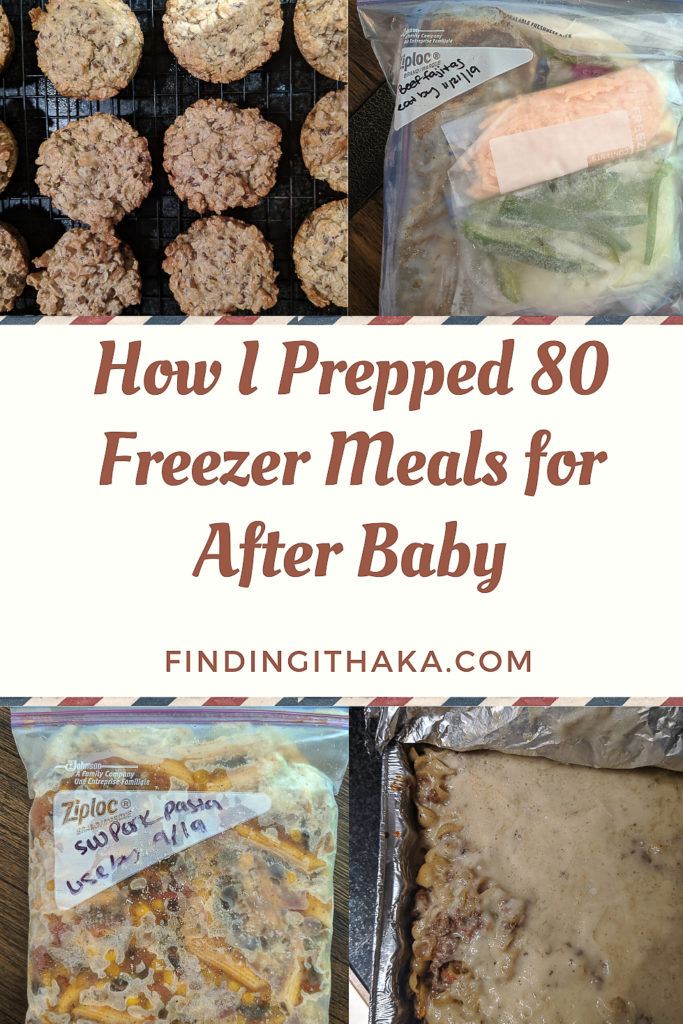 I got this idea from my friend, who did the same thing when she was pregnant. I thought it was such a brilliant idea that I always knew I'd do the same thing.
I knew that the fourth trimester was going to be a fog of sleeplessness. I knew I wasn't going to have time to cook healthy meals and I didn't want to rely on takeout. I also didn't want the mental burden of having to figure out what to cook, make a grocery list, etc.
I was right. Forget all of the classes I took and books I read – these meals were the best preparation for motherhood I did. It made those first several months home with a newborn so much easier.
It was months before we had to cook, thanks to our freezer stash, food that friends brought, and family visits (visitors didn't get freezer meals, they made us food!).
We bought this deep freezer on Wayfair. I love it because it holds a lot but doesn't take up too much space.
Getting Organized
It took us about 4 months to get from researching meals to a full freezer. First, we went through all of the recipes we could find decide what to make and made grocery lists.
When I was around 6 months pregnant, we started to grocery shop and make meals whenever we had time. We did this slowly, a few things per week. Sometimes, we would make a big batch of something and then set aside a portion of it for dinner that night. Other times, we would freeze everything we made and go out for a date night, since we knew we would not be going on many dates once M arrived.
Storing meals in a space-efficient way was key to make the most of our freezer. I mostly picked meals that I could store in ziplock freezer bags – like stews and pastas. I would lay them down flat to freeze on top of a baking pan. This way, they would freeze as flat as possible. By laying them flat on top of each other, I was able to use the space in the deep freezer most effectively.
I stored casseroles and lasagnas in disposable 8×8 aluminum pans. I got these on Amazon. It's a pack of 20 for $12. This pack was perfect because it comes without those big ridiculous plastic lids. I'd just put aluminum foil on top. 8×8 was the perfect size to freeze individual meals and we'd sometimes have leftovers for the next day. On each meal, I wrote what it was and when to eat it by (I later changed my strategy to just writing the date I made it).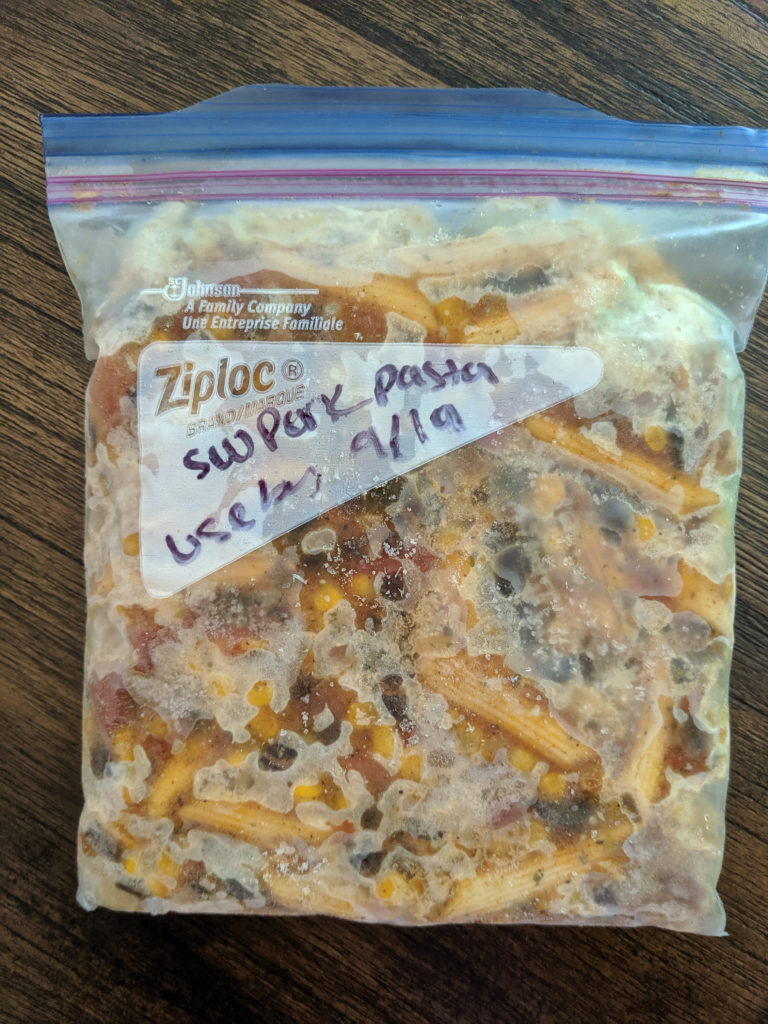 I wish we had organized the freezer better. I think we should have put cardboard boxes inside and put different kinds of meals in different boxes. I would have put soup in one box, sauces in another box, breakfast burritos in another box, etc. That way, if I was looking for a soup, I could just pick up the boxes that contained different things instead of having to take every single package out to dig to the bottom looking for something.
Key to my organization was my inventory sheet. I thought this was pretty genius. In Excel, I made a spreadsheet where I listed Name, Number of Servings, Eat By, Cooking Instructions, Type of Container, and Location in freeze. I also listed any additional ingredients needed to Eat. This was key because some things needed sour cream or orzo or rice or something. I could make sure I had everything I needed before defrosting something.
I printed it out and put it on the fridge a few weeks before I was due. As I took meals out of the freezer, I would cross out the amount of servings left for each meal to update the inventory sheet. I always knew how much food was left without having to dig through everything.
I made a blank inventory sheet that you can download here. Please feel free to download and edit to your preferences.
Meals We Made
Most of the meals we made were from two different cookbooks. The ones that we mainly used were Make It Ahead: A Barefoot Contessa Cookbook, Fix, Freeze, Feast, 2nd Edition: The Delicious, Money-Saving Way to Feed Your Family; Stock Your Freezer with Ready-to-Cook Meals; 150 Recipes., and Taste of Home Make It Freeze It: 295 Make-Ahead Meals that Save Time & Money.
Because I used these cookbooks, I can't link to every recipe we used. But I was able to find links for some of the recipes.
Breakfast
Oat Cakes. I ate these for breakfast every day for months. When I ran out, my dad made more for me. They have nuts, oats, and flaxseed, so they filled me up well. Oats are supposed to be good for lactation. As a bonus, you can eat them with one hand so the other is free to hold the baby. I individually wrapped them in aluminum foil. I would put them in the oven straight from the freezer.
Healthy Freezer Breakfast Burritos with Herbed Goat Cheese, Sweet Potato Hash, and Black Beans. Another great breakfast. I made these for Nick and he loved them. We made a few batches of these. He heated them up in the microwave straight from the freezer.
Lunch/Dinner
Baked Penne with chicken and sun-dried tomatoes. I wasn't sure about this one but it came out really good. One batch makes about 3 8×8 aluminum pans. Martha Stewart has a whole list of freezer meals for new moms here.
Southwest Pork Pasta. We got this one from Taste of Home Make It Freeze It: 295 Make-Ahead Meals that Save Time & Money, but I found it online. Delicious and easy to freeze flat in Ziploc bags.
Lemon chicken orzo soup. Soup was great postpartum. We just didn't put the orzo in until we reheated it. This saved space and I think tasted better. This is a perfect example of a meal you can store in Ziploc freezer bags.
Ina Garten's Roasted Vegetarian Lasagna. This was my favorite out of all of our meals. I've made it multiple times! We got it from her cookbook, Make It Ahead,but I found the recipe online. Just don't bake it, so skip step 5 and put it in the freezer. Instead of putting it in a big baking pan I put them into the 8×8 aluminum pans. When you're ready to eat it, take it out of the freezer and defrost in the fridge before baking. Takes about an hour to reheat at 350.
Ina Garten's Pastitsio. Another recipe that I got from her cookbook and found online. To reheat, defrost for 24 hours in refrigerator. Bake at 350 for 1 hour. Set aside for 10 minutes and serve hot.
We also made marinara sauce, meatballs, and regular lasagna, a couple of different kinds of enchiladas, a few Indian dishes, fajitas, and a few pasta dishes.
Snacks
Lactation Cookies I was really worried about breastfeeding. I had no idea how my supply would be. I didn't want to have to find brewer's yeast (got this one on Amazon) and bake cookies with a newborn. So I made these in advance. I scooped the dough into balls and froze the balls in bags. I have no idea if they worked, but I never had a supply problem. They were delicious and a great excuse to eat cookies.
Banana Bread from The Kitchn I make this banana bread all the time. Throughout my last few months of pregnancy, I'd just freeze a few slices whenever I made it. Perfect snack!
This was such a successful endeavor that we started making more freezer meals to replace what we use. We don't keep quite as many on hand anymore, but it's nice to know that if we have a busy day or night, we can just pop a freezer meal into the oven.
And as a side note, the deep freezer has been great for storing breastmilk. And have during quarantine. It was definitely a worthwhile investment.
What are your favorite freezer meals?
If you have any questions about our freezer meals, please ask me!