June 21, 2014
My family loves surprises. So back in December, my mom came up with an awesome idea. She asked me to come visit New York in June, but not to tell my dad I was coming. We could make it a Fathers Day surprise.
So  that's exactly what I did.
I got on an overnight flight. As soon as I got home, I went out to breakfast with my brother and mom, and we talked about the best way to surprise him. We decided to go to his job to create the ultimate surprise.
We went in my brother's brand new car. He called my dad, saying that he thought the car was overheating and wanted him to come outside to look at it. I stayed inside the car when he came outside and started checking it out.. My brother even opened up the hood of the car to make it seem real. My dad didn't see anything wrong with the car and he didn't spot me sitting in the back seat, so finally my brother just asked my dad to look inside. I saw him and said, "Surprise!" My dad was genuinely stunned, and the look on his face was just pure joy.
Now that I'm here, I've been catching up with all of my friends and family and eating lots of pizza and bagels.
Last night, my dad, brother, and I went to the most amazing Yankee game. The Yankees were losing 3-1 and scored 4 runs in the bottom of the ninth inning! It just doesn't get any better than that! We ate tons of ballpark food and had a blast just being together. My brother and I have been getting my dad Yankee tickets for Fathers Day for a few years now, so it's become our little tradition. I think I will have to come back next June to keep it up.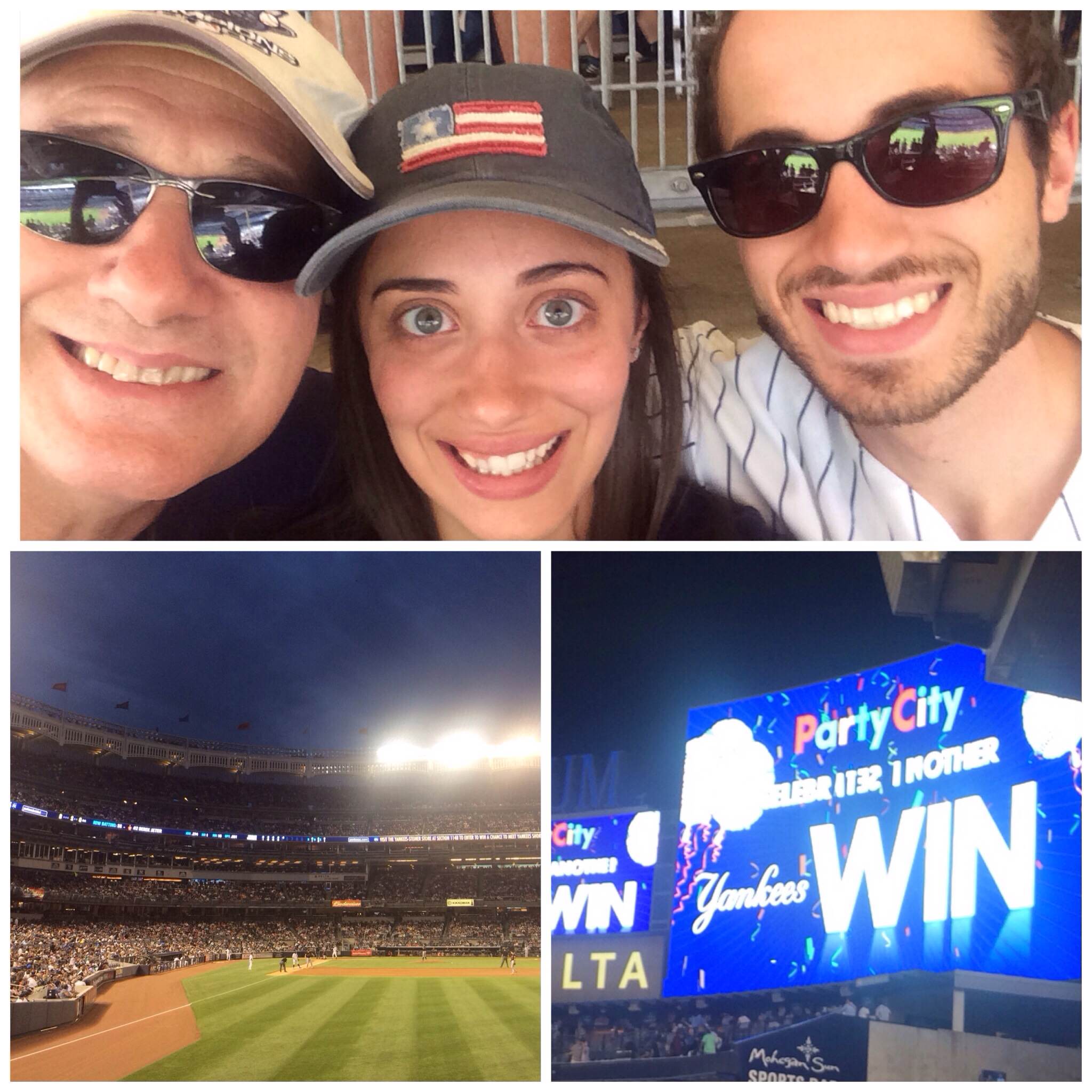 Today I am off to spend the day with one of my dearest friends. Tomorrow, Nick will be joining us, just in time to celebrate my little brother's 24th birthday! We will have a few more days together with my family before heading back to Hawaii. I am feeling so glad that I was able to come home to see my dad and be with my brother on his birthday, and that Nick is able to join me for this visit. Being apart from my family is really hard sometimes, but coming home to so much love makes the time that we have together that much more special.