March 21, 2017
First of all, thanks to everyone who took the time to take my blog survey! I really appreciate it.
For a while now, I've been wondering about the people who read my blog and what they are interested in reading about. I have about a million PCS tips after PCSing twice in such a short amount of time, but if the majority of people who read my blog aren't military spouses, should I post them on here? Do you want to read more coffee-date type posts, or should I write more about Hawaii? Or should I just keep doing what I'm doing, and write about whatever I feel like?
The answers to my survey surprised & interested me. Here are the results:
I'm turning 30 soon and it's good for me to know that the majority of you are around my age. I hope to impart my 30 years of wisdom on you young people 😉

Bloggers liked to read other blogs, so this didn't surprise me. I love connecting with bloggers, but it did make me happy that some people who don't have their own blog read mine.
So this question was an epic fail on my part. I really wanted to know what percentage of people who read my blog are military spouses or have a SO in the military. But before I published my survey, somehow that question had gotten deleted. I didn't realize my mistake until it was too late. I added it in after a bunch of people had already taken the survey, which is why I only had 19 responses to this question.

Ha! Ok, I know that some people who read my blog do live in Hawaii. I guess they are too busy going to the beach to take surveys. It's fine.
It makes me happy to see that people have stuck around me since I started blogging. Looking back at some of my older posts sometimes makes me cringe, so thank you for sticking with me and helping me grow. The past year or so is when I feel like I started coming into my own as a blogger and making more blog friends, so it makes sense that the majority of you have been reading for about a year or so. I have made a lot of new blog friends recently, and I love that!

Wow! So many of you read my blog every single time I post something new. Thank you! That makes me want to work even harder to make sure I only post things that I am really happy with. I would much rather post better content less often than just post random things for the sake of getting a post up. Last week, I didn't post anything because I didn't really have anything together. I don't think that skipping a week here and there will really mess up your blog.

This question was interesting for me. There are so many ways to find blogs and meet other bloggers, but it seems like the best way to get out and meet other bloggers is just through other blogs and linkup. It's been a while since I've joined a new linkup or really tried to find other blogs to read. Time to get on it.
This question and the one after it were the heart of why I wanted to do this survey. I was surprised to see that more of you want more personal posts and life update posts! I guess that makes sense though because I haven't done a lot of those generally, but this is my blog, after all.
I also was surprised to see that so many more of you want to hear bout married life and travel. I have a few travel posts to write from our summer trip to California and Harry Potter World, but I have been putting them off because I didn't know how many people would be interested in reading them.
Only 15 people responded to this question! I guess you all were trying to be nice. Or maybe you just like the variety in topics, since you're still reading.
Anyway, since most of you are not military spouses, it makes sense that you don't want to read my 10 best PCS tips. When I looked at this and the above question in which not many people said they want to read more posts about military life, I realized I don't need too many military-specific posts on here.
But I will probably still post about military life for a few reasons. It's such big part of my life, I think that other military spouses can relate to a lot of things I'm going through or offer me advice, and sometimes I have topics that I think anyone could benefit from, whether you are a military spouse or not. But I'll keep this feedback in mind in deciding how to write about these topics.
The next highest topic on this list was book reviews. I  wonder if those people just don't care about reading book reviews at all, or they don't care about what I'm reading? Or if there is something about my book reviews that people don't like? I am wondering about this. I'll probably keep my book reviews to once per month.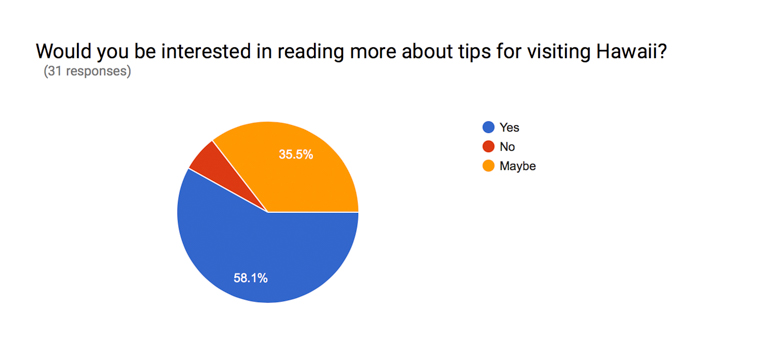 More people than I thought! I really didn't think that many of you would say yes to this, especially if you aren't planning to come here any time soon. I'm glad I asked this question. I will write more about my best tips, my favorite things to do, and just generally what I get up to here in Hawaii.
The responses to this question made me happy, too. Clearly I am not a finance, budget, or cooking expert, but I want to write more about what I've learned in case it can help anyone else. I have a post that I am working on about how I mean plan. Riveting stuff. This is what happens when you're turning 30. Meal planning is an exciting topic.
Bloglovin is where it's at. But it's so interesting to me that so many of you just come on over to my blog when you feel like reading it. It makes me happy that you think of my blog, even if it's cause you are bored at work!
To the people who put RSS feed, can you tell me what that is?!
1-2 times per week is my sweet spot. I find it hard to keep up with bloggers who post more than 3 times per week. And it's too hard for me to keep up with my own blog if I post more than two times per week. I have a lot of other things that I write and want to write, and if I only am writing blog posts, I'll never get to my other stuff.
I'm trying to decide if I should keep my responses to comments private in emails or if I should keep posting them on my blog. Still not sure on that one.
This is really the most important question of the survey.
It doesn't surprise me that the highest percentage here is Ravenclaw! I am a proud Ravenclaw myself. Ravenclaws are creative types, and a lot of you are creative writers/bloggers/photographers.
So if you have no idea what I was talking about with this question, I don't know if we can be friends.
Someone commented about this question:
"You should have a box for "I don't know." Because I DO know what you're talking about, but I have never taken a quiz to be sorted or whatever, so I just really don't know!"
Good call. I think that I probably would have had less people respond "I have no idea what you're talking about" if I had the option for I don't know. BUT, I feel like you should have an idea about which house you belong in if you read the books. So take this quiz and let me know in the comments which house you belong to.
Other comments:
My favorite part of the reader survey was when people wrote in their own comments. Here are a few of my favorites:
I love your writing, so if you wanted to do more creative writing type stuff I'd gladly read that too 🙂
I do write creatively but haven't really made the leap to share it on my blog yet! Thanks for your sweet comment!
I love the variety in your posts and always enjoy reading your thoughts on different topics.
Whoever wrote that made my day!
Write more about your friend Joyce
I'm not sure who wrote that, but since I am going to see my friend Joyce in April maybe she will make an appearance on here.
Thanks, again, for your help with my reader survey. As you can see, I got a lot of good feedback and some great ideas for upcoming posts. Overall I like the direction my blog is heading in and will make a few adjustments based on the feedback I got. If you ever have any questions or things you want me to write about you can always leave me a comment or email me at carolann.findingithaka [@] gmail.com
Your turn:
So what linkups are your favorite?
Have you ever done a blog survey on your blog?
What did you think about my blog results? Do you have anything to add?