November 19, 2018
For years it was my dream to throw a Harry Potter themed party. We would eat food from the books, everyone would dress up according to their house, and we would play Harry Potter themed games. Since I have a lot of friends here in Hawaii who either love Harry Potter or love me enough to indulge my whim, I decided to give the party a shot. The majority my friends are all on the same boat as me, so I decided to throw the party toward the end of deployment, when we would all be needing something fun and silly to look forward to.
I started planning the party months in advance. My searches on Etsy, Pinterest, and Google showed me that you can easily spend hundreds of dollars on a Harry Potter party. I was feverishly saving for our trip to New Zealand and I usually don't buy things that I only need for one night. This is why I have bought a Halloween costume exactly once in the past 10 years.
Luckily, looking around my house, I realized that I already had all of the Harry Potter decorations I needed just from loving Harry Potter so much. All of the books could easily be decorations, along with my pumpkins, candles, and fall-themed decorations. I made a rule that I could print out additional decorations but I couldn't buy anything new.
Here's what I came up with.
FOOD
As I researched Harry Potter themed parties, I realized that a lot of the food that you can make from the books are sweets. From treacle tarts to all of the candy from Honeyduke's, it seems like all Harry ate was sweets. I didn't want to serve just candy and I didn't want to make English food like shepherd's pie.
Instead, I decided to make regular appetizers and get creative with the names. Bean dip became Polyjuice Potion. A veggie tray became Vegetables from Professor Sprout's Garden. My main dish was a homemade pizza that I said was Dobby's Homemade Pizza. I also made a cheese platter that I said was from Fleur. I really stretched it but no one really cared what anything was called anyway. Unfortunately, I was so busy getting everything ready that I didn't get a lot of good pictures.
A couple of my friends made Muggle Mules, which was basically a Moscow Mule. For dessert, another friend made Butterbeer ice cream. I got a couple of bottles of wine and put new these labels on them. These were so cute and so perfect! There were so many fun printables on Etsy that would require you to pay for them but I was able to find all of my printables for free!
For dessert, I had to make golden snitches. I found the wings here.
DECOR
Of course, I put this on my door.
I decied to try to make my apartment look like Hogwarts. Inside the Great Hall I put up banners for each house. I didn't even have to buy the streamers, I already had them from another party.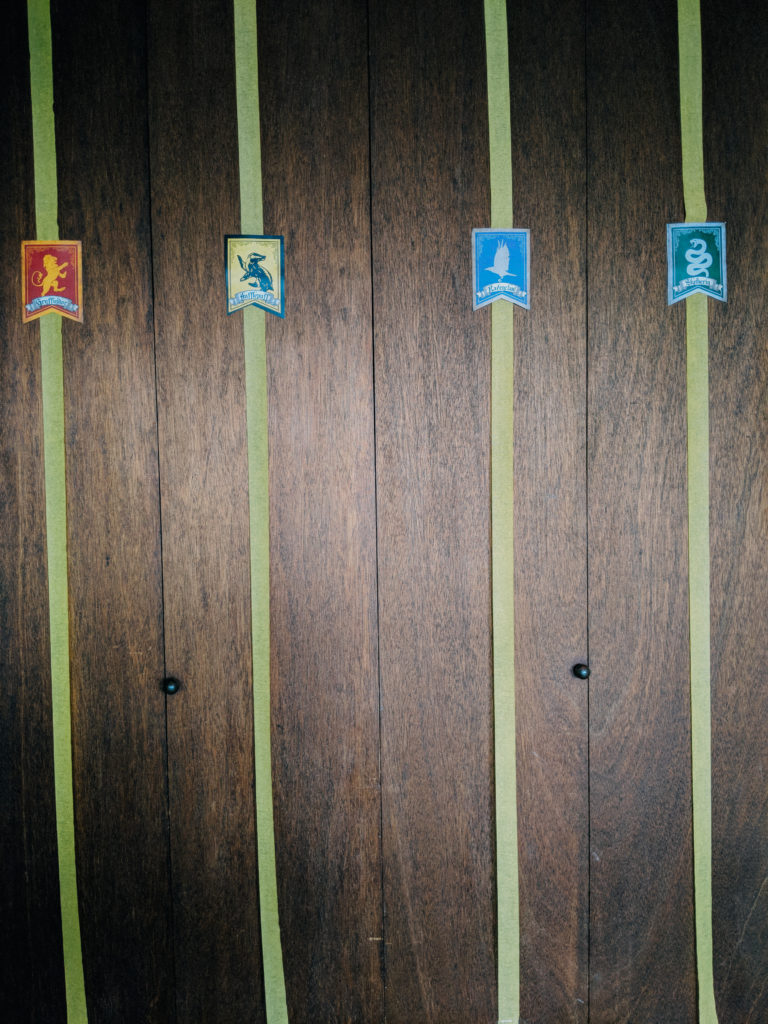 Then there was the Hogwarts Library. I had bought these postcards when I went to Harry Potter World that are made to look like books. I only sent out a few and kept the rest because they are so pretty! I think my bookshelves were my favorite decoration.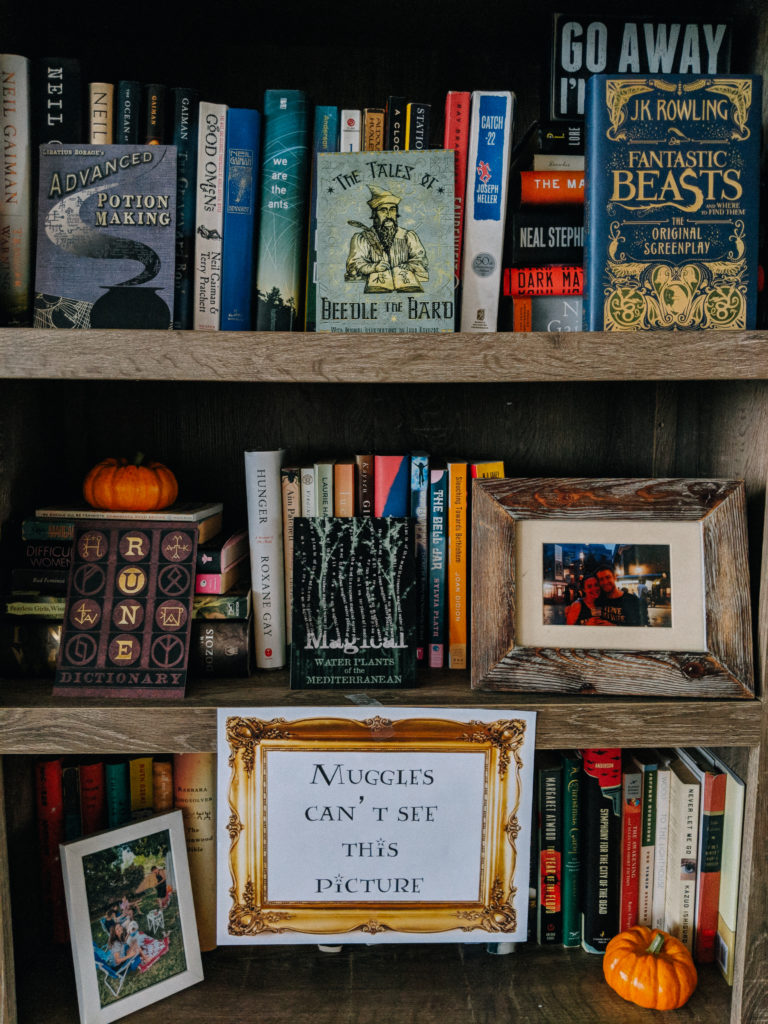 Of course, we had a Restricted Section, too.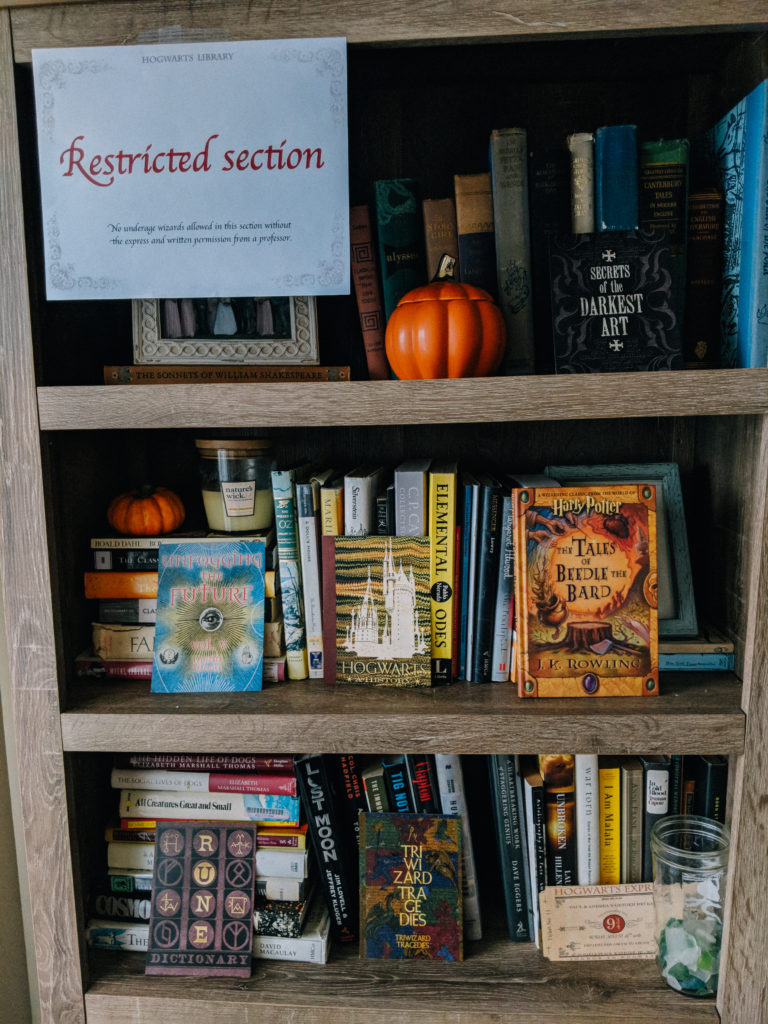 I have all of the illustrated books that are out, as well as Fantastic Beasts and Harry Potter: A History of Magic. I opened them up to pretty pages and they made awesome decorations!
I'm not sure how many people caught this detail but it was fun!
The hallway was lined with proclamations that you can find here and print for free.
I found these classroom signs here and put them on doors throughout my apartment.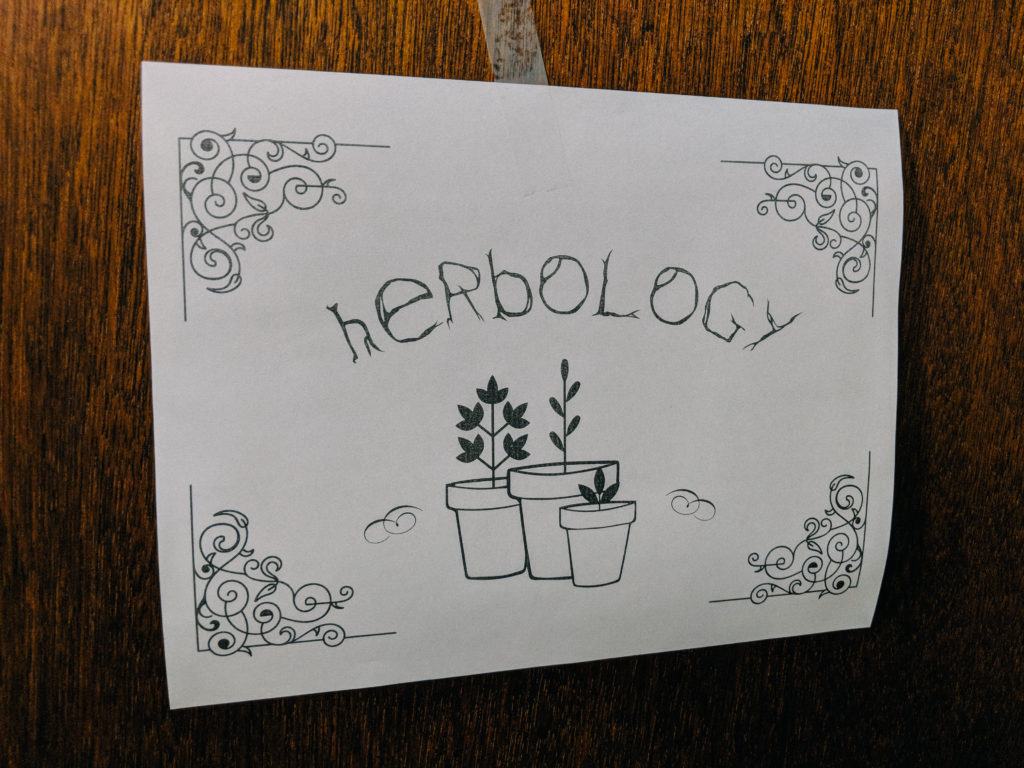 Netflix has a fireplace movie that you can leave on. I snuck some "Floo Powder" next to it to take you wherever you might want to go.
Moaning Myrtle couldn't help but make herself known.
I had bought myself this candle on Etsy and it smells so good! It was perfect for the party.
GAMES
I found Cards Against Muggles online. The PDF was free and I just printed it out at UPS. That was probably my biggest expense aside from food, but it was worth it because I can play it again! I think it's a great game but the people who came that aren't Harry Potter fans obviouly weren't into it, so we didn't play long.
Overall the party was a success and I had a lot of fun planning it! You can totally throw a themed party for not a lot of money. All you need is to get creative!