September 28, 2017
Note: Finding Ithaka is a participant in the Amazon Services LLC Associates Program, an affiliate advertising program designed to provide a means for sites to earn advertising fees by advertising and linking to Amazon.com. If you click on these links and make a purchase, I will receive a small commission. It doesn't cost you anything, but it helps me keep my blog going!
I didn't read much this month, but the books I read were so good! 2 of them I read on the plane, and another I read while visiting my family in New York. Here's what I've been up to: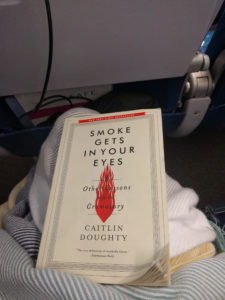 1. Smoke Gets in Your Eyes: And Other Lessons from the Crematory by Caitlin Doughty
WHo wants to think about death, let alone read an entire book about it? Right before I left for New York, my frind gave me this book. Although I had no interest in reading it, she told me it completely changed the way she thought about death. I was intrigued.
This is Caitlin Doughty's memoir about her time spent working in a crematory. She shares what she learned about the funeral industry and how easy it makes it for people to not really come to terms with death. In between her stories, she talks about different cultures and their traditions surrounding death.
This book honestly changed the way I think about death and funerals. I can't recommend it enough.
Last week, I was in New York visiting my family. My parented invited some extened family over and I started telling them about the book. It sparked some really interesting conversations that I never would have had otherwise.
2. Only Daughter by Anna Snoekstra
I love reaidng thrillers. They are so much fun and I love watching a mystery unfold, trying to guess what's going to happen and then (usually) failing. 
When Sara from Mrs. Imperfect wrote her review of this book, she said she was giving away this book on her blog. I commented that I was interested, and I won! I had never heard of this book before Sara's review/giveaway, and I am so glad I did.
Sixteen-year-old Rebecca disappeared. 11 years later, a woman who is arrested for shoplifting claimed to be Rebecca. Reunited with her family and friends, the imposter does everything she can to become Rebecca… Until she realizes that whoever took Rebecca is now looking for her.
I absolutely loved this thriller and I highly recommend it to anyone who loves mysteries/thrillers. I thought that the concept was so unique that I had a hard time guessing what was going to happen. If you read a lot of thrillers sometimes you start to guess endings. I would give it away on my blog, but I already passed it along to one of my friends from home who loves thrillers just as much as me.
3. One True Loves by Taylor Jenkins Reid
This is the book that we read for our Beyond Words book club. Each month, we read.... Interested in joining? CLick here.
Emma married her high school sweetheart, Jesse. Right before their one-year wedding anniversary, a helicopter that Jesse is in crashes and he is presumed dead. A few years later, Emma runs into an old friend, Sam, from high school. The two fall in love and get engaged right before Jessie is found. Now Emma has to choose who she wants to be with – her husband or the man she fell in love with a fter her husband was presumed dead. While I am not usually into romantic books like this, I found myself enjoying this book a lot. Even though I couldn't exactly relate to the specific situation
While I am not usually into romantic books like this, I found myself enjoying this book a lot. I read it on the plane and it was a nice, quick, easy read. Even though I couldn't exactly relate to the specific situation, I could relate to a lot of the things that Emma goes through as a 30-year old. If I say much more I might ruin the ending! If you like romance novels like this, you will love One True Loves!
Loading InLinkz ...