January 8, 2015
I am heading to New York today to see my family! It's a longggg flight from Hawaii to New York, but it's always worth it.
I wrote a post a while ago about how I make long flights easier — things I do before I get on the plane, things I bring, and things I do on the plane. It was during my first few months of blogging. It's a bit long and convoluted and could have benefitted from being split into a few different posts as a series.
I am trying to simplify today, both my blog post and my carry on. In the past, the things I like to bring they take up a lot of room under my seat, and I usually don't need everything. This time I am going simple. After 9 different trips between New York and Hawaii, I decided it would be better to just bring the basics so I have less to carry through the airport, can save space under my seat, and hopefully be more comfortable for 10 hours. I thought I would share my new strategy with you.
It's 20 degrees Fahrenheit back home, but weather.com tells me that it feels like 9. I've got lots of bulky winter clothes as well as Christmas presents for my family so I am checking a huge suitcase that I have strategically packed to weigh exactly the weight limit. So, all I have to carry is what I need on the plane.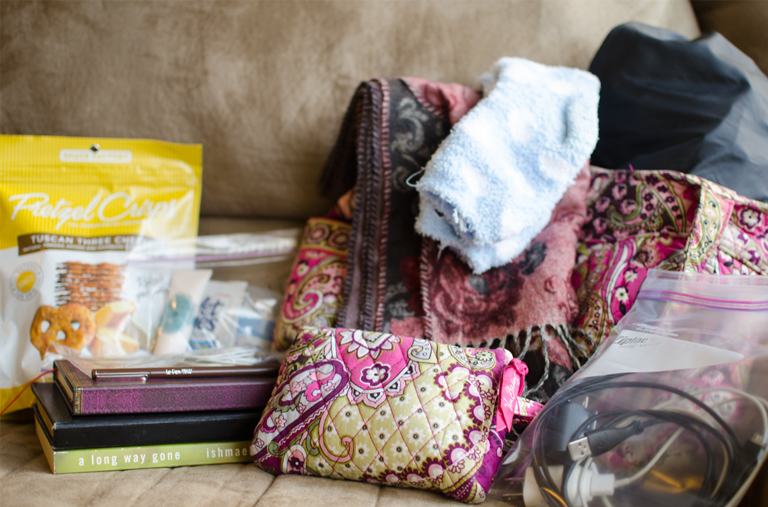 As much as I plan and pack in advance, there is always something I don't have or forget to pack. I still can't find my travel blanket that got lost somewhere between New York and Hawaii. I have been too stubborn to buy a new one because I keep thinking it will turn up, but it hasn't so far! So in this case, a big scarf will have to do. I am trying to be simplistic here, so it can double as a pillow and will keep me warm throughout my whole trip. Fuzzy warm socks are another must to stay warm and cozy on a cold airplane.
Another absolute must for a plane ride for me is an inflatable foot rest (that black thing inside my bag). I am about 5'1″ and can never get comfortable on a plane, but the inflatable foot rest makes me so comfortable that I really don't mind sitting in the little seat. If I could only bring one thing on a plane, it would be my foot rest!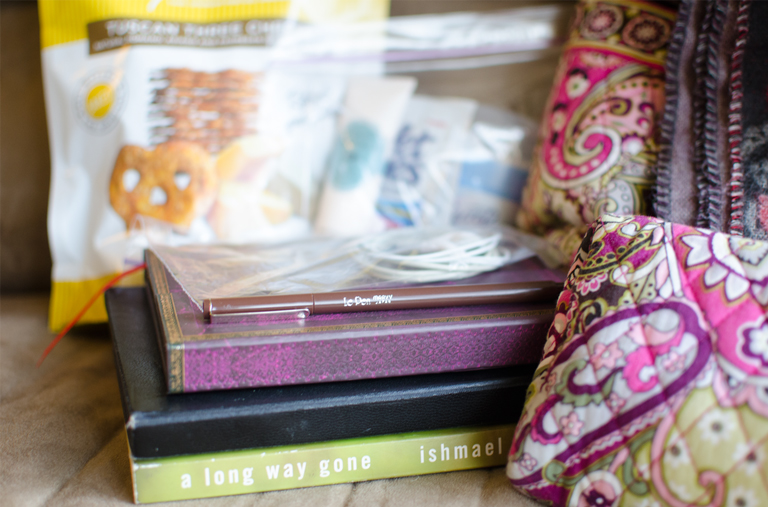 I've got my Kindle charged and loaded up with books as well as my phone and Kindle chargers. I definitely don't want to be without my phone charger and sometimes the planes have outlets at the seats. Even though I have my Kindle, I also brought a paper book just 'cause I like paper books better and I am not sure how long the Kindle will last. If I really wanted to simplify I probably could have done without the paper book but I am just not there yet! I have been wanting to read A Long Way Gone for a long time, and it's softcover and small, so it's perfect for the plane.
I also have headphones with me so that I can watch movies or tv shows to help pass the time when I don't want to read anymore. I bring my purple notebook and a pen with me everywhere so those are coming in my carry on, too. You never know when inspiration will strike or when you will need a pen.
I read about this trick online to bring wet wipes to wipe down your tray table and your little area to avoid getting other people's germs. I have gotten sick so many times while flying that I always do this now.
10 hours is not really that long to go without eating, but I always bring a million snacks with me just in case. I never end up eating all of them. This time I just decided to bring one snack. I settled on 3-cheese pretzel crisps. I think it was a good choice. One thing I will have to pick up at some point before going to the airport is travel-side hand sanitizer to clean my hands before eating anything. I also bring deodorant so that I don't smell, eye cream to make myself look presentable when I get off the plane, and hand cream because planes get so dry.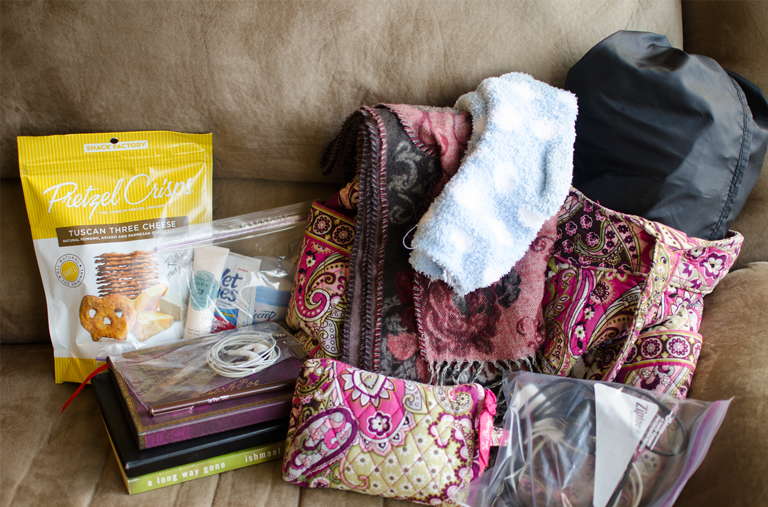 Not pictured are of course my phone and wallet as well as a super secret surprise for my dad that I could not trust to leave in my carry on!
What do you like to bring with you on long flights?
Do you have any tips to make a long plane ride easier?