January 6, 2015
I mentioned earlier this week in my post about my travel wish list for the year that I don't usually make goals or resolutions on January 1. I am still usually in Christmas vacation mode on January 1 and so I can't think about things like eating better or getting organized!
But I think this year I should give it a shot. One thing that I have always struggled with is just living in the moment, and being more intentional about how I spend my time. I feel like I can get so wrapped up in things that just don't matter and they end up wasting so much time and energy.
I thought that writing down some ways I can try to accomplish that in 2015 could help inspire me.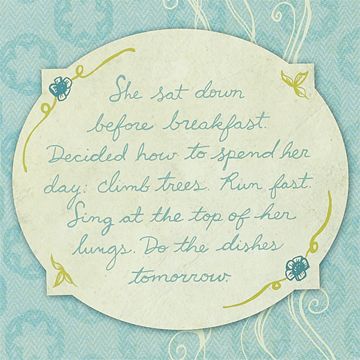 Image from one of my favorite online stores: http://www.live-inspired.com/She-sat-down-before-breakfast-P967
So, this is my list of reminders/goals to inspire me to just live in 2015.
write every day
unplug
do one thing at a time (stop multitasking)
read good books
explore as much of this island with Nick as we can
travel often
 take better pictures
meal plan & be more adventurous in the kitchen
send more letters
be a better wife/sister/daughter/friend
visit my family
I decided not to set a lot of specific goals about how many times I want to do these things because I know I would be just making up arbitrary numbers. I would have no idea whether or nor they are realistic. I know myself, and if I set very specific goals like that, they would start to feel like work instead of inspiration.
So, I will print out this list and work towards becoming better person, towards being more mindful of how I spend my time. As the year goes on I hope this list will inspire me in ways I may not have thought of in January. When I look at it, I hope to be reminded to get out and explore, to read that book that I have been meaning to get around to, to write even when I don't know what I want to write about. I will be reminded to send my mom a card just because I love her, to call my best friend, to go out with Nick on a weeknight, to try out a new recipe even if it looks too complicated. My hope for 2015 is that this list helps me live in more the moment instead of spending all of my time glued to my phone or worrying about things that just don't matter.
It's a lot of stuff but a year is a long time and I hope that this list will inspire me this year to just live.
What are your goals for 2015? 
Happy New Year!!