The Friday before Mother's Day is Military Spouse Appreciation Day. That's today! This day was enacted on May 23, 1984 by President Ronald Reagan as a way to honor military spouses who give so much to their service members and to the military community.
One of my favorite military spouse bloggers, Jen from Marathons and Dog Tags, posted that she and Amanda from Somewhere Over The Camo and were hosting a linkup today in honor of Military Spouse Appreciation Day. I knew that I wanted to linkup because I love meeting new military spouse bloggers.
//Tell us about yourself and your blog.
My name is Carolann, and I started my blog 3 years ago. At the time, I called it The Two Year Honeymoon. My husband, Nick, and I had just gotten married. 5 days after our wedding, we moved to Hawaii for his shore duty. We had been in a long distance relationship for 5 years while I finished school and built up my resume, so this new life together in Hawaii truly felt like a two-year honeymoon.
I later changed my blog's name to Finding Ithaka after my favorite poem, "Ithaka," by CP Cavafy. I write about marriage, being a military spouse, books, travel, Hawaii, and whatever other topics come into my head. I try to be uplifting and positive and I like to think of my blog as a place of encouragement, but being a military spouse is stressful and I don't hide that. I like to keep it real.
//What branch of the military are you affiliated with?
My husband is in the Navy. More specifically, he is a submariner with 14 years of service and 5 deployments under his belt.
Nick enlisted when he was 17 – his mom had to co-sign his papers. When he was 18, he went off to boot camp. A few years later, he was accepted into a program to go to college and become an officer. A few years ago, he was going to get out of the military, but after getting his MBA, networking with people in the business world, talking to people who have gotten out of the military and to people who have stayed in, and doing a lot of soul-searching, we decided for him to stay in the military. I can't see us doing anything else with our lives and I'm glad we made that decision.
//What is one thing you enjoy about the military lifestyle?
I love so much about it, but the thing I love most of all is that it's a complete adventure. There is no monotony to our life.
This adventurous life has given us so many things that civilian life never could. I doubt we ever would have had the chance to live in Hawaii without the military. I love that every few years, we get to pack up and go somewhere new. That means we get to meet new people, find a new place to live, and explore a new city. Our families have been able to visit us wherever we live and our time together feels even more special.
And since it's military spouse appreciation day, I have to also say that I have made incredible friends through the military. I just visited a friend back on the mainland who I met here in Hawaii, who I know will be my friend for life. My military spouse friends here in Hawaii are from all over the country. We're all so different, and I've learned so much from each of them. I know I can call them at any time for anything from a ride to the airport to help with a move to a wine-and-vent session. The bonds that military spouses share are strong.
I love that Nick never gets bored at his job. His job is very stressful, but it's an adventure for him as well. No office job could possibly compare to the thrill of operating a nuclear submarine or pulling into a foreign port.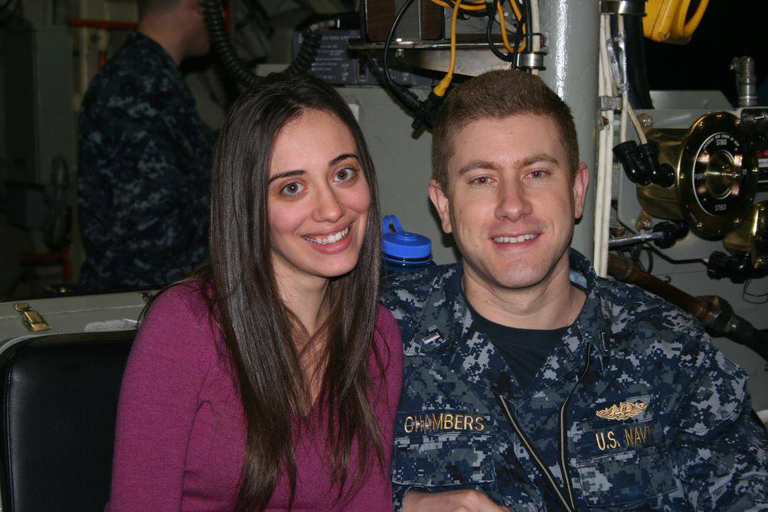 Being away from Nick is hard too, but every time we are apart, I feel like I get stronger, go on my own adventures, and grow a lot. And, there is no way to describe the feeling of homecoming or reuniting after a long time apart. One of my friends said that seeing her husband after 6 months apart was better than her wedding.
When Nick was thinking about getting out of the military, a captain told him that in the military, you have higher highs and lower lows than in the civilian world. Although the lows kind of suck, we both like this kind of life, we like that every day is different, and we love the thrill of new experiences.  I don't think Nick would be happy putting on a suit every day and working in an office.
I would tell them: You do you
There are many ideas about military life and stereotypes about military spouses. I would tell any new military spouse to ignore them. The right thing to do looks different for everyone, and you just have to do what works for you.
I would tell you that you are allowed to hate things about the military. You don't have to like your duty station. You don't have to be positive all the time. Sometimes things suck. That doesn't make you a bad military spouse. That makes you a real person.
But staying positive and remembering why you are doing this can go a long way. I would encourage you to find things that you enjoy about your new duty station, to meet people who understand what you're going through, and to keep busy. You might even be able to find things that you enjoy about deployments. You can do this.
//Where have you been stationed?
Nick has been all over the country. Together, we have lived in Hawaii and Connecticut.
One thing that I like about being a military spouse is that moving around and meeting new people has made me much more open to new experiences. You have no choice but to come out of your shell. One year when Nick was deployed, I became a Girl Scout leader, and I mentored those girls for 3 years. When we moved to Hawaii, I volunteered in an animal shelter for a while. I probably never would have started a blog or gotten this awesome new job without my experiences as a military spouse.