October 6, 2017
I'm back with another edition of The Gratitude Book, and I have so much to be thankful for! Nick is home from two months out to sea.  We had a great weekend together.
While Nick was gone, I learned that he was selected to be promoted to Lieutenant Commander. This is a huge deal because while Nick did get selected for competitive promotions when he was enlisted, this was his first competitive promotion as an officer.
Until now, all of Nick's promotions as an officer have been pretty much automatic. But to get promoted to Lieutenant Commander, a board had to select him. Not everyone makes it. You get three "looks," one look each year you are eligible. Nick made it on his second look, which is pretty standard.
If you don't get selected for Lieutenant Commander, then you cannot stay in the military long enough to hit 20 years and retire. I know that this had been weighing on Nick because he has already been in the military for 14 years and has made it his career. He wants to complete at least 20 years.
I was confident that Nick was promotable, but, of course, until I saw his name in the official message from the Navy, I was a bit anxious about it.
So, to celebrate Nick coming home and getting promoted, I surprised Nick with a getaway in Waikiki.
I've been talking a lot about Nick working a lot and trying to find a work-life balance. I was really happy when Nick said he would take off the entire weekend so that we could get the most out of our time together. We both really needed it.
On Saturday morning, we woke up early and decided to hike the Pillbox Trail. This is one of my favorite hikes on the island and I do it a lot with my friends, but Nick had not done it since he had been back to Hawaii! 
After that, we bought a car! Back in July, I decided that we were done with being a one-car family, but we have been debating what kind of card to get and how much we should spend. Nick had been looking on the base at what we call the "lemon lot." It's where people in the military put their cars that they want to sell. Sometimes you can get a great deal because people often sell their cars before they move from Hawaii back to the mainland.
We wanted to get a cheap used car, an "island beater," that we could pay cash for, but we didn't really have any money set aside for that. Luckily, early that week, we had gotten a check in the mail from our landlord. It was a reimbursement for rent for all of the days we had to be out of the house with the flood. It also was to help reimburse us for all of the time and inconvenience it took to get the apartment back up and running.
Then Nick found a good car on the lemon lot for less than the check we had gotten! I was already pretty sold based on the ad, but, obviously, we had to go check it out.
The car is definitely an island beater, but runs well and doesn't have too many miles. The owner had just gotten a safety check, new suspension, and a new battery. We took it for a test drive and we were really happy with the way it ran and the price. We left the lemon lot with it!
We came back home with our new car, packed up, and went to our hotel in Waikiki, The Moana Surfrider. I chose the Surfrider because it was across the street from the restaurant I wanted to eat it, because it's historic and beautiful, and because they had a good military rate.
We had an early dinner reservation so we just went to the pool bar and had a snack and a drink. Then we walked around for a bit until it was time to get ready for dinner.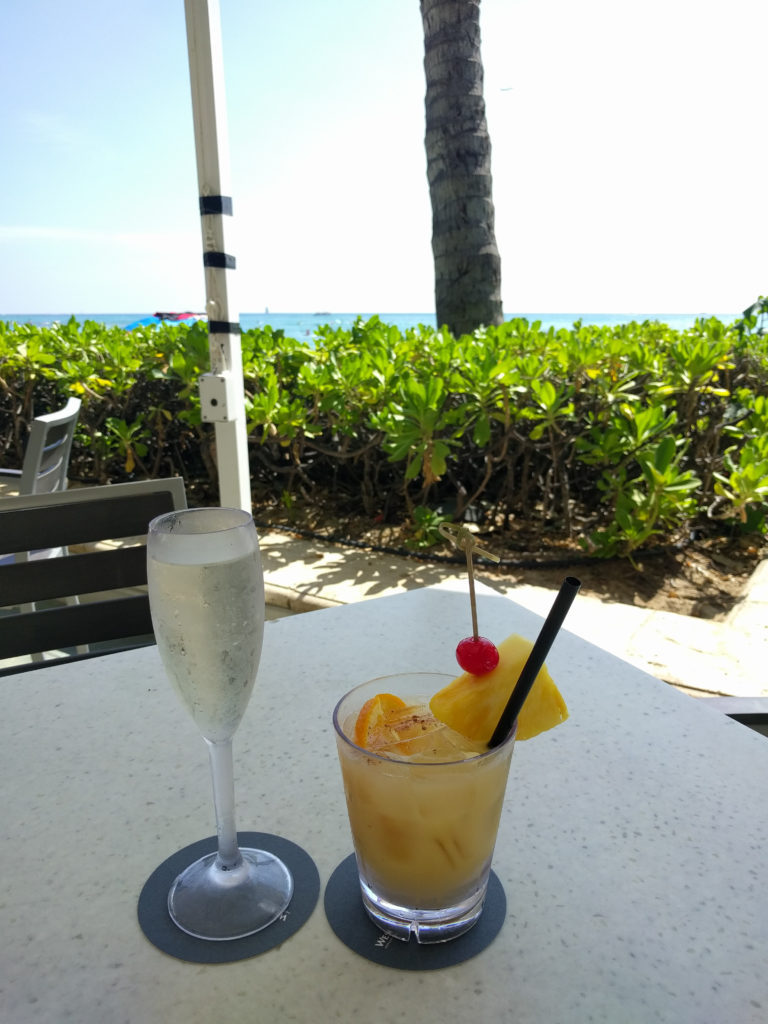 We got a free photo session with our stay so we decided to take a few pictures. I love how these came out!
A friend of mine whose husband is a chef recommended that we go to Stripsteak. I figured they would know where to go. We had a great dinner and then we walked back to our hotel.
Instead of bread, they bring your french fries and dipping sauce. It was a good night.
We had grand plans of ending the evening at our hotel bar, but let's face it, we went to bed at 8:30.
The next morning, we hung around the pool and had lunch at a place in Waikiki called Yard House. Before I knew it, it was time to go home and get ready for the week.
Loading InLinkz ...