February 21, 2017
I'm so excited for the submarine birthday ball that's coming up this spring! My friends and I have been talking about it so much, which has got me feeling all nostalgic about military balls of the past.
My style has changed since our first ball in 2008, so it was fun to look back on these dresses. I like this article about what military ball fashion & etiquette, so if you are not sure what to wear, definitely check it out.
The first military ball I ever went to with Nick was a Navy/Marine Corps Birthday Ball when we were in college. I was 20 and Nick was 22.
Here we are at my parents' house before going to the ball. I got my hair done and then I went to the makeup counter at a department store to get my makeup done. This night was a big deal! My mom helped me pick out this dress and I remember how excited we both were. I loved it because it was so flowy. But wearing a strapless dress is a pain, so I never got another strapless gown.
I don't have many different pictures of my dresses over the years, because I wore this dress to three balls in a row. I loved how it fit me, and I loved the color. My mom and I got this one together, too. We used to meet at the mall after work and go to Johnny Rockets before shopping till we dropped. The day we got this dress, I remember we went into so many different stores until she finally dragged me into this one store that I never thought to try. Moms do know best! I loved this dress, but eventually it started pilling so bad that I had to get rid of it. I got my money's worth, though.
Two years ago, I wanted a different look and I didn't feel like driving all over Hawaii to try to find a dress. There isn't a huge selection of formal gowns on a small island, and the only big mall has crazy expensive stores and caters to tourists. Like in the winter months, they sell winter clothes, even though it's hot here. So weird.
So anyway, to save myself time and money, and to try out a different look, I rented this dress from Rent the Runway. Normally I gravitate towards A-line dresses, so for this ball I tried out a more form fitting dress. It was a lot of fun to get to wear something different without having to buy it.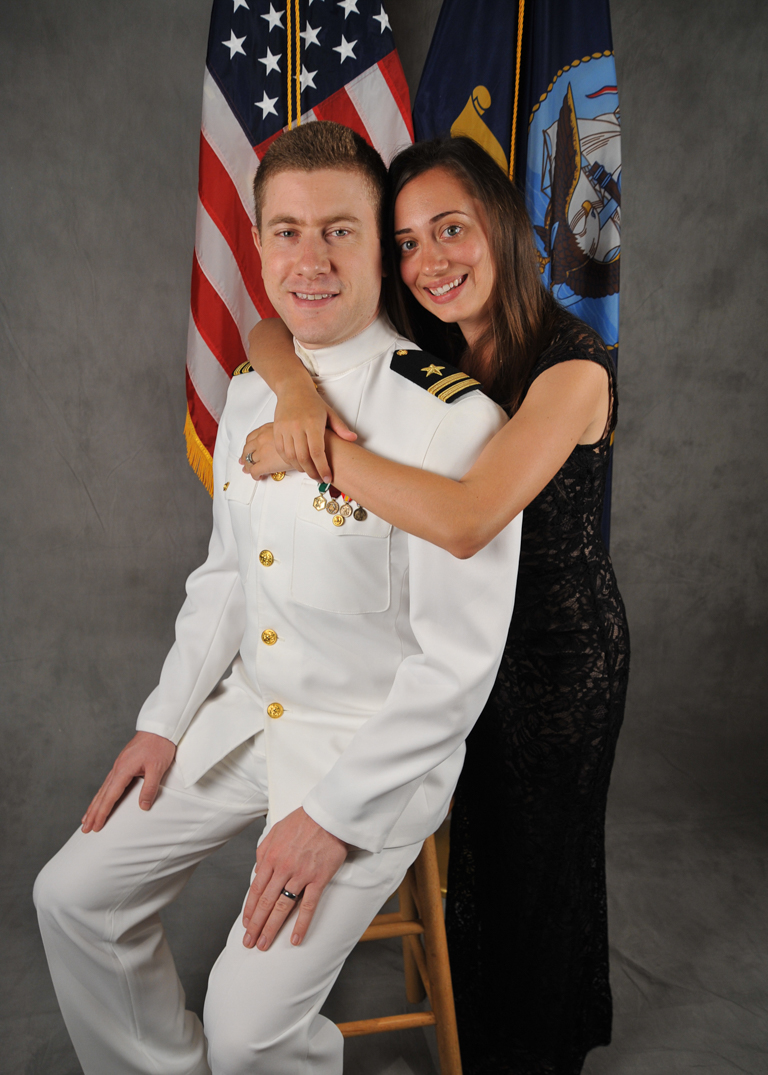 This year, my mom helped me get a dress again! I was home in New York for Christmas and I mentioned that I would rather get a dress in New York with my mom than try to find something in Hawaii, even though the ball was months away. There is this one store near my house that is always my go-to store for clothes because they have great stuff and they always have amazing sales.
So, the day after Christmas my mom woke me up at 7:30 am and said we should go to that store because she had a coupon and there was a sale going on. My mom is always ready to go in the morning where I always need a cup or two of coffee before I can speak. But I jumped out of bed, didn't even make coffee, and went the store with her. I tried on one dress, my mom and I both agreed that it was the one, and then we got the heck out of the store. It needs some major alterations but I am sure that it can be done. I can't wait to wear it!
Edited to add: I have a post live today on Military One Click called What to Expect at a Submarine Birthday Ball. Click here to check it out if you're planning to go this year!
Have you ever gone to a formal ball? What's your style?